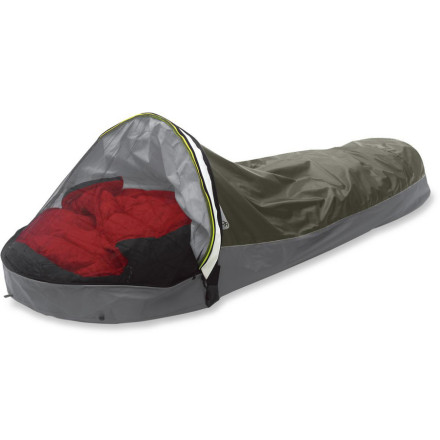 Detail Images

Community Images
When 'making camp' involves rolling out your sleeping bag and promptly passing out after an exhausting day on the trail, add some weather and insect protection with the Outdoor Research Highland Bivy. This lightweight sack features waterproof breathable Pertex shell fabric as well as a mesh panel opening for full ventilation.
Single-wall bivy design saves weight by eliminating the need for a tent canopy and fly; ideal for three-season climbing and trekking applications
Ultralight Pertex Shield fabric features a waterproof breathable PU membrane and DWR coating for severe weather protection
Waterproof floor protects your bag from wet surfaces and features an antimicrobial coating to combat funk
Taped seams prevent water and melting snow from sneaking in through the fabric joints
No-see-um netting at opening increases ventilation without letting critters in
Single overhead Derlin pole creates a vaulted canopy over your head
Sleeping pad straps keep you from shifting off your mat
Multiple stake and guy loops secure the bivy in rough weather conditions
Small internal mesh pocket holds your contact case or small essentials
I will give it to you straight
Familiarity:

I've used it several times
I was not a impressed with this Bivy as I had thought I was going to be. I just not a tough as I had hoped. Don't get me wrong it a good Bivy but I should have bought the Advanced one.
Is the high land any less waterproof than...
Is the high land any less waterproof than the advanced version ?
The floor of the bivys are identical but with 3 layer Gore-Tex on the main body, the advanced version will handle precipitation better.
I had some massive condensation build up...
I had some massive condensation build up in the rain while using this bivy, even with the zip open about 12" (twice the recommended amount). I've never had experience with Pertex before and assume that Pertex just isn't very breathable? Has anyone used one of the Goretex bivys? How does the breathability compare? Thanks for any responses!
Hey, Sam you might try moving the zipper opening closer to you face or turning on you side to get a little more air push out. Also if you got to hot over dressed or to much bag for that night could have been part of you problem.
I would recommend this bivy to anyone, and esp. for the price. As has been mentioned, condensation seems to be an annoyance...but such is the case with any waterproof membrane that sits only inches from the body. On windy nights, I'd recommend rigging something to keep the body of the bivy from flapping around alot. While free-standing, it has kept me up more than one night when the bag repeatedly slapped me in the face with gusts of wind. Asides from these minor items, this bivy is pretty awesome and takes up little space in the pack, which is of course the point! OR has a solid product in the Highland Bivy!
Bivy Fits in Inflatable Kayak
Not much to review, because I actually haven't used it on a trip yet.



I just wanted to say that this bivy with hoop fits great in my NRS Bandit Inflatable Kayak (single).
This bag is great for the price. Could use some upgrades in the future, or you can go for the more pricey upgraded models. I am pleased. 5'11, 185, fits fine. Like the thermarest straps and pole providing room.
Good kit, but needs a little improv.
I bought this and finally had a chance to give it a test while camping at Solar Fest this weekend. Generally I am happy with it. It's super light weight, affordable, it took me less than three minutes to set it up, and just as little time to pack it up when it came time to roll out.

As others have mentioned, the Pertex barrier is indeed waterproof...both ways. The plus side of that is that if it rains, you're dry...from the outside. But condensation is a mild annoyance. I tried both zipping the shell completely -- which lead to condensation from my breath and sweat -- and leaving the bug mesh open -- which lead to atmospheric condensation when the dew settled. I say it was a mild annoyance because I was also using a Marmot 40 degree minimalist bag, which easily absorbed, wicked and dried the condensation before it ever reached my skin. In summer conditions this makes it only a problem if you are unfortunate enough to roll over in the middle of the night and touch the bivy, as it's a bit like being brushed with a cold, dead fish.

I do suspect, though, that in winter that condensation might be a problem as any sort of moisture could lead to compromising, dangerous loss of temperature.

My only other negative on this one is that if you're looking to keep the bug net open but the flap unzipped, there's no easy built in mechanism to keep the flap from falling over the bug net. I fixed this on the fly by applying some sticky velcro to the bag on the area over the hoop, and on the flap. That works for drying it out during the day, and at night...if you don't mind that whole dew condensation thing. A better solution for sleeping was to zip the bug net, then stand my Koppen trekking pole -- at it's shortest height -- at the head of the bag. After the bug net was sealed I was able to hook the flap over the pole, giving some shelter above the bug net. You could also set up a tarp vestibule using the same concept, but since there's a built-in solution why go the extra mile?

Please don't get me wrong...this is actually a good bivy. I had read that the condensation issue was a given and bought this knowing that. The fixes above were super simple. Down the road I may upgrade and get a different one-man camping solution, but this isn't a bad start. And when I do upgrade this will go into my bike pack, as it's a handy piece of kit to have as a back up solution.
Bivy Sack Overview - Outdoor Research
Nathan walks through the different bivy sacks from Outdoor Research.
I cant tell if this thing is free standing...
I cant tell if this thing is free standing or not, is that even a pole? It could be a wire or something...I don't know, a little help on this please.
Best Answer
Yes!there is a shock corded Delrin pole that holds it up. GREAT bivy for the money!
does pertex keep you dry or is it just...
does pertex keep you dry or is it just waterproof?
Pertex Shield DS is the material the shell is made out of, and it is a waterproof laminate that the Pertex corporation has come out with in the past few years. It isn't super breathable, but it should keep you dry.
Pertex Shield is great. It's waterproof and breathable, but there are indeed other "more breathable" membranes out there. Still, this is a good one, especially for the price!
Use in rain is challenging
This bivy is waterproof. However there are a couple things to keep in mind:
1) If you expect ANY rain, be sure to understand that without modification this will not keep you dry.
2) If you expect to be able to sleep with the hood down, be prepared to be damp from condensation in the morning.

I've used this for 60 days in Maine but ended up carrying a lightweight, very small tarp in addition. I set up the tarp and made sure the head of my bivy was underneath. Then, when it rained I could have the hood open, which eliminated condensation and sheltered me 100% from the rain. It also gave me a nice dry place to change, store gear, etc.

overall it's great for a bivy!
I took this bivy with me into the White Mountains in New Hampshire instead of a tent this winter. I was happy to shed the extra pounds of a tent. This bag kept me dry and added a little extra insulation during the cold evening. Having the stake loops to tie me down when the wind kicked up was really great. I also like the inside straps that kept my mat in place so I didn't have to wrestle with my bag all night. The only small complaint I have is the zipper system. Make sure you go before you get climb in! Getting out is more like molasses in January than greased lightening.