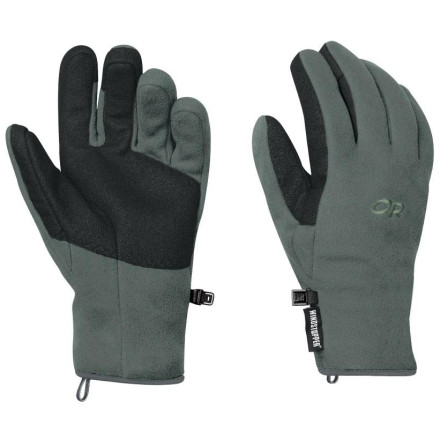 Detail Images

Community Images
Description
Grip it. Grip it good.
Save your bulky ski gloves for the hill and pull on the Outdoor Research Men's Gripper Glove for winter runs, short snowshoe tours, and errands around town. The Gripper's Gore WindStopper fleece provides warmth and full wind protection without compromising dexterity, and the Suregrip palm lives up to its namesake when you're hefting poles or a beer in the parking lot.
The OR do it all Glove
Familiarity:

I've put it through the wringer

Fit:

True to size
I have had a pair of these gloves in the past and they are the best all around glove. cold weather cycling/ X country skiing, gathering firewood or just walking down the street on a cold day they do it all. Great construction, last pair was holding up great before I lost them.
OR Gloves
Familiarity:

I've used it several times

Fit:

True to size
I am very pleased with these gloves. They are great for wearing around for most activities, for cold or cooler weather. I have read the reviews about not using them in wet weather but I've yet to try that. I do have a pair of OR liners I've worn with these in frigid weather. Overall very pleased.
Great glove!
Familiarity:

I've used it several times

Fit:

True to size
I've had these gloves for over a year now and use them casually whenever I'm doing errands or just going around. I have not, however, used them for any active outdoor activities so I don't have any input how they'll hold up in that regard. That said, these gloves are great and for me they've absolutely blocked out those ice cold wind gusts. The loops work great like they're suppose to and so does the grip material.



I agree that these gloves aren't the best to get wet and that they will get water-logged. I will mirror what someone else said and say that you may consider switching to another glove once it gets below freezing as they don't hold warmth very well (my extremities tend to get colder faster than others so you may have different results).



Comfort wise, my BIGGEST complaint and the most annoying aspect of the glove for me is the thick seam that runs across the meat of your palm where the thumb of the glove attaches. In my instance, I notice it most usually whenever I'm driving, when the seam gets between the steering wheel and my palm. Because I feel the seam is so thick and not a flat seam, it presses extremely uncomfortably on my median nerve in that region so much that I have to re-position my hand.



Edit: The sizing is actually pretty spot on if you follow their measurements. I washed them recently and found that they fit just a tad bit more snug around the wrist section when I put them on. However, it seems like washing them pretty much dialed in the fit for me everywhere else. The wrist section loosens up after wearing them.



I will note that my fingers are long in proportion to the rest of my hand (e.g. size medium across the palm, size large in the fingers) and I would venture to guess that the fingers on the large would fit me but would probably be loose everywhere else. But it's a VERY VERY small issue and I'm sure it's unique to me.



Still having issues with that seam though..
Outdoor Research Gripper Gloves
Outdoor Research® Glove Product Manager Meghan Martens talks about the Gripper Gloves™. These multi-purpose outdoor work gloves have a secure, comfortable fit, the weather-resistant fleece stops wind and provides warmth, and the synthetic palms and curved design give them the ability to handle difficult tasks in cold conditions.
a great lightweight glove
These are my go to gloves when there is a chill in the air. The gloves keep my hands dry and the cold wind off of them. They have held up to holding onto trekking poles for many miles. I don't think that they would do so well if you were pulling on rocks all that much. They are light and small enough to throw in the pack at the slightest forecast of cold weather. An all around great glove.

As a disclaimer, I am affiliated with Gore for product testing of Gore-tex and Windstopper garments for the purpose of product review and recommendation. I do receive items from Gore for these purposes.
Great Non Storm Day Glove
I use this glove a lot when the weather is nice and cold. It doesn't work well if the snow is melting or if it is snowing because it does get water logged. I always use it when skinning up. Lets heat escape while still keeping my hands warm. I really like the loops....not for putting the glove on but for clipping to my pack or jacket when not in use. It also works well under a shell glove when it is really cold. I bought these gloves my self but I do review and test products for gore sometimes through the Mountaintech program.
The OR Gripper's are an awesome all around glove. Their warmth and thickness in relation to the dexterity you get is great. They fit really well and the cuffs around the wrist are nice and snug. The fingers are a bit long which is great for me. The pull on loops are handy especially when you already have one of the gloves on and are putting on the second.

They stop the wind very well and shed light moisture. They are not waterproof gloves and are best in cold, dry conditions. Although they maintain a decent amount of warmth when wet and tend to dry out fairly quickly. They work well within the suggested temp range. If its much colder than 25F you will need to go with a different glove or put a shell over these. You could put a liner under these, but that would require sizing up, which pretty much eliminates the dexterity that the gloves provide.

OR makes great products and has an awesome warranty and I am not just saying that because I am biased towards companies in my hometown :)
NOT sized consistently with other OR gloves
I wear a men's small or a women/children's large in gloves, and the men's small OR PL 400 gloves fit me perfectly. The men's small in this glove was a full size bigger. Very disappointing. Had to send them back.

Three stars as a neutral rating b/c they appeared well made and I think they would have worked well had they fit.
If these gloves weren't too long in the finger, I'd rate them 5 stars. I do fall between the small and medium in regards to the sizing chart, so possibly the small might fit. The 1/4" of extra material in the finger tips removes the dexterity that many reviews mention. Otherwise I love these....especially the pull-on loops - what a great feature!
I bought these about 5 years ago. They are great all around gloves. I wear them to work. great for driving and I can still get things out of my coat pockets. I have used them ice climbing, winter cycling, skate skiing, back country hiking/snowboarding. They offer great protection and dexterity while on the move. If you are sitting on a chairlift your fingers will get cold, but while you are moving and generating heat these gloves are excellent.
It was not very cold on a recent climb of Missouri Mountain in Colorado, but my hands were bleeding in several places from grabbing sharp rock. I put these on and no more cuts and no more having to answer what happened to my hands.
These babies are incredibly warm and very wind resistant. Aside from when it was wet, these gloves had no problem keeping my hands warm throughout the past winter in the high desert. I definitely recommend
I use these gloves for an uphill glove backcountry skiing
in the winter.A lot of times I even keep them on for
the downhill after a big climb.Excellent glove for your backup with your regular ski glove.
I have finally found the gloves that have good dexterity along with rain/wind resistance. The grip works great and the size is true to the chart. I have used them hiking, playing in the snow, sitting out in the woods hunting and they have always kept me warm.
These gloves are funky fresh. High dexterity and nice grips. I haven't had them in the back country yet, but I'm sure they'll be perfect between 15 and 40 degrees. If you want gloves that allow you to grip rather small items, then the OR Grippers are for you.
OR doesn't fail. Great glove for working with your hands and keeping them warm in the process. Got a pair in the early part of this year. It's been great having them around. I'm notorious for having cold hands. They can hold their own into the upper 20s low 30s or so without fail.

Windstopper material is bomber. Cuts through wind like a knife. As the temp dips below the freezing point, the gloves loose a bit of insulation, at least for my iced fingers. In the low single digits and windchills in the negative teens (like it has been for the last couple of days) my fingers get fairly cold. Weak points in the insulation are the little fingers that don't have the "sure grip" material on them.

Sheds snow ... a little. Obviously not waterproof because it's a fleece glove. Don't get too much snow on it when brushing off cars or working around camp because it will soak through.

Dexterity is awesome. Can pull out my wallet and credit card, use the card and put it back without having to take the gloves off.

Great buy for those cooler temps.

I just got a pair of OR Arete gloves. The medium grippers fit inside the large Aretes as a liner. Now talk about bombproof! No water, no cold, just warm, dry hands in this bitter WI weather.
These are my favourite winter gloves. They are great for sports and are very durable. I use them for x-country skiing, cold weather mountain biking, shovelling the driveway etc. I have had one pair for 6 years and they are starting to show some wear but are still going. I ordered a back-up pair and some for x-mas gifts. They are a little pricey but given how long they last they are worth it. I just wish they were available in Canada. The shipping from the US adds a lot to the cost for individual orders.
Good gloves- have bought 2 pair
Very pleased with gloves. Any extra pull on strap has been added that my wife's older pair doesn't have. Sizing seems about right.