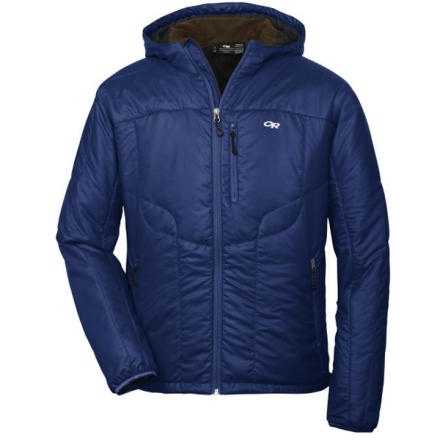 Saw this on SAC. While I would have preferred down, I snagged this instead. I guess I am turning into a bit of an OR whore.

ANyhow I love this thing. It sizes pretty true. I am 5'8.5, 38" chest, 31" waist and pretty average/athletic. It fits me very well. Not tight at all, relaxed fit I suppose. I generally prefer adjustable wrist cuffs, which this jacket does not have, but I like the cuffs a lot. Just stretchy enough. The zipper/pockets are very regularly used and work great. It is nice to ride my bike home having forgot my gloves. I just no-hand it and the pockets are ALWAYS warm. Any shell would have cold-ish pockets. I know this is a insulator, I have not had one before, but it is very nice. But this is also in 40°ƒ weather. Plus minus 15°ƒ.

But yeah this is my day commute jacket. Above 60 it gets a little warm so I resort to a soft-shell. But I ride my bike to and from school daily, very wind resistant. My upper-body hardly changes temp when I just leave the house on my bike on a frosty morning (about 30°) before physically warmed up.
Warm, Light, and it Packs Small
Here in the southeast winter tends to be milder than other areas. Not to say it doesn't get cold, it does, but it isn't like Wyoming or Montana. This jacket is perfect as a winter parka here in the mountains of Tennessee. It doesn't take up much space in your pack, weighs next to nothing, and keeps you warm at camp or when taking breaks on the trail. I'm sure that in much colder climates this jacket would get the job done when used with other layers, but it makes a great stand alone parka in mild climates. It seems true to size, I normaly wear a medium, but bought a large so it would fit over any other layers I was wearing. I have always thought OR built great stuff, and this piece is no exception!
Don't leave home with out it!
If you want bomber, small packing insulation, then this is your piece. If you live in a wet environment or beat up your gear, then leave the down behind and go with this lightweight and versatile piece. I use it on alpine rock climbs, cragging, ski touring, summer mountaineering, so versatile!
Packs small in your back pack,great for ski touring and ski mountaineering!