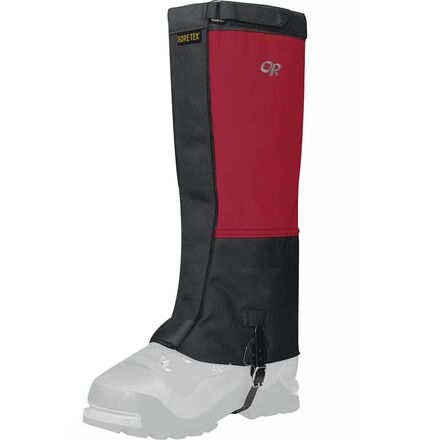 Community Images
As the heaviest-duty gaiter in the Outdoor Research line-up, the Expedition Crocodile Gaiter is the go-to choice for serious mountaineering expeditions and rugged terrain. The 3-layer Gore-Tex provides waterproof breathable protection in the harshest weather conditions while burly 1000D Cordura on the inner leg stands up to sharp crampons and wear from hard-shell boots. Plus, the large circumference is specifically designed to accommodate high-insulation pants and bulky mountaineering boots.

Burly three-layer Gore-Tex provides guaranteed waterproof breathable protection
Highly abrasion-resistant 1000D Cordura on the inner leg and boot protects against sharp crampons and plastic boots
Large circumference accommodates plastic boots and insulated pants
Wide hook-and-loop front closure is quick and secure
Bottom shear tab secures the front closure to the boot
Durable BioThane instep strap keeps the gaiter securely in place
Gaiter Gits It Done
Familiarity:

I've used it several times
Looking for something to muck around in this mud season? Loook no further. These babies have seen it all and come through shinning. I like the easy adjust ability even though sometimes the buckle sticks. Otherwise they fit pretty true to size. I ordered a large to come up higher on my leg even though I am only 5'6". They have kept my legs comfortable and I have even used them for spring skiing. Would recommend them to anyone looking for added wetness protection.
Durable uppers, problematic buckles
Familiarity:

I've put it through the wringer
I have had two pairs of these. Both of them broke at the buckle. I have climbed a lot of mixed terrain in them so I have been very hard on them. OR replaced the first pair no questions asked (and changed the size from L to XL for me). I bought a 3rd pair myself recently. I really like the length (upper calf on me) of these for protection from deep snow and water as well. Size up for Mountaineering Boots. I use an XL for size 45 Scarpa Mont Blancs. I would rate them 5 if it wasn't for the buckle problem. Not sure there is a better alternative out there.
I've got a 22 inch calf and had to return the Crocodile gaiters since they wouldn't close even just over jeans, so I'm hesitant to try these. Can anyone who has a pair measure and see how big the top can be when buckled at the widest point for safe usage? Pic is my size 17 shoes and monster calf next to my wife's very nice and normal sized equipment.
I would contact OR. An XXL may fit you. My XL is just under 21 inches at the top, but cinches much lower.
Very satisfied
Familiarity:

I've used it once or twice and have initial impressions
These gaiters ran true to size for me. I wear a size 44 boot and the large fits over a mountaineering boot as well as my Scarpa Invernos, which are bigger due to the plastic shell. Some said to use a size up, but I think these were perfect based on the size guide. They kept me warm and dry as well. I'm sure that they'll also save my pants from the crampon points the more I use them.
great gaiters
Familiarity:

I've used it several times
I wore these gaiters for a hiking and mountaineering expedition to the Andes mountains above 4,000 meters. There performed excellent not only in the snow, but also in the mud and dirt. They kept me dry not only avoiding the water and mud to get in, but also making a good job transpiring the sweat.


I use them for bushwalking
Familiarity:

I've used it once or twice and have initial impressions
They are useful all year round. My first use for these gaiters is to protect my legs as I bash through the bush. I once did it without gaiters and my legs were put through the wringer.

Solid performance. Protection from leeches, too.
They are the quintessential gaiter.
Yeah, they are the gaiter to get for mountaineering. You can buy another brand, you can buy another style from OR but this is the quintessential gaiter that all the others will be judged by. So go ahead and buy a different one.. Go ahead. Do it. You will be kicking yourself later that you didn't just buy this one to begin with. Tough as nails.



I don't like wearing gaiters, but If you are going to have to wear one you might as well know you have the best ones out there to get.
Bombproof
Familiarity:

I've put it through the wringer
Absolutely rock solid product. Big enough and adjustable enough to use with hardshell boots when needed. Excellent construction. I replaced an old set of Crocodile gaiters with the "Expedition" Crocodile gaiters and couldn't be happier. Perfect for cutting through dense brush in the Pacific Northwest.
Bomb Proof
Familiarity:

I've put it through the wringer
These gaiters live up to their name.



Crampons shed off these, and protect your $200+ pants, with a infinity guarantee. That means when you poke a hole in them they get replaced, free.



My only gripe with these is that I sized them to fit my snow boots, which are for low angle degree mountaineering (<40 degrees), basic strap on non-vertical crampon stuff. I would love a pair that fit my Baruntses, which would most likely be XXL, for protecting my 300 dollar pants that I use to ice climb.



That said, these are the most durable gaiter in the business, and although I prefer under the lace attachment for the front retention point, the over the lace attachment has done a decent job, when used on a correctly sized boot.



Note: these will add significant insulation to your lower leg/boot system and are hardly breathable. Best use is deep snow with COLD temps.





Update: I am on my third pair of OR expedition gaiters, Sheared off the bottom buckle on my last 12-day mountaineering trip (shit ton of rocks, low snow). The amazing thing about anything you buy from OR is that it will be yours forever, ever if you break it. Buy It.

With over two seasons of use (at least monthly), I can confidently say, buy em.
Awesome gaiters!!
Familiarity:

I've put it through the wringer
OR gaiters are always the best but these are the best they offer. Tough, waterproof, breathable and everything else you could ask for in a gaiter. The velcro is indestructible and I've been in knee deep snow all day in these and my pants always stay dry, they always stay up and stay in place!! I highly recommend these gaiters for daily hard use in hard conditions or just out to scoop the driveway.
Exactly What I Expected
Familiarity:

I've put it through the wringer
The gaiters have not failed me yet. Weather Im digging out a sled or hiking to a tower they keep my legs dry. There has been several times I thought I was going to snag and rip them but nothing at all. I highly recommend these.
Burly
Familiarity:

I've put it through the wringer
I have been ice climbing in these a while and they are burly! I have spiked them a few times and you can't even tell, it's like having dragon scales on your legs. Never been wet or cold in them either. If you are looking for a gaiter to last a life time, this is it. OR has one of the best warranties in the business and they will repair or replace it if it fails.
Favorites
Familiarity:

I've put it through the wringer
After using these by walking through knee deep rivers in the backcountry, these gaiters instantly became my favorites. Staying dry the whole way through my trip was incredible and it is almost all due to the fact these gaiters were bomb-proof. Not only would they last forever, but they are warrantied for life by Outdoor Research. I look forward to using them on more trips in the future.
These fit great on lowa mountain expert boots and have proven to be as tough as they come. Probably could breath more on a warm day of post holing but I wouldn't want to go with anything less tough.
These are not bomb-proof, but pretty close. After 3 seasons of alpine and ice climbing I have knicked the buckle on the instep enough times that I've almost ripped through all the stitches, but they're still holding strong. They do their job by keeping your feet dry and keeping you from accidentally sticking crampon points through your pants and skin.