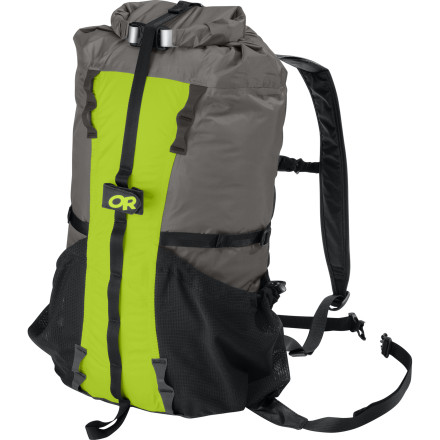 The versatile Outdoor Research DryComp Summit Sack is equal parts dry bag and ultralight backpack, making it ideal for summit pushes, wet-weather hikes, and side canyon excursions on a river trip. The air-permeable panel allows you to fully evacuate internal pressure when you cinch down the compression straps, and the dual mesh external pockets provide quick access to energy bars and sunscreen.

Burly nylon with a TPU finish provides complete waterproof protection
Padded shoulder straps make for a comfortable carry
Roll-top closure and fully taped seams keep wet weather out
Compression straps and an air-permeable panel allow you to tidy the load and evacuate internal pressure
Daisy chain and a single ice axe loop provide versatile attachment points
Dual mesh external pockets provide quick access to essential items
Is this a dry pack? can I pack it wear it on my paddleboard out in the ocean to travel to other camping spots and if I fall in it will completely keep my gear dry???
Unfortunately no. It is not fully submersible, I am sure a quick dunk and everything would be alright but, probably not what you are looking for. Closest thing we have which I am sure you own a ton of is



http://www.backcountry.com/sealline-boundary-dry-pack



If you have anymore questions feel free to send me an email or call!



Bill Porreca

bporreca@backcountry.com

801-736-6398
Is this bag foldable? If yes, how is the packed size please(minimum size), can I use it as the One Push bag for mountaineering?
Best Answer
Leon, spoke with Outdoor Research and they actually got one of these compressed and measured. It can be different for everyone but, they got it down to the size of a 1 L Nalgene bottle.A 1 Liter Nalgene measures out to be 3 1/2 Inches Diameter, 8 1/2 Inches tall.



You can totally use this as a summit bag. In fact that's its main intention. It is a small bag though, so it does depend on what you are bringing or intend to bring in your pack. I think its perfect for a lightweight layer or maybe even two depending on what you have. The dry feature ensures that even if it rains, the bag will keep its contents dry. Nice if you have a down layer in there...



Feel free to hit me up at bporreca@backcountry.com or 801-736-6398.
I'm looking for a dry pack for my rainy day bike commutes or walks...would this pack be sturdy enough to hold a couple books and notepads? Maybe a laptop?
Hey sam5399928,



This would be a solid choice if you are looking for 100% watertight options. I would like to point out that with a laptop and riding a bike it would be on the safe side to wrap the laptop in a jacket or something to keep it from bumping around in the bag which could potentially damage the computer. You could also use a rain cover on an existing backpack that you have with a laptop sleeve to keep the computer secure while you ride. It wouldn't keep the straps dry but anything in the interior of the body of the backpack will remain dry. http://www.backcountry.com/the-north-face-pack-rain-cover?ti=U2VhcmNoIFJlc3VsdHM6cmFpbiBjb3ZlcjoxOjQ6cmFpbiBjb3Zlcg&skid=TNF7296-TNFRD-L
Nice update, but leaves me wanting...
Familiarity:

I've put it through the wringer
This is an upgrade to the OR Dry Peak bagger. This is a little more minimalistic however in that id does not have a storage for probes and shovel on the outside, but it just has the 2 side pockets and main compartment, so what you see is what you get. The new OR Dry peak bagger has a second pocket but that will not accomodate ave tools if that is what your using it for. The zippered pocket is nice on that one though. Back to this bag, it is waterproof and has about 26 liters capacity so it is a nice little bag. I use it mostly for a day pack that I can shove in my larger pack during traveling and outdoor adventures. As far as mountaineering goes, I like the other bags better mentioned above. If you can find a 1rst Gen Dry Peak bagger eat it up because they are more functional than the newer day sacks.