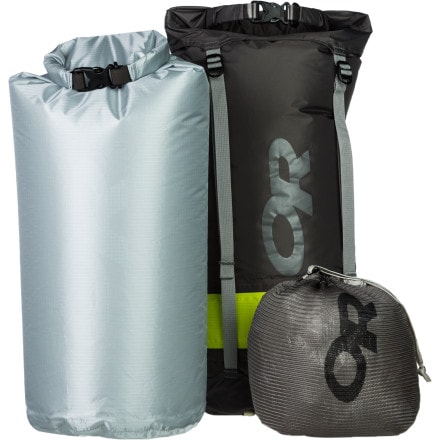 Colors
Prepare yourself for all manner of adevntures with the Outdoor Research Dry Synthetic Backpackers Kit. It has everything you need to get you started, including an Airpurge compression sack that allows air to escape during compression to help you get your gear as packed down as possible while keeping it dry and protected. The kit also features an ultralight dry sack to keep other important gear dry during downpours and whitewater adventures, as well as a mesh ditty sack to help you keep the stuff in your pack organized.
Airpurge dry compression sack features an air permeable, waterproof fabric band that allows excess air to escape during compression
Ultralight dry sack has fully taped seams and a waterproof roll-top closure to prevent moisture from seeping through and soaking your gear
Mesh ditty sack is super light and has a drawcord closure to help keep your stuff organized inside your pack.