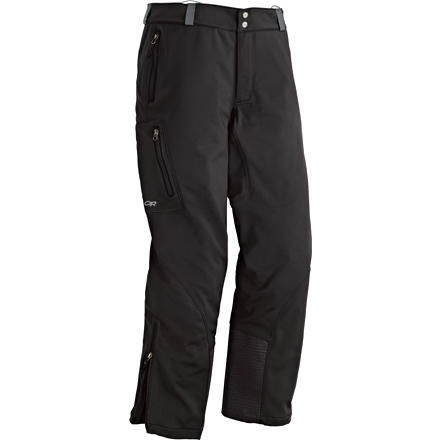 Community Images
The Outdoor Research Men's Credo Pants shed moisture with a fully seam-taped nylon softshell face fabric, and a brushed fleece lining provides an excellent next-to-skin feel. These 20-ounce pants make a smart pick for ice and alpine climbers who want solid weather protection with top-notch breathability. Outdoor Research gave the Credo Pants a gusseted crotch to allow you to move freely up an alpine ridge or steep ice pitch.
I've used these for winter hiking, mountaineering and ice climbing. The tough material on the inner ankle kept the pants from getting shredded from crampons, in fact, there isn't even a scratch. These pants breath really well and kept me plenty warm in 20-35F temps. I have a 34" inseam and usually buy 36" waist. The XL size fits great.
Nice but run somewhat large
Six foot tall I have a 30 inch waist and got the mediums, they're cut more to fit a full 32 I'd say however. There's no way I can use them even with heavy layering underneath they'd be quite baggy still.

They certainly are nice pants however exterior seems abrasion resistant, tough crampon patches, nice brushed interior and nice medium/light heavy weight.
This is a great softshell pant. Very nice material and craftsmanship. The scuff guards are a nice touch and I have no problem zipping the pants over my Scarpa Invernos. I am 5'10", 185 lb and more of a thick/muscular build vs lean/lanky. I usually wear between a 32-34" waist and 32" inseam and the Medium fits me perfectly. The pants are close fitting in the thigh but not super tight like some other softshells I tried.

One thing I did notice, the brushed fleece lining seemed to grab on to my baselayer a bit when I put the pants on, but it was pretty easy to readjust the baselayer from the bottom after getting the pants on.
OK Here is my question, I want to buy a...
OK Here is my question, I want to buy a pair of soft shell pants to wear over my clothes when snowshoeing. I will be using these at work and have to wear a uniform, so these will be an outer layer. Don't need warmth just something to block the wind and snow, usually layer my clothes so this will be final layer. Also usually snow shoe short distances then work and then snow shoe back to the truck. I'm 34x34 in pants which size should I get and will these work for what I'm looking for?
Best Answer
Softshell pants like these balance weather resistance with breathability. If you tend to be doing high activity work and won't be standing in the snow, I think these would work out for you. If you tend to be doing low activity work, standing in the snow, or working when it's snowing I'd go with a hardshell pant. The hardshells are waterproof and more windproof so they won't really get soaked after a long time in the snow/weather but are nowhere near as breathable for high activity environments.

As far as size, the L is 35x33 and the XL is 38x34. If you are wearing hugely thick layers, you could probably use the L but it might be a bit tight over everything anyways. I think the XL would would be a bit more roomy/comfortable over everything, you just might have to wear a good belt on it.
Unanswered Question
Will these zip completely over alpine or...
Will these zip completely over alpine or telemark ski boots?
I'm size 36...should I go L or XL on these...
I'm size 36...should I go L or XL on these pants? Thanks.
xl!

My brother runs a 34 and he has a good fit in large!
Best Answer
I'm a 36/37 and the large is bitchin
Sheds the elements built durable and great for ski touring!

The cuff is a little tight to fit over ski boots!
great fit, very breathable
great choice. Not too warm-soft liner, not really for insulating but more for comfort. This is what I was looking for something light that I could use while winter hiking and snowshoeing. inside of the ankles is real solid durable material which was great for the snowshoes. prevents snagging and tearing. stretchy fabric allowed great easy movement. I can't say enough about how comfy they are. solid choice for active pursuits
I just see small sizes left on backcountry...
I just see small sizes left on backcountry and don't see the pants on ORs site. Are they out of production and if so whats the next best comparable pants?Thank you.
Nope, they aren't out of production. The Credo pant is a Fall/Winter item and OR has updated their website to reflect their Spring/Summer line-up. If you poke around on the website you can find the Fall 2008 product line which includes the Credo pants. Backcountry will likely have more in stock come September when the Fall/Winter 2009 product range comes in. Hope that helps.
Durability without Question
I wore these pants on a trip up Cotopaxi in Ecuador. I took a spill and managed to smack my leg with a crampon above the crampon guard on these pants. I tore my long underwear and cut my leg open but there wasn't a mark on the OR Credo's. They were warm, great for walking or scrambling and protected me from 40+mph winds, sub zero temps, rain, snow and ice. I couldn't have dreamed up a better pair of soft shell pants to make the climb in.
These pants are awesome! Perfect fit, great stretch. Couldn't be happier. I wanted something for snowy days around town, and these are the ticket. I like that they fit like normal pants, rather than big, bulky ski pants. I have a hard time with many pants, as I tend to like pants that move with me. These are perfect if you find yourself stretching often, or sitting on the floor, or doing yoga in the snow ;). Can't say the same with my baggy snow board pants.
ski touring and ice climbing pant
Great comfy fabric, repels the elements, perfect soft shell pant for ski touring, alpine climbing and ice climbing. Good pockets, scuff guards, and a great weight.
Went backcountry skiing in these and hiking in them and they withstood the snow, wind, and they were warm. Usually i do wear these under a hard shell when i go skiing but if the temperature and weather in nice, why not these. After a day out in the outdoors I wear these around town and they look cool. Also the gusseted crotch is nice along with the reinforced ripstop on the inside of the ankles where my skis rip all other pants. Great product.
I wore these pants during a two week trip to Alaska. They proved to be very strong and resistant to rock abrasions. They also make light work of shedding water, snow and ice. I found them very comfortable but as with other items from OR I have problems with the sizing. I'm usually a medium but find that with OR I have to get a large which is a bit too big for me. If I could improve the pants in any way it would be by providing some ventilation. On warmer days they were a bit too warm! Then, I run hot most of the time so it could just be me.
Mountaineer or Ice Climb!
What I love about these pants is their breathability and the DWR finish they have. They are great trekking, or on Ice routes. The leg zips make them easy to put on over leather boots and the heavy-duty instep reinforcement almost makes me want to wear them without gaiters. Almost. A nice warm and breatheable piece.