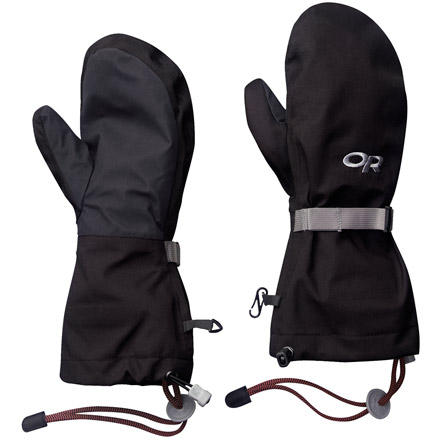 Community Images
Outdoor Research designed the Cornice Mitts for general mountaineering and backcountry adventure. The Cornice features a fully seam-taped, waterproof, breathable, highly durable Gore-Tex® 3-layer 330d Cordura shell. (Say that 3 times fast). An anatomical curve, boxed construction, 3-panel thumb, and AlpenGrip palm all create a very dexterous and durable mitten. The removable insulated liner is composed of a lightweight ripstop shell with Moonlite Pile fleece on the palm and lofted insulation on the back of the hand for excellent heat retention. Top it all off with a soft nose wipe placed strategically on the back of the thumb for easy access shnozz cleaning.
Share your thoughts
What do you think of the
Outdoor Research
Cornice Mitten
? Share a...
Bought these for my son. We went skiing today in the very low teens and were out for a few hours. He complained that even with these mittens his hands got really cold. I swapped him for my Dakine mittens. We both agreed that the Dakines were definitely a warmer pair of mittens. Like other reviews have indicated, the Cornice mittens are a stiffer mitten.
Great mittens, but not for small hands
They said on the glacier that "Nothing is waterproof on a glacier". But these mittens were! The only problem is the size, with or without liners, they are very roomy if your hands are small, like mine. They're also very stiff at first, so it was hard for me to do anything with my hands inside of these stiff baggy mitts. But they kept me dry and warm, and I could take them on and off quickly when I actually had to use my hands.
What would be warmer? Alti Gloves or...
What would be warmer? Alti Gloves or Cornice Mittens?

I'd like to get some warm mitts for 10 to 14K altitudes, but I thik the Alti mitts would be overkill. But I'm also thinking about the Alti-gloves which would allow some amount of dexterity if they are warm enough for the job.
Wow - great question. The whole glove vs mitt thing. Yes, Mitts are warmer in general, but the Alti Glove IS the warmest glove that OR makes to date. I think you would be great with the Alti Glove.
*Warmth comparison -- I have the Cornice Mitts and the Hestra XCR Mitts, and I must say that the Hestra's are warmer. However, what I love about the Cornice mitts (and other OR handwear) is that you can use the Gore-Tex shell with other liner combinations. Tough choice, I recommend trying a few on. I tried about 7 before I settled on the Cornice and the XCRs.
Great warm mitt with good options for temperature control. With the removable liner, you can feel free to wear the shells over anything you want, greatly expanding the possibilities of this mitt. For really cold days, wear a PL400 or the included liner. For warmer days, use a PL100-200 or other lightweight glove, or just wear the shell. On ascents I'll use a lightweight liner then switch over to the heavier (and drier!) liner for the descent. Great for saving space and a little weight as you won't be carrying two separate gloves.
One complaint is the lack of dexterity with the included liners. I've found that a heavier glove liner in place of the mitt liner helps with this and doesn't really cut down on warmth.
OR quality is top notch and their infinite guarantee makes these mitts a great option for your outdoor winter needs.
Great mitten. The top of the glove has extra insulation, keeping my hands really warm.
does any body know about a different mitt...
does any body know about a different mitt with only the shell? a 3-layer gore-tex shell mitt...
The liner is removable so it can work alone as a shell....
First time in 30 years I have had warm hands while skiing and it was frigid (Vermont style). They are a bit bulky but what mittens are not. Could not have been happier but then again warmth was my main goal here and they performed well beyond my expectations.
A True Outdoor Adventure Seeker
These mitts might not be for everyone, however for a true lover of cold, wet, snowy, icey weather; they are perfect. These mitts have fully taped seams, yet are very breathable. They come with a very warm insulated liner, however they are perfect for putting in your own liner. What I love about these mitts is that they are sort all your fingers they way a mitt should "no seperate finger slots." So they are warm and fully waterproof. They are great for anything from a long day of hiking in the backcountry to just building a snowman outside of the lodge. However been warned these mitts fit small, so I would suggest you go a size up from the norm for you. Oh, and ladies if you are thinking about getting these gloves go for a small and keep in mind that they will not fit tight around your wrist even if you tighten them.
These mitts are durable and really warm too. On the warmer days, you're better off taking out the mitten liner and using a thin glove liner instead.
My new backcountry ski mitt...
Just a note that the 'product specs' on the side of this page show that this mitt has a nose wipe. This is not true. The Cornice mitt has NO nose wipe. I even chatted with the online help that pops up on this site to ask if the mitt had a nose wipe. The customer service rep said there was- but nope, no wipe!
The mitt is built very solidly just as every other OR product I own. They make good stuff and stand behind it! Can't wait to put this mitt to the test!
These were my first "hard core" mittens. i bought them two years ago and returned them two years ago. Backcountry sent me a replacement which was also defective. Do not buy these mittens they have terrible dextarity and warmth. Not taped seams. Don't buy spend a little more and get a better mitten. Back country did rectify the situation so they get a big thumbs up, the product however, big thumbs down.
The best thing about these mitts are that they are built to last. For the past several years, I've blown through one or two pairs of gloves/mitts each winter. I needed something that wouldn't fall apart with intensive use (I work outdoors daily in winter, plus recreating).

As for the dexterity comments others have raised, the loss of dexterity is a small price to pay for warm fingers. I keep a pair of winter work gloves (actually, OR's Extravert gloves) handy for a quick swap if I'm going to be doing anything needing nimble fingers.

These mitts are perfect for snowboarding, too.
I wear these shells snowboarding with either a fleece mitt or a liner glove (or both) and it is the perfect set up. I do take them off to do anything more involved than just strap in or out. The cords make taking the shells off and on quick and easy. They fit easily over my jacket cuffs. They're waterproof, windproof, durable (no wear signs after 2 yrs of carrying sharp snowboards around) and I'd buy them again in a heartbeat if I lost mine.
Do the shells have a lining so that I can...
Do the shells have a lining so that I can wear the shells comfortably without the removable liners?
According to OR, the shells do not have a lining and would be a little more comfortable with a removable liner. A wide variety of liners is available.

The waterproof layer is in the shell, not the liner, so the mitts will be just as waterproof without a liner or with any after market liner.
I agonized over the decision about what gloves to wear on a multi-day alpine hike/climb. I finally dropped the big bucks on these bad boys, and I was NOT disappointed. First, I should say that I tend to have cold fingers/toes at altitude and I brought extra chemical handwarmers just in case. With these mitts, I didn't need them. They are very solid and durable, and I loves the gore-tex waterproofing. The insulation is wonderful and lightweight. They are certainly big mitts, and dexterity is a problem. I also agree that the gauntlet is a little bit too small and can be a pain. These negatives aside, I am very glad that I paid the extra bucks and got these mitts. I still have all 21 of my important digits.
I have been looking for a few years now for some mittens to replace my beat to hell Burtons from 1998... these are perfect. They are simple, solidly built, and warm. Removable liner so you can use them on baltic days and not so baltic days, throw a small glove liner in there if that's your style... just a very nice, simple, strong mitt that was exactly what I was looking for.
Although I am not a big guy, I usually...
Although I am not a big guy, I usually wear x-large gloves, (like in marmot's) Are OR sizes close to other manufacturers? I'm not sure if I should order large or x-tra large. Measurements say I should get Large
If you're sized as a L, but you usually wear XL's, it's kind of a toss-up. While the L might be snug enough, you may be on the verge of an XL. The XL could allow room for warmers, if you should choose to put 'em in there, but may be loose.

I'd say L if you're gonna be using your hands a whole lot (which I have to imagine is the case). A tighter fit will definitely be easier to maneuver.
My hands are perpetually cold and I am constantly on a quest for a warm functional mitten. I think I'm getting closer! These mittens kept my hands pretty warm in cold,windy weather. I won't lie and say they're perfect...I still use hand warmers when it's really cold out, but these did the job much better than many mittens I've had in the past. I won't drop them while fumbling with my camera or phone because of the "idiot cord" and the nose wipe definitely comes in handy. I do wish they had a little goggle wipe though.