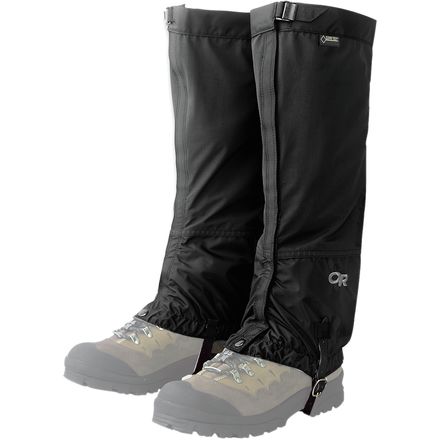 Outdoor Research made the Cascadia Gaiters with lightweight, waterproof Gore-Tex Paclite fabric, so you can hike through rainy days without a care in the world. Or atleast without getting wet pants, socks, and legs. The Cascadia Gaiter's elastic bottom edge seals around your hiking boot, and the instep strap keeps the gaiter from slipping around. Tighten the Cascadia Gaiter's top hook-and-loop strap, attach the hook to your boot laces, and venture out onto wet Appalachian or Rocky Mountain trails.
Worked for 15 stream crossings
On the 16th crossing, the water started seeping through a little. But by then we were almost back to the trailhead. I have the mediums, (I'm 5'8") and they fit over regular hiking pants, but probably not over many layers. I got my husband the XL's, and they fit him perfectly. (He's almost 6'6") Neither of us have any complaints with these so far.
Easy to get on and off, wear them over a pair of vasque hiking shoes, they keep my socks and lower pant legs dry. I wear a size 9 boot and ordered the large.
Great for keeping your legs dry and warm.
I have worn the OR Gaiters every weekend since I have had them. Eight to 14 mile hikes all on hilly, wet, muddy, and even flooded trails. I crossed numerous streams. The highest about 8 inchs of fast moving water. (Stepping quickly for up to 20 feet).

Through all this my feet remained dry and comfortable. I did not experience any claminess. Smartwool socks might have helped.

I would certainly recommend these for serious day hiking in snow or wet spring weather. They would probably even withstand more than that.
Unanswered Question
I wear an 11.5 boot and have skinny legs....
I wear an 11.5 boot and have skinny legs. whats the best size to go for?
I am very interested in a pair of the...
I am very interested in a pair of the Cascadia Gaiters. I wear a sixe 10 and a half wide or an 11 wide boot or shoe and have roughly 20 to 21 inch calf. Should I purchase the large or the XL size?
These worked great. lights weight, really water proof. I wore them for days through pouring rain. The weather was not cold, I just wore them in rain, no snow, but yes mud.
Unanswered Question
Does anybody have an accurate weight for...
Does anybody have an accurate weight for these?
I purchased these gaiters to use with light hikers when I might encounter snow, and for off-trail xc skiing. I have or curently use several other pairs of gaiters for varying conditions (incl. OR expedition crocs, and some very old crocs). These gaiters seem well constucted, but I returned them prior to use because of a fit problem. The underfoot strap is sewn into the uppers very far back towards the heel. With light hikers it will run under my arch (where it sould be) only if pulled tightly at an awkward angle. With xc boots it runs directly under the heel of the boot. I wear size 10M US boots, and these (and all other) gaiters fit in all other regards, so I chalk this up to a design flaw. You can see the heel portion of the elastic being pulled taught if you look closely at the stock photo of this gaiter. The OR verglas gaiters that I got instead are working fine.
I wear a size 10.5-11 hiking boat size,...
I wear a size 10.5-11 hiking boat size, I'm 6'2" and have pretty skinny legs. It looks like I could go with L or XL. Can anyone help direct me to the right size to purchase??
I'd go with the Large. The elastic cuff should be able to accommodate any hiking boot (mountaineering boots might be a little big) and not having the gaiter slide down is really nice!
I'm going on a Mt. Kilimanjaro trek in Feb...
I'm going on a Mt. Kilimanjaro trek in Feb 2010...I need a pair of gaiters, what do you suggest?
Something high, like these, with Gore-Tex. These will definitely get the job done. And enjoy your trip, sounds like it'll be good.
i'm a short guy. I where an 8.5 shoe, I...
i'm a short guy. I where an 8.5 shoe, I only want to use these for hiking/backpacking not mountaineering would a med. or large be better?
The medium will give you a closer fit, making them less likely to fall while you are hiking.
My experience with gaiters is well, near to none, but I got these for a A.T. trip and for other backpacking trips. They are very light weight, thin on the part on your leg and thicker around the boot. They are easy to put on and take off. I look forward to field testing them. I think if you do the research like I did you'll find these to be a great value.

The only thing I can think of one might not like is that if you tighten down the straps around the top of the gaiter and keep them closed...your legs will sweat like crazy...and the problem then becomes your socks, shoes are soaked cause you've locked a lot of moisture in there. So to remedy this, when it's not necessary to keep them all the way closed up, I opened the velcro most of the way down so there was airflow. Problem solved.
I used these gaiters for elk hunting in Utah in snow and a ton of mud. I liked them because they weren't super thick and bulky but enough to keep my boots and legs clean and dry. If you are looking for a gaiter to beat through the bush, mud and snow and don't aren't looking to wear a pair of crampons, these are a really good choice
Just what you'd expect. The material is fairly light and they're waterproof. Mostly, I use waterproof pants. Think about what really needs to be waterproof.
Will these gaitors work the best of the...
Will these gaitors work the best of the OR line in the pacific northwest?
Best Answer
Crocodile Expedition Gators are the best out there. Check them out.