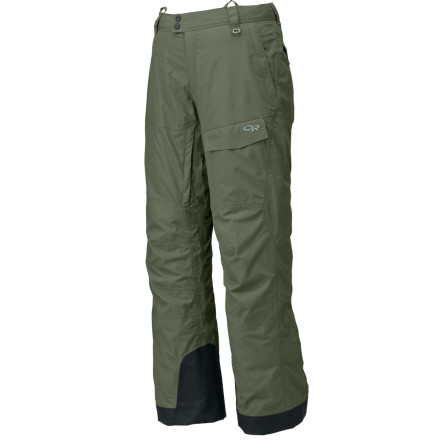 Gearing up for a backcountry tour in pants that offer protection from cold descents but no breathability during rigorous ascents means you'll be at a disadvantage before you even slap on the skins. Cover your lower body with the Outdoor Research Men's Backbowl Pants and be just as prepared for the up as for the down.
Highly breathable and waterproof Pertex shell fends off moisture but doesn't leave you clammed
Mesh tricot upper promotes sweat transfer from your thighs, and the smooth taffeta lower lining offers smooth comfort
Hand, leg, and back pockets let you access snacks, lip balm, and whatever else you may need without pulling off the pack
Leg shaping allows the pant to move with your legs while you hike and ski
Reinforced leg cuffs and inner ankles help reduce wear from rubbing and ski edges
I order two pair to compare and see which fit me best, this pair, and the Marmot Motion pants. These pants had better ventilation and seemed to be just a bit more comfortable, though both were awesome. My only problems are the mesh gaitor and the way baggy legs. It doesn't make sense to make the leg opening bigger to let more snow in and then put in a mesh gaiter to do a mediocer job at keeper snow out. However, I chose this pair because of the better breathability (which might be because or the mesh gaitor) and the length. They're light enough I might even use them as rain pants when it's not too warm. I hate seeing people complain that pants are too long. I complain because companies only make pants thinking everybody fits into the sm, med, lg catagory. I'm tall and slim and can't find anything that's long enough. Thank you OR!
Run very big, nice product
Gender:

Male

Familiarity:

I've used it several times
Seem to be a really nice weight for when its too cold for rain shell, too warm for full on snow pants (ie most of the time in the Pac NW). But they run really long, they are baggy but thats not an issue - this gives pretty good range of motion. They are fine when wearing ski boots, but the to / from the mountain in boots you WILL be dragging pants on the ground, unless you've got some super long legs. The cargo pocket was not waterproof, not a big deal but frustrating. Not crazy about the vents, they zip down to wide open, I prefer some kind of mesh for blowing snow. Otherwise seems to be really a quality product, sturdy.
Used size chart to buy. Mediums perfect waist fit but otherwise HUGE. Then got small. Perfect fit except for waist that is tiny.
Got my son to try them. He is 6 foot and mediums were also Huge on him. He then tried on small size. Also good fit but he has a tiny waist and could not do them up!! Designed for very tall people with micro waist. Wear a corset if you want to wear these!
I found them a bit large like the rest of the reviews, but when I swithched to the smaller size i was quite happy. I was a bit skeptical of the leg shaping making a difference, but it does, very comfortable, but make you want to move with the leg shape. Thigh vents are great and the number of pockets lead to convenience.
How baggy a pair of pants seem to you is a real personal thing and popular opinions/styles seem to swing like pendulum on this issue. Judge the bagginess of this pant by the photos, which are accurate representations. Personally, I think the bagginess of the backbowl is just about right. I bought a pair this week and they look like a great design for backcountry or sidecountry exploits. Beacon specific pocket, highly breathable material, well-placed thigh vents, articulated knee, strategically placed reinforcements, etc. However, I may be returning my pair because the Men's mediums have a longer inseam and slimmer waistline than I expected. I measured the inseam and it is 33.5 inches. Waist is about 32-33". The inseam is at least an inch longer than what I expected. I am 5'9" and wishing they made a short version!
I also found that these pants were on the gigantor side. I used the sizing recommendations and found that I looked like I was wearing a dress rather than pants. - bottom line unless your a really big dude and like your stuff to resemble something from a rap video you might want to think about another pair of pants.
Just got these and returned them. They seam to be very well made and look like they will last. They are very baggy and have a bell bottom shape. The leg openings in the bottom of the M is 12"!! So they are not my cup of tea. As for sizing I have a 34" waste and the M were just fine.