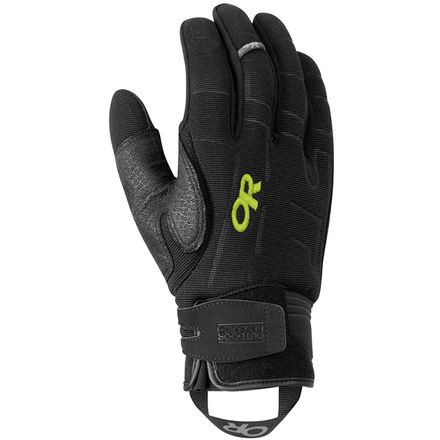 Description
Keep a tight hold on your tools, even when your grasp of good musical taste falters.
Ice climbers and winter mountaineers: despite the fact that you're wearing the Outdoor Research Alibi II Glove as you scale up a 100ft frozen waterfall, there's still no excuse for busting out that refrain when you reach the top. If you aren't familiar with what refrain we're talking about, all the better. Updated but not changed, the Alibi II features an articulating wrist harness secured with a leather cuff closure. Softshell finger sidewalls and pre-curved construction provide a custom-like fit for total dexterity and easy tool maneuvering. The Pittards Oiltac leather palm gives you a firm hold on your tools or the pitch, whether it's bone dry and cold or a bit wetter than preferred. A carabiner loop on the back of the glove keeps gear within reach, and corded nylon protects the back of the glove from scratchy rocks and sharp ice shards.

Four-way stretch fabric, polyester and elastane blend
Pittard Oiltac leather palm
Corded nylon on back of hand
Softshell finger sidewalls, pre-curved construction
Articulating wrist harness, leather cuff closure
Carabiner loop at back of hand
Very happy
Familiarity:

I've put it through the wringer
I have been climbing with the BD Punishers for that last few seasons, and I just couldn't stand the lack of dexterity any longer. I now use these gloves for climbing, and immediately switch to mitts when I'm done. They aren't warm, like others have said, but if you're pissed off at not being as dextrous as you'd like, these gloves are for you. They're durable.
THE Warm Weather Glove
Familiarity:

I've used it several times
To be honest, Asadarnell posted a pretty spot-on review for these gloves, but I'll do my best to add on.

These gloves are "almost" as good as just taping the tools to your hands. They fit so well, and the Oiltac leather is *super* tacky. The wrist closure is basic but secure, I have not been worried about my hands "squirming" around within the glove.

The only downside I really have to these gloves, is that they don't seem to breathe all that well. I'd agree with asadarnell in that these are warm weather gloves, and as such I would have expected them to breathe a tad bit better.

That being said, the comfort, fit, and the dexterity, OH THE DEXTERITY!, make this my go-to warm weather (20+ degrees) ice climbing gloves.

Ben
brabinowitz@backcountry.com
801-746-7564
Great climbing glove
Familiarity:

I've put it through the wringer
The alibi II is an all around great glove for warmer weather ice climbing. Don't expect it to keep your hands very warm (or dry), but it provides everything I was looking for.. it's not bulky, super grippy palms, doesn't limit dexterity, and blocks wind. Ice climbing in about 25-30 degree weather, my hands only ever got cold while belaying, but I think you might want a different glove (Warrant, Alpin alibi) for super cold climbing. The gloves seem to be very durable, I use them almost daily for working out with my ice tools, biking to work, and wear them all day climbing (belaying, rapelling, scrambling over rock, etc) and there is no sign of wear. They are dexterous enough to the point where I don't need to remove them to access my pack, use zippers, or put on crampons. They actually work with iPhone touch screens - not sure if that was a design feature or a coincidence, but it's super nice when I can take pictures with my phone without removing them. I'd definitely recommend these gloves, but make sure you're purchasing the right grade of glove for the weather you'll be climbing in. Get these for dexterity and low-bulk with a hint of warmth and weather protection. I'd look more at the Warrant or Alpine Alibi if you need more protection from the elements.
Excellent all-arounder!
Familiarity:

I've used it several times
I don't ice climb, but I do quite a bit of general mountaineering and summit scrambling. For my purposes, these gloves have served me very well. They are quite durable and have held up to some rope abuse as well as climbing over rock. They're a little less warm than a 200 weight fleece glove but they provide way more dexterity, grip, and water resistant (especially if you treat the leather). These are my go to gloves for scrambles; even in the summer since they are light enough to breathe a little bit. Also, the gloves are dexterous enough for me to keep them on while pulling zippers on my pack, using a camera, and putting on crampons. I've even tied my boots while wearing these! These are quite form fitting and are perfect as a light and dexterous all-around glove. Overall: very versatile gloves that are still going strong after a decent bit of abuse!
Is this glove waterproof?
Is this glove waterproof?
No, the Outdoor Research Alibi II Glove is not fully waterproof. The idea with this glove is to create a good blend of water resistance and mobility/breathability. Pittards leather palms are treated to prevent the absorption of moisture, while the polyamide and elastane shell allows you freedom of movement and breathability so you can articulate your hands and handle those ice tools with precision.