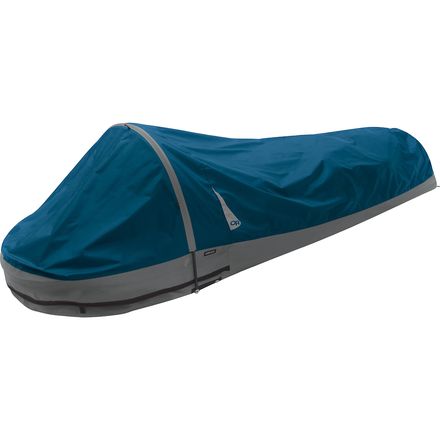 Community Images
Description
Are you advanced enough to handle the Outdoor Research Advanced Bivy?
Take a break from the storm in the Outdoor Research Advanced Bivy, a lightweight option for solo backpackers and peak baggers. The innovative two-pole design creates an adjustable awning. This adjustability allows you to modify the angle of the overhead roof, and thus the size of the zipper opening, to match your environmental conditions. Rain or snow runs down the roof off this waterproof, windproof bivy's wide storm flap and onto the ground. When wind kicks up, reduce the zipper opening to prevent moisture from blowing in. When skies are clear, open to stargazing mode with the removable no-see-um netting in place to keep bugs out. Extra room under the awning creates a great place to store your boots. Straps secure your sleeping pad to the bivy interior so you don't have to deal with your pad sliding around. A small internal mesh pocket stores objects like headlamp or lip balm. This Outdoor Research bivy also has six guy-line loops so you can tie it down in extreme wind.
Great on cool nights!
Familiarity:

I've used it several times
I used this bivy on a couple different bicycle trips. The first trip it was hot at night and thus was warm in the bivy. No fault in my opinion as a tent would be warm as well. On cooler nights this bivy really shines. It's roomy, easy to set up, and keeps you warm on cool nights. Overall I love it, especially for these cool fall nights ahead and can't wait to try it winter camping.
Perfect Winter Bivy
Gender:

Male

Familiarity:

I've put it through the wringer
have used this bivy many times and have had zero issues with the product. The construction is top notch and I'm not worried about damaging the bivy in the field and I'm extremely hard on gear. This bag might be overkill for summer or even the fall, where one could get by with a lighter, smaller sized bivy, such as the OR Alpine, but for winter camping, overnights, or multi-climbing, this bivy is hard to beat. A couple features that make this bivy ideal for sub-zero winter camping are the following:



* A very generous overall cut, which accommodates high loft sleeping bags. I use mine with a WM Puma -25 bag and still have plenty of room inside. I also use two pads, a Thermarest Prolite Plus size large, situated on top of a small Z-Lite pad for extra warmth on my torso. The two pad setup lifts you off the ground several inches, pushing your head and face closer to the top of the bivy. But with the Advanced Bivy, I still feel like there is ample headroom.



* The integrated foot box vent allows for even greater air circulation, which helps cut down on condensation. I never close this vent and have never had a problem with the elements getting into the bag, or wetting my sleeping bag.



* The guy points on the top of the bag allow for various stakeout positions depending on conditions. With heavy to moderate snowfall I will stake these out in order to prevent sagging. If you experiment with this you will see that some configurations will give you even more headroom inside, as the tension on the main pole can be controlled given the direction of the guy lines etc. I have guyed this out with one piece of cord from the middle hood loop straight up to a tree branch and that seemed to really provide a lot of strength to the hood area. When doing this it's good to stake out at least 2 of the underside loops on the head side of the bag. I don't usually stake out the loops at the foot of the bag.



Many people find the zippers in this bag difficult to manipulate, but you need to practice using the bag to easily and quickly manipulate opening and closing it, especially in cold weather. I have seen some reviewers erroneously claim you have to unsnap the pole in order to close it tight--this is not true, as the zipper pulls must be passed around the pole fro inside the bag, a relatively simple thing to do. This is the only aspect of the opening and closing of the bag, that can be cumbersome if you haven't practiced doing it.



Condensation has not been too much of an issue. The times when I had frost form inside the bag in sub zero temps, I was either drying a lot of gear inside the bivy and/or, had the bag fully zipped, which is really not good to do with any bivy.



One thing I have noticed is that in very cold weather, the shock cord on the poles, becomes limp and looses it's elasticity, which can make putting the pole together a pain.



For packing purposes I leave the stuff sack the bivy comes with at home, as it is too tight to use in the field in freezing conditions. Instead, I use a 9.0L, medium size ultra-sil stuff sack, which allows me to roll the bivy and poles up and easily get it into the bag. The last thing you want to do when breaking down camp or setting up, is to struggle with stuff sacks. Inside my pack it compresses down anyways, plus the ultra sil is lighter.



For sizing, I'm 6'2" with very wide shoulders and again, this bag fits me, two pads, a high loft bag, along with enough room on the sides to put jackets or other gear. In my usage I will usually put my inner boot liners inside a stuff sack and use that as a pillow along with a light jacket, or it will go inside my bag.



I give this bivy a 10/10, and would recommend it without hesitation.



* The pic shows snow inside the bivy and on my bag, but that all happened after I opened it up and a gust of wind blew spindrift everywhere.


No condensation, incredibly well made
Familiarity:

I've used it several times
I had been on the hunt for a lightweight one-man shelter to take backpacking and motorcycle camping. It has to be fast and easy to setup, no condensation, lightweight, waterproof and durable. I initially bought a Marmont Starlight 1P, but it was a soggy nightmare to sleep in temperate weather due to the condensation. So my hopes where high for the OR Advanced Bivy.



From the moment you pull this out of the bag, the quality construction and materials are apparent. GoreTex fabric, taped seams, strong zips, coated lining. This is a serious adventure bag.



Now I'm 6'2", 180lbs. I've got a long Nemo Cosmo Air sleeping pad. It's a big pad and I was worried it wouldn't fit in the Advanced Bivy with my Marmot Plasma 15 sleeping bag even though it's meant for larger pads. I was wrong, it fits fine, not a problem. The internal elastic straps that hold the pad in place are a little tight, but maybe that's a good thing.



Setting this up is easy with the two lightweight poles and button-pole ends. I think the end clips could lock into the poles to prevent them slipping out during restless nights (you'll see what I mean), but some tape fixed that. The tape also helped me remember which pole goes where as they aren't color coded or anything.



I've heard some people ask how to hold this open. It has a thick wire that runs around the flap edge, you can fold that back on itself and it holds it open. Another technique I use is to jam my Snow Peak SnowMiner Headlamp into the poles in the interior. Keeps the light close and holds the poles open.



The stow bag is a little on the small side, and whilst it is made of the same durable fabric as the base of the bivy, the closure on the tie-rope is weak and doesn't hold the bag closed. With the 4 small pole ends (plus one spare, nice touch) and poles not having a separate bag, some DIY modifications are needed to confidently attach the stowed bag to the outside of my backpack.



When I contacted OR about this relatively minor feedback, they were fantastic and helped me with some pole ends to modify.



I get the feeling I'll be in one of these bags for the rest of my life to be honest. Just a superb quality product from a reputable brand (I remember snowboarding in their mittens years ago when they were the 'cool' gloves!).



My 3 riding buddies have all bought these.
What is the easiest way to stuff that bivy back into that small stuff bag? 👠
Rolling it. I start with the bottom, make 2-4 rolls, put the poles inside. When getting closer to the top fold the sides in to keep the roll the same length.
Not breathable
Familiarity:

I've used it several times
I had high hopes for this bivy, but it ended up being clammy with lots of condensation inside. Granted, it was very cold that night, and we were camping in the snow, but the entire inside of the bivy was covered in ice.



I like the idea of a bivvy, but there are quite a few tents out there that are lighter than this, and store just as small.
15 yrs and counting!
Gender:

Male

Familiarity:

I've put it through the wringer
I have had this bivy (older version but seems identical) since 1998. I have used it it in almost every possible weather that you would need a bivy. I have stuffed a -20 deg down bag in it with my 70lb dog on long winter trips. Never much issue with condensation, (except with wet dog!) or not having room for my gear. I am in the mountains a lot less now but use the bivy when car camping when i dont want to deal with a tent, read always. I have no complaints and it still sheds water, with occasional treatments. I use it without the poles mostly and have no problems sleeping in this bag whatsoever. I just wished they still made the doublewide version for the dogs.
OR advanced bivy
Familiarity:

I've put it through the wringer
This is the most spacious , durable , quality bivy out there. You might find one lighter but you won't find one with more quality and comfort with the two pole design. It's still lighter than most tents and packs smaller.
Incredible. Lifetime investment!
Familiarity:

I've put it through the wringer
I sleep outside 365 days a year, and half the year in some pretty rugged conditions. Let me tell you this bivvy was the greatest investment in gear I have ever made. I have slept in it 600-700 nights since buying it in every situation from Florida to Alaska. After going through many bivvys, this one has the least problems with condensation. The quality put into outdoor research products is astounding. The zippers have worked flawlessly the entire time, and the floor has never developed holes. However, after abusing it for almost 3 years, the fabric has begun to absorb and leak water.



I called outdoor research asking to buy fabric to repair mine, and they SENT ME A BRAND NEW advanced bivy free of charge! That's right: anything you buy from them is guaranteed for LIFE. No joke. This is a company that really cares about brand loyalty. From now on when given the option I will only be buying outdoor research stuff.
I've had good luck...
Gender:

Male

Familiarity:

I've put it through the wringer
I've had good luck with this sack. Actually, I have the old version that is more of a royal blue color. Pretty much the same setup though. Throughout its career, my sack has been through many drizzle type conditions and a couple all out deluges (one was an AZ monsoonal storm). I've stayed dry with them all.



A couple of times I have had the condensation issue it seems all bivys are plagued with. I found I only use the bivy when I absolutely need it and keep the venting as open as possible to eliminate the condensation. If it's a clear night but I'm expecting dew in the morning, I'll sleep under a tree and leave the bivy packed.



Fours stars due to the poles. Yes, they work ok, but they're a bit slow during setup. I'm not super stoked with the snaps, but again, they do work. I do find having the sack off your face is a benefit however.



I haven't bought a newer version because mine has held up just fine over the years and still running strong.
anyone used this in a storm, specifically...
anyone used this in a storm, specifically mountaineering? does it stake out and hold well?
Best Answer
This video shows how this bivy set's up and might give you a better idea



http://www.youtube.com/watch?v=-tD3wzUYy5E
I've had it in a number of storms. When you're in it there's really no reason to tie it down. When I'm not there I usually fold it in half and place rocks on the ground sheet to hold it in place.
Why does buying a bivy seem like such a hassle? So I bought this one and I tried it one night. I woke up hot, stuffy and panting. Let's call it 'freak out mode'. This thing may be bomber and all, but it really isn't for me. I wanted a bivy for sea kayaking when there isn't a good place to put up a hammock. The only way I could see using this thing and not freaking out in the middle of the night is if the wind was blowing and you could get consistent fresh air. I think I will just use it under my MSR Zing wing, having that extra level of protection from the elements and using the bug screen to keep the mosquitos at bay. The only negative I found with the actual bivy was the fact it isn't high enough when I sleep on my side. the top pole was against my shoulder the whole night making rolling over a hassle.
I purchased this for overnight kayaking trips. Most of my buddies use tarps. This ha sbeen a life saver for rain and more importantly bugs. I'm the only one sho usually wakes up having enjoyed my night of sleep when caught in rain or a bug infested hell. What really sets it apart is the pole that keeps the bag off of your face. I have had other bivys that just lay on your face and it drives me crazy. The pole also makes it real easy to open up the material and just let the netting open. This is greta when it's a little warm but still want ot keep the bugs at bay. This is the ideal set up for light weight minimalist shelter...that actually shelters you!!
I'm 205 lbs w/ wide shoulders....will this...
I'm 205 lbs w/ wide shoulders....will this bivy be comfortable from a width perspective? CAn anyone make another suggestion?
In my experience, the OR bivies tend to run wide to accommodate wider bags... The shoulder width is about 26" with an additional 15" -20" in height at the shoulders. Google search images for a drawing of the bivy showing the dimensions... Hope this helps!
Rich, I am 6' 2" & 205lbs, I have this bivvy sac and it is great. Fits well and is bombproof in all sorts of weather.



Peter
Ok...once again, this bivy looks like it's...
Ok...once again, this bivy looks like it's in my future. The questions I have are: is there a considerable difference (besides price) between the ADVANCED and the HIGHLANDER? If so what are they? And 2: Where exactly do the two poles go? I can see that one appears to hold the opening in place creating a bit of space, but the other? Does the other create a "foot box?" Thank you in advance...j
Best Answer
The Highland Bivy has no poles and uses Pertex as its waterproof/breathable layer. The Advanced Bivy has two poles to create space around your head, a removable mosquito netting layer at the opening, a footbox opening for added ventilation, and uses Gore-Tex Respiration as its waterproof/breathable layer.

The two poles both go in the head region--on over your face and the other around the opening/top of head so to create rigidity at the opening, which aids in both keeping the opening open for ventilation and preventing the top of the bivy from curling around your head--giving you more head room.
how many poles are there and how long are...
how many poles are there and how long are they? or how long is the longest? surprised you don't list this in your specs, thx
Actually, on the right-hand sidebar, bc.com does list that there are 2 poles and that broken down, the poles are 15.4" long. However, not having a bivy to measure the pole length put together I can't answer that. Though I have no idea why you'd want to know that.
Best Answer
Hey Stephen, There are 2 poles, one is 50" and the other is 59". Hope that helps!
Hi. I'm very likely to purchase this bivy....
Hi. I'm very likely to purchase this bivy. I was only able to find one negative review, so that's good. My question though, is does the bivy come with a foot print? Is a foot print necessary?
Best Answer
No it does not come with a foot print and one is really not nessecary. If you are sleeping on rock a lot it might be worth carrying a tarp. Grabber and SOL make some great tarps that are heat reflective and super durable. Plus this will add some warmth.
Rocked this bivy across the U.S. and Canada 3 times on Transcontinental Freight-train/hiking/urban camping trips. From 3 days in the freight yards waiting for a ride in incliment weather to Being snowed on and 65 mile an hour icy winds thru the Mid-west and Rocky Mnts., this bad boy took it all and kept me warm, dry, and happy. The design was especially important with its sharks mouth, bug screen, and light poles to keep the top off of your back. This bivy is the best for all around ease and protection, and simple, useful design. LOVE IT!!!! (Now if i can just afford another!)
Bivy Sack Overview - Outdoor Research
Nathan walks through the different bivy sacks from Outdoor Research.