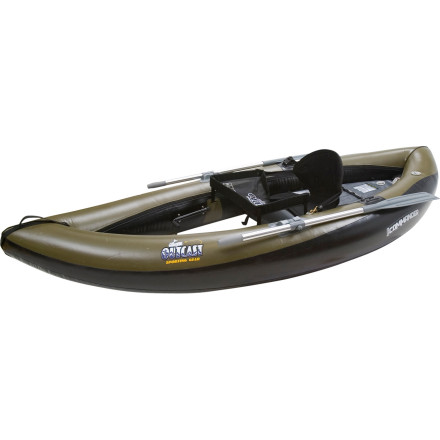 Detail Images

Community Images
Take your fly fishing adventure up a notch when you use the Outcast OSG Commander Raft to fish and navigate still and moving waters. This unique design combines the best features of a kayak and a rowboat to give you a raft that's easy to maneuver, fish out of, and stand up in. An open-floor cockpit makes fin-kicking a breeze and enables you to stand up and fish in shallow water without having to climb in and out of the boat. Plus, plenty of ample storage space gives you room for your gear.
Ideal for avid fishermen who prefer to fish in still and moving waters
Unique design combines the maneuverability of a kayak and the comfort and ease of a rowboat
Open-floor cockpit makes fin kicking an option so you can fish and guide the boat at the same time
Open-floor plan also provides an easy way to stand up and fish in shallow waters without the need to climb in and out of the boat
Continuous curve design eliminates seams on the bottom of the boat
500 and 1000 PVC fabrics, urethane AireCell material, and Thermo welded seam construction provide a raft that lasts for years of use
Dual-layer design creates a stiff hull so the boat won't flex when operating at full pressure
Adjustable foot rests and an adjustable kayak-style seat for comfort and convenience while you fish
LCS stripping apron helps keep your line organized
Cargo loops secure your gear
Ample cargo space behind the seat leaves room fo your gear and lunch
Valve Type: (2) Summit II
Includes: (2) 5ft 2-piece oars, (1) seat, (1) LCS stripping apron, (1) repair kit
Repair Kit Includes: (1) black PVC, (1) olive PVC, (1) grey PVC, (2) urethane, (1) urethane coated nylon, (1) vinyl tube valve adapter, (1) summit 2 valve adapter, (3) type A patches, (2) alcohol prep pads, (4) screws, (1) summit II valve wrench, (1) sand paper
Items Not Included: pump
Great boat
Familiarity:

I've used it several times
I have been using this for almost a whole summer now - mostly on big rivers in MT and ID like the Yellowstone and the Snake, but also local ponds for bass. So far I am pretty happy with it.

The boat handles small rapids and riffles with ease. You are going to get wet, but I expected that. You'll probably want waders even on hot days because there will be water pooled around your butt. At 35 pounds, it is nice and light. You can carry it to the top of the boat ramp and into the parking lot easily and avoid the lines.

The open floor is by far the best feature of this boat from a fishing perspective. Firstly, you can control your drift with your feet. The boat does get blown around in spite of the lower profile 11 inch tubes, and it wants to pivot around the heavier back end. However, with just one foot in the water, I can stay facing the direction I want to face in normal western wind conditions without using the oars. I can also kick both my legs to move (slowly) closer/ farther from the bank etc. This makes it possible to fish while floating, although it is still quite a bit of work to manage everything - especially with a fly rod. What is really nice for me is the ability to put my feet down and stop and fish a promising run from the boat. You can stand up, but the boat will pivot around you and it gets annoying dragging at your legs. And why would you want to stand up when you can lean back into your kayak chair, rest your back, and sip your beer while you high stick the top of a riffle or the tail of a pool? The ability to stop and fish from the boat is what makes this so much better than a standard kayak. Easily doubles or triples the amount of water you can fish from the boat while concentrating only on fishing.

I do have some small complaints. The main thing is that the oarlocks need to be higher, and the oars need to be longer. The tubes flex a little bit at the oarlock if you put any oomph in, which further shortens your effective oar stroke. Don't miss the takeout! Moving upstream is a slow process. And with the short tubes, you'll hit your knees a lot on those times when you hastily have to hold your rod between your knees and grab the oars to maneuver.

Overall, I think this boat is a great blend of good kayak and float tube features, and the open floor makes it a viable option for people like me who want to fish from their boat.

What rapid rating is the raft? How does...
What rapid rating is the raft? How does it handle compared to an pontoon ? The first time I ever used a pontoon was on the green river, how does this boat handle compared to a pontoon?
Hey Robert,

A friend of mine uses this raft and says he is comfortable taking this on class II or lower. The reason being is that you are pretty close to the water and the front of the boat does not have a floor so all of that water is coming through and hitting you straight in the face. Pontoon's can handle much more aggressive water compared to this.
W/ Rod Holder and Commander Pocket
Without the rod holder and the pocket, storage on this boat is relegated to stuffing things behind the seat. The rod holder and storage pocket really make this boat unbeatable. Unfortunately, we do not sell either at backcountry.com, but the purchase is well worth it. The pocket is on the left side of the boat and the rod holder the right. The scotty rod holder fits perfectly with the boats accessory mounting points.
I love this boat. The season is young, so I have only been able to take it out twice so far. Once on utah's green river, 2nd time on the lower provo river. This boat is awesome. I was worried about getting soaked, as it seems your butt will be in the water, but this is not the case. You do get wet, and if its cold, I recommend using with waders, but it wasnt near as bad as I thought. Your butt stays dry, but your calfs tend to get splashed. Handled red creek rapid well and the boat is extremely manuverable. It does include one rod holder mount, but not the rod holder. The one thing this boat is lacking is storage / cupholders, both of which can be purchased from outcast. The material is very tough, like most any whitewater raft you'll see. I love the open cockpit. Stand up and fish and the boat will just float around you. Comes with cheap oars that get the job done, a stripping basket, and some other stuff.