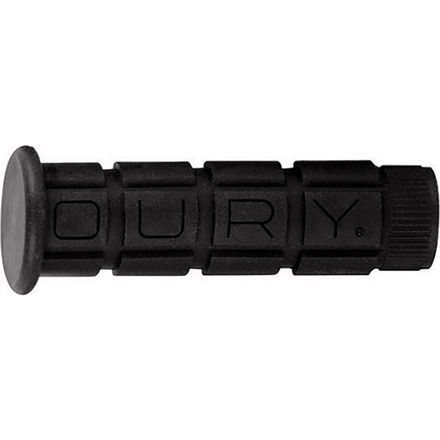 Community Images
Sometimes the things we appreciate most, remind us of our youth. This is true of Oury Mountain Grips. They have a long history of use for Motocross and BMX. If you grew up torn between mashing pedals or twisting a throttle grip, then having them on your mountain bike is akin to warping back in time to the days of old when you had fewer worries and nothing to do but have two-wheeled fun all day long.
Oury Mountain Grips have a blocked design that's as comfy as it gets in a round grip. Known for being durable, we think the basic design adds to their ability to last for years. The wide range of color choices is great for those who like to add some flair to their rides. Just try to remember to get home in time for dinner.
My Go-To Grip
Familiarity:

I've put it through the wringer
Been rocking oury grips since I can remember. Sure they arent fancy lock-ons but they also dont cost thirty bucks.

I enjoy the chunkiness off these grips and they take a long time to wear through.

GRIP TIP: Spray a quick shot of hair spray in the grip. It will help the grip slide on and then when it dries it will keep your grips from spinning! Don't forget to cut a small hole in the end to allow it to dry though.
Soft Grip
Familiarity:

I've put it through the wringer
Wonderfully comfortable grips. The size, grip, and tactile feel makes these my favorite grips. I ran Oury's on my motocross bikes for years and loved them then. I was surprised to find these for bicycles about a year ago. Why did I wait so long to try them again?
Good so far.
Gender:

Male

Familiarity:

I've used it several times
These are better than the stock grips on my Scott Scale Comp 29er. I think I'll really enjoy them once I have a few rides in.



These grips have really worked out. The ends are susceptible to wear through. I filed my handle bars down a bit to remove rough edges before installation but they are still cutting through the grips a bit. That is the only detractor, purely cosmetic.


Solid Grips
Familiarity:

I've put it through the wringer
I have used these for years, I find them to be the best grips out there. Cushie and tacky they keep your hands from getting tired like a smaller would.
Safest grips
Familiarity:

I've put it through the wringer
Comfortable safe grip for your mountain bike. Before I used these grips I used another brand with a separate end cap. After a simple crash I ended up with a gash on my nose and now a very nice scar. So now all my flat bar bikes use these Oury grips for comfort AND safety.
These grips are cushy. For the price point, they are great. They do provide a large grip diameter though, so if you have smaller hands - I'd look elsewhere.
Nice on the palms.
Familiarity:

I've put it through the wringer
I used these to replace some lock on type grips. They go on super easy with some hairspray and stay put even when I am wrenching on them while climbing. They are definitely wider around and have more padding then most grips I have used which makes them nice and comfy.
Ourrrrsome
Familiarity:

I've put it through the wringer
So nice, wish I could give these 6 stars. Hands down the best grips I have used, super comfortable while still giving a good connected feel. Appreciate the rad color offerings. I used some 3M weatherstrip adhesive to keep them in place, I think depending on your handlebars they can move around a little if you just slide them on or use the soapy water method. One tip - install some cheap plastic bar plugs before placing these as the handle bar edge cuts through the rubber over time if you end up occasionally laying the bike down.
The Cushiest.
Gender:

Male

Familiarity:

I've put it through the wringer
I have used The Oury Grips for many years, and always come back to them after trying other things. The product and packaging stays the same, right down to the hologram sticker included with every pair. With lock-on and dual-compound grips my hands always end up sitting on the harder material on either end of the grip. The thick adn soft material of these single-compound grops stick to the bar and grips great. Of course, the soft material means that they tear more easily, and that the grime will stick to them. They clean easily with citrus solvent.