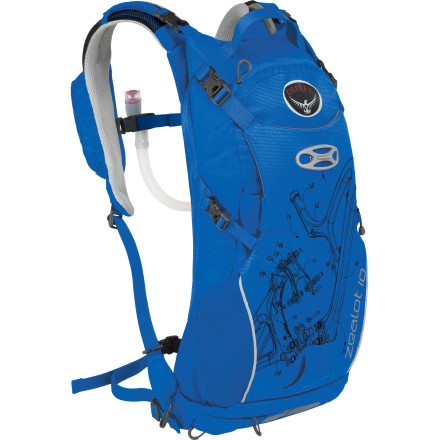 Videos

Community Images
Whether you gain vert under your own power or on a chairlift, you're ready for the downhill roller-coaster ride with the Osprey Zealot 10 Hydration Pack strapped to your back. MTB-specific features like a removable roll-out tool pouch and a full-face helmet carrier make the Zealot your pack of choice for a day on the trails.
Airscape suspension features ridge-molded foam that creates a lightweight yet supportive and ventilated back panel

Biostretch ventilated harness features perforated EVA straps covered by soft, breathable spacer mesh for maximum breathability

Hydration sleeve has elastic cord compression to keep water under pressure

Hydraform reservoir is BPA- and PVC-free, and features an AquaGuard antimicrobial treatment to prevent growth of bacteria and mold

Integral framesheet in reservoir prevents barreling, while a rigid handles allows for easy insertion and removal in the pack

180-degree pivot bite valve rotates on and off in either direction, and includes magnet that attaches to sternum strap

Reflective details improve nighttime visibility

Zip and drop-in pockets on the shoulder straps keep essentials in easy reach

What size for male 5"5" 150 lbs. S/M or...
What size for male 5"5" 150 lbs. S/M or M/L. Is the S/M female specific?
Best Answer
Hey mbi2763616,



Thanks for your question.



Pack size does not depend on height, it depends on torso size. To find your torso length, measure from the C7 vertebra (the big one at the base of your neck), down your spine to the line between the top of your hips. Once you find this measurement, refer to the size chart.
Unanswered Question
just received my new Zealot 10. Looks...
just received my new Zealot 10. Looks like an awesome MTB specific pack. Great design with comfortable shoulder straps. Better feel and quality vs my Viper. I did notice the reservoir cap is annoyingly stiff compared to my Viper 13. Is that just hit or miss with these packs? Thinking of returning it in hopes a new one will work better. Any suggestions. What about a replacement reservior?
The Gear Storage Pouch...Best Feature!!!
The best thing about this MTB specific hydration pack is the gear storage compartment on the bottom. You can hold your hand pump, patches, tubes, and multi-tool all wrapped up in its own pouch. There's plenty of storage space for a first aid kit in the main compartment, snacks/lunch for an all-day ride, or your rain jacket.

The outer compartment allows for storage of flip-flops, shoes, pads, or cumbersome items that won't fit in the main compartment. And, your cellphone and keys can be stored in the upper zipper for easy access so that you can record your Strava KOM/QOM rides.



As with all hydration packs, you need to keep your bladders and tubes clean, they will get funky if you forget about them.



This is really a great and versatile pack, it's become my go-to for my weekend rides and my day hikes.
Osprey Packs Zealot 10 Hydration Pack
Great Pack, but not so good reservoir.
I love this pack! Backcountry got it to me in 2 days. I am a 5'2" female and i feel like this pack isn't too long for my torso at all. I got it when my Dakine Hydro pack i used when snowboarding was VERY uncomfortable when i hiked. I spent almost double on this pack than my last one, but it was worth it. This pack is very comfy for hours of wear and honestly, quite sexy! One bad thing about the pack is that pocket on the shoulder strap that zips doesn't really fit my iphone with a Otterbox Commuter on it. It fit in there without the case though. i usually put chap stick and money/cards in there now. I kinda wish the large inside area had more pockets for organization. This pack even fits my Macbook pro 15 and an Ipad! That was surprising! it seems very durable as with any osprey pack. love the "Almighty Guarantee" that Osprey does. you can't beat it! I love how low profile it is, which is ideal on a ski lift. The drinking tube is not insulated so i'll need to get some sort of insulation before next winter.



I have the most difficult time closing the reservoir. the cap does not seem to turn well at all. it is hindered by the plastic that attaches it to the reservoir. I am tempted to cut the tether and it would work much better. maybe i'll oil it or something. This is the reason why i gave 4 not 5 stars.
This pack has a ton of pockets for storage and yet still keeps a low profile while your riding. The best thing about it is the tool pouch that clips on and off with in a zippered pocket and it is located on the bottom of the pack so it disperses the weight better. The sizing is true to the fit guide, but it is a large pack even compared to the Osprey Manta, the Zealot is more streamlined though. Once you get it on you dont even notice it and the venting is great. The reservoir is the only downfall because after many uses the screw cap starts to leak.
Does the Zealot 10 by Osprey come with the...
Does the Zealot 10 by Osprey come with the reservoir?



Thanks,


How big are the pockets on the shoulder...
How big are the pockets on the shoulder straps? Would they fit say, an iphone or a garmin gps?
They are big enough for a smartphone or a similar sized gps unit. More info at Osprey packs website, link below.



http://www.ospreypacks.com/en/group/hydration_packs__osprey_hydraulics_1/zealot_series
Great for my day excursions! Not too big, slim, ergonomic, and well ventilated, while still providing plenty of convenient features and enough room for all your stuff and accessories. Helmet "Lid Lock" feature is awesome, too! Versatile and functional, making it the Ultimate Adventure Pack!
Osprey Zealot Series Hydration Pack