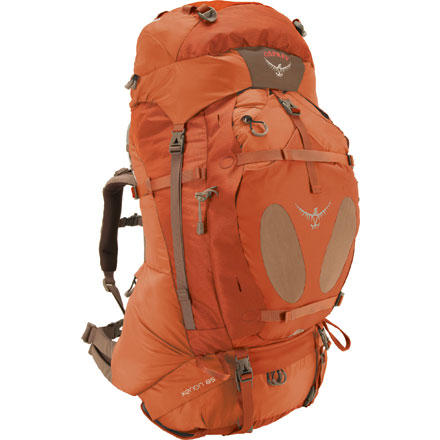 Community Images
Osprey created the Xenon 85 Backpack for women who demand comfort when they hit the trail for a weekend or longer. Two aluminum stays provide plenty of support to help carry whatever you can stash in this 4900cu inch Osprey pack. The Xenon 85 Backpack includes a molded back panel and well-padded waist-belt to ensure a plush feel even a couple days into your trip.

ReCurve suspension features an HDPE framesheet, two aluminum stays, and dual aluminum rods for the active transfer of weight to your hips
AirScape back panel features three different foam sections for plush comfort and an integrated air chimney for supreme ventilation
BioForm CM A/X hip-belt features thermo-moldable foam so you can dial in the perfect fit (for info on custom molding: www.ospreypacks.com/en/web/custom_molding)
Removable AquaSource hydration sleeve converts to a hydration pack for summit bids (water bladder not included)
Removable top lid converts to a lumbar pack for day-treks
Integrated load-lifter straps let you pull your load against your back for improved control and stability over uneven terrain
Interchangeable, dual-density shoulder straps easily adjust to fit both men's and women's frames
Top-loading access point makes packing easy, zippered side-access port lets you get to gear without having to unpack and repack everything
StraightJacket compression wings let you adjust the pack's volume for carrying different-sized loads
Osprey's recommended load range: 50 to 70 pounds
X-Small variant comes standard with size Small belt and harness
Looking for a Guide Pack - 85 or 70? Im...
Looking for a Guide Pack - 85 or 70?

Im going to be guiding 6-7 day trips, and I need to decide between the Xenon 70 or Xenon 85. I want something light-ish, but with the ability to carry some group gear too. (tarp camping, no tent)
suggestions?
Gosh Vanessa, so hard to tell. Do you have compressable light gear, or not so much. My gut is saying go bigger, because you don't HAVE to fill it! Plus if you are carrying group gear too... You will love this pack!
Finally one that fits all ...
I have been eyeing the Osprey Xenon for probably a couple years before I finally decided to switch from my old pack over to Osprey. And the decision paid off! The first tour it accompanied me to Katmai National Park, southern Alaska and made the trip so much more enjoyable. On the ~18mile hike in to the base camp with roughly 80lbs on my back it was amazing how light and comfortable the load felt with the Xenon. For dayhikes I tried both the hood that converts into a fanny pack as well as the lightly packed backpack. It compresses really nicely due to the tons of straps on it, so that it even makes a comfortable daypack if you don't want to pack any extra weight. Because my old pack was extremely simple, no fancy zippers or straps, I was a bit overwhelmed by all the stuff going on around the Xenon, but once you got it figured out it actually all makes sense and has its purpose. So although a bit heavier than my older pack it is definitely worth the additional comfort especially with heavy loads.

Because Osprey has a very thought-through fitting system with special sized waist belt, shoulder harness and backpack size, I actually went to a nearby store for fitting it and then bought it at backcountry because it was way cheaper.
Unanswered Question
I was wondering if anyone had a very...
I was wondering if anyone had a very detailed comparison for the Xenon 85 & the Gregory Deva 85? No outdoor retailers near my area have either pack in my size to try on, although I did try a Deva 85 for the hipbelt padding. I need help deciding on which one to get! :)
It doesn't get better than this!!!
What more could you want in a backpack? The Xenon 85 offers copious space in a very light-weight yet rugged outfit. There are many straps for securing gear onto the pack and many straps for compressing and stabilizing gear inside of the pack. The wastebelt, once heat-molded to fit your body is a dream to wear. Gone are the days you felt any weight on your shoulders. Stable, light, rugged, well-appointed, extremely adjustable to fit YOU and very comfortable...what more could you want?
I am off to Europe on a Contiki trip for...
I am off to Europe on a Contiki trip for 37 days and trying to find a backpack that will fit everything and cost the earth. I am only 163cm tall and 50kgs so I need something that wont weigh me down. Any suggestion on brands or bags I should look into?
Best Answer
Hi Amy,

We're about the same size, though torso length has a lot more to do with backpack fit than absolute height.

Osprey is known for making great packs that fit well, and a lot of people swear by them. Personally, they don't fit me at all. A lot of other companies make good packs as well: Lowe alpine, Marmot, Deuter, North Face, etc.

The most important thing with a big pack is how comfortable it is to carry, and the best way to find that out is to go try some on! Load a pack up so that it's got some weight and bulk in it, and walk around in it for half an hour. That'll give you an indication of whether you can stand to carry it. Women's packs may be more comfortable for you, or they might not. It's very personal.

Features are also a big factor - what pockets do you want or need? Do you want top-only access? Side/front access?

I will say this: 85 L is BIG. If you have the space, you'll fill it. You may be planning on using the pack for other gear-intensive adventures that require lots of carry space, or you might be travelling with some bulky gear that needs the space, but for a 5-week tour in Europe 85 L should be more than enough space (I travelled for 4.5 months with a 65 L pack including camping gear like a sleeping pad, bag, pots, fuel, stove, etc.).

Not sure that really answered your question...my best suggestion is to go try on all the packs you can find.
Absolutely Stellar Pack!!!
This is really an absolutely amazing pack! Obviously Osprey is top 'O' the line and this is no exception. I picked it up for my wife and figured it would get some descent use but she's put it through it's paces. The durability has completely met expectations. We did treat the entire outside of the pack with Nikwax which helped a lot! The moldable belt is a very nice feature, makes it extremely comfortable. The venting on the back panel definitely does it's job. One thing we were worried about was the amount of adjustment for her torso. Problem solved.....there is a ton of adjustment. It was a little more dough than some other packs but very well worth it for comfort and quality. We're looking forward to keeping these things running for years to come.
Does Osprey make a bag just like this but...
Does Osprey make a bag just like this but with the option to carry skis too? I'm taking a 6 week backcountry trip this fall but I'm an avid skier and don't want to purchase two seperate packs...would this be suitable?
Best Answer
Hey Kiki,

They don't make a pack exactly like this with ski carries on it. You would probably want to look at the Variant 52. They are definitely a simpler pack in terms of pocket options but they have more on the exterior of the pack for ski's etc. They are extremely comfortable and bomb proof. I have the old version of the Variant which is the Exposure and it is holding up amazingly well with some seriously rough treatment. I would say it is nearly as comfortable but not quite and also the venting on the back isn't as good as this pack.
Hope that helps.
What size hydration bladder will the Xenon...
What size hydration bladder will the Xenon 85 accommodate?
I don't know for sure, but any pack that size has to be 100 oz. Cheers!
Osprey includes an interior pocket for an AquaSource ReCurve hydration pack that fits down your pack or horizontally on top of your gear, and the ReCurve hydration pack can also be turned into its own backpack with the sleeping pad straps.

I dont know the size but i believe it comes with its own special hydration bladder so you dont need to buy one. If not a standard 100oz one will work fine. If that helps at all.
Will I be able to take this into any store...
Will I be able to take this into any store that has the Osprey custom mold oven to get the hipbelt molded?
Best Answer
You can take it to any dealer that has an Osprey oven. Be forewarned that a lot of them will end up charging you a bit to heat it for you. I paid $30 one time.....then backcountry got one.
I want to buy an Argon 85 but i need small...
I want to buy an Argon 85 but i need small size.
It may be possible to remove the women's harness and hipbelt and swap these with the men's versions?
Thanks
Best Answer
Sure it. There is no problem swapping out the belts.
I got this pack for a glacier trip in Haines, AK. It was perfect. It fit all my gear for a week long winter trip. It's pretty light for a full pack and comfortable!
Does this backpack allow you to attatch a...
Does this backpack allow you to attatch a daypack? I know you can get the 2 osprey add on day packs but they are quite small. I was wondering if it allows you to attach other daypacks?
No, it does not. I have the Daylite & I assure you it's not as small as you would think.
Is this pack good from checking at the...
Is this pack good from checking at the airport? I especially want to know if the backpack straps have a zippered pouch to tuck them away and make it more like a duffle for check in, so they don't get caught on the luggage belt.
Best Answer
None of these straps have a zippered pouch. Osprey does offer a zipper bag you can get at a very reasonable price so you won't have to worry about your pack getting hammered. Great pack!
I really like the size and colour of this...
I really like the size and colour of this pack - will certainly make it easy to find in airports. I was wondering if this pack or any similar have zips around the sides so it can be opened like a normal suitcase. I am not hiking, but I want a large pack for my travels with easy accessiblity.
Best Answer
The Xenon 85 has a vertical, zippered main compartment access. This is a great pack for both backpacking & travel with easy access.
Would this backpack be recommended for 2-4...
Would this backpack be recommended for 2-4 week travel trips where a sleeping bag is required? I'm considering buying it because of the extra compartments, and size/capacity, but I'm not sure if it's appropriate for travelling or is it just geared towards trekking? Does the interior have enough spaces for clothes?Thank-you
Best Answer
This is an excellent pack for a 2-4 week trip. It not only has plenty of pockets but also a separate sleeping bag compartment. Depending on the size, it has between 4700 & 5100 cu. in. of interior space for not only clothes but anything that suits your fancy.
wow!!! not only does this pack look cool, but it also has almost everything i need.
HYDRATION: it has a removable "pouch" for a water bladder... you take the straps off the bottom of the bag, connect them to the pouch & you can carry your water bladder on your back for day hiking & leave the pack at base camp. cons... when it rains on the day hike, the wet pouch either has to go back in the pack, or there is no place for the water bladder.
DETACHABLE PACK: lid turns into a fanny pack with its own belt. nice feature, not too comfortable, but i'm not a fanny pack fan.
VOLUME: room for all my backpacking gear on a two day solo trip (among other things included a thermarest, a sleeping bag with no compression straps & an extra sleeping bag for my beagle)... with the big agnes emerald mountain SL1 tent strapped to the outside. there was even extra space inside!
POCKETS while hiking: one pocket on each side. one is zippered & the other is a stuff pocket only. the stuff pocket will actually hold snack bars and tp without falling out.
OVERALL: the most comfortable backpacking pack i've ever owned... this one is a keeper!!!
This is my first Osprey pack. I bought the Xenon to replace a 2006 version of the REI Mars pack because it was large enough but not technical enough. The Xenon has everything I need, straps to attach my sleeping pad snug on the bottom and holding points to strap my tent (w/o the poles) on the top, and I love the outside stretch pocket for when I need to take an additional day pack. Because everything can't always fit inside the bag. I am also a big fan of having side access and this one is capable of top, side and bottom access.

I haven't put it to use yet but because I just took my Mars pack out for the first time to Thailand for 3 weeks and found it to be lacking in features, as soon as I returned home I began the search for a replacement and went for the Xenon. Upon receipt I immediately loaded it up with about 40 lbs of gear including strapping on the tent, extra day pack, and sleeping pad, with the sleeping bag in it's pocket and wore it around the house for about a half hour or more and it was very comfortable. I will however, have to get use to the arching back as I normally prefer that my packs be against my back. This feels more secure to me. Other than that I am confident that this pack will be perfect for my next trip to China (or elsewhere if I change my mind). I have not decided on whether or not to do the molding of the Hip belt, I prefer to let the belt naturally mold with use.
How does this women's specific pack differ...
How does this women's specific pack differ in size from the Argon 85 mens version?
Best Answer
Most women's packs are actually different in the shoulder strap placement but more importantly the hip belt. Womens hips are differently shaped in general and get a womens pack if you can. Plus the Xenon with the Custom molding is pretty awesome to get the comfiest fit you can think of. Women can use a mens pack but for the most comfort the ideal packs are the womens.
I just purchased this pack, I love the...
I just purchased this pack, I love the pack but the back panel doesn't go up high enought and the mesh piece is uncomfortable going across the bottom of my shoulder blade.

What can I do
Best Answer
Hi - It sounds like the pack torso size is too small for you. Please call Osprey customer service @ 866-284-7830. They have experts on hand that can help you with the fit process.You can do this yourself by using the torso length measurement. To find your torso length, measure your back along the spine from the the top point of your hipbones to the knobby bone at the base of your neck. This will give you a measurement in inches that will determine the correct pack size. I would use the aforementioned procedure & find your correct size.