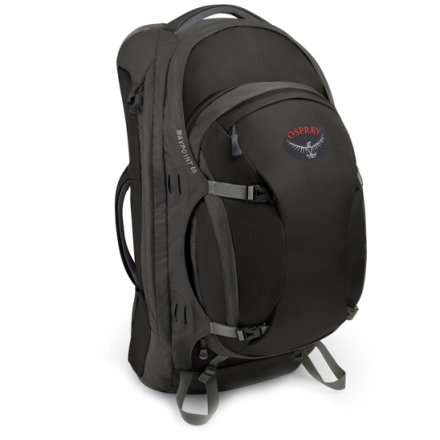 If you're worldly journeys include backpacking or off-road travel that standard luggage just won't live through, load up the Osprey Waypoint 65 Backapack. Half suitcase, half multi-day pack, and all comfort, this spacious gear hauler has the travel-friendly features to help you make the most of your time on the go.
Removable 15L daypack lets you leave the main bag behind for short hikes and trips
StraightJacket compression and bottom straps let you secure a jacket or extra gear
Airscape back panel lets air flow between you and the pack in hot climates
Internal pockets and compression straps organize and secure your gear
Padded grab handles make for easy hauling and airport transfers
Share your thoughts
What do you think of the
Osprey Packs
Waypoint 65 Backpack - 4000-4200cu in
? Share a...
Unanswered Question
I am a 5'3" woman, I am traveling for about a 3 1/2 weeks in south east Asia, winter in some countries and summer in others. I am debating between the farpoint 55 and waypoint 65. From what i have read the only difference is the size and that the farpoint doesn't stay together when you open it vs the waypoint that has rigid edges and stays together when opened, so it could be a little annoying. I am looking for practical and confort. thoguhts? and is there a huge difference in size between the 2? also heard the waypoint has mroe internal packets vs the farpoint that only has one.
is the side zipper (that allows access to...
is the side zipper (that allows access to the main compartment) lockable?
Hey aol,

The side zipper is a double zipper that allows you to put a lock on it.
I am looking to backpack the four pass...
I am looking to backpack the four pass loop in CO (3-4 day trip), however, I would love to have a pack that could double as a carry-on/ travel bag. Would this be the bag for me? I am considering this bag and the Atmos 65.
Best Answer
Unfortunately both of those packs will be too big to carry-on. You would have to drastically reduce the pack size to meet the max carry on size, normally 45 linear inches. (H+W+D)
Is this a men's or women's bag?
Is this a men's or women's bag?
Best Answer
Hey Ryan,
This is the non-women's specific model
I want to get the osprey waypoint 65...
I want to get the osprey waypoint 65 backpack for both my sons this Christmas. One son is 6' 4" and weighs about 190, the other son is 6'6" and weighs about 250. I don't know if I should get the medium or large frame of the 65 series. I'm assuming the large frame for my larger son, but what about my younger son who is 6' 4" and 190 lbs???
I would say that a large frame would probably be best for both of them, they are pretty big guys! (for reference I am 6'1" and usually wear a large backpack frame myself)
Osprey Fall '09 Packs Waypoint
You can fit plenty in here and it's very comfortable, with or without the hip belt. Plenty of straps to adjust for comfort. I have the large size bag and take it on planes AS A CARRY-ON without any problems from security.

This is the only bag I know of that (a) can be used as a carry on, (b) is 65L, and (c) has a detachable day pack. THERE SHOULD BE MORE BAGS LIKE THIS ONE!!!
Unlikely as the bags dimensions without the day pack are 28"H x 15"W x 14"D for a total linear dimension of 57" which exceeds most airlines limit of 45 linear inches.
YES! I've used it as a carry on for several flights and not had a single problem. It fits in the overhead area better than many rolling suitcases. Here's the thing - it is technically too big but my roommate and I both have 65L bags and never had problems on planes.
WIll be traveling through Brazil for three...
WIll be traveling through Brazil for three weeks. Rio, Florianopolis, and then some time in the Amazon. Looking for a pack that can tackle the both phases. Doesn't necessarily need to be ready for an ice-climbing expedition, but I'm not looking for a roller bag either. If I had to lean to one side, I would want a pack I could use for backpacking, camping, etc... Whaddya think?
This pack is definitely made a little more for carrying on your back than the Farpoint. However, for a more outdoor product than a straight adventure travel pack, I'd consider either the Aether or the Atmos series. With the Atmos, if you are a perfect medium torso length, medium hipbelt, medium shoulder harness (http://www.ospreypacks.com/en/web/sizing_and_fitting), then the Atmos series will fit you like a dream. It is available in a 65L size as well.

If you are, for example, a stick--long torso and no waist--then you won't fit an Atmos very well at all. Look into the Aether 70. It has interchangeable hipbelt/harness that you can customize the components to your body shape. You can get a long torso and a medium hipbelt if you so needed one (which can be done after you order the pack).

Anyways, in summary, for the 3 weeks in S. Amer., I would definitely consider this pack over the Farpoint for sure (more robust suspension for carrying weight better). And while you could backpack in this pack, it would for sure be better to get an Atmos/Aether if backpacking is a future purpose of the pack.

Hope this helps!
How about the ssprey 55 for a carry on? ...
How about the ssprey 55 for a carry on? I know it is not at rugged....carry on is my only options...suggestions
Fully packed - you'll have a difficult time. And you'd probably need to remove the detachable backpack to get it into the overhead bin. I'd suggest looking at the Patagonia MLC. It'll fit, its got shoulder straps and wheels.
Do these come with a rain flap....are the...
Do these come with a rain flap....are the ok for carry on? Traveling to Asia
sorry on both accounts... no rain cover. too big for carry on.
Is this the mans version? Do you not have...
Is this the mans version? Do you not have the women's version available?
This pack is the mens version. An easy way to tell is in the sizing; womens packs only come in small/medium and mens packs come in medium/large. They are the same pack from mens/womens with the difference being the gender specific sizes and harness/hipbelt. Here is the backcountry item # for the 65L womens waypoint: OSP0173
Hey Natalie - Dean is right on. Backcountry also carries the women's Waypoint. An awesome pack. You have the choise of an 85 liter or 65 liter pack. Have fun where ever you are going!
Unanswered Question
NOT THE SHOULDER HARNESS, BUT A SHOULDER(CLIP...
NOT THE SHOULDER HARNESS, BUT A SHOULDER(CLIP ON)STRAP(SINGLE).. ARE THERE ATTACHING POINTS ON THIS PACK TO CARRY IT THAT WAY?? OVER ONE SHOULDER WITH THE SHOULDER STRAP CONNECTED..