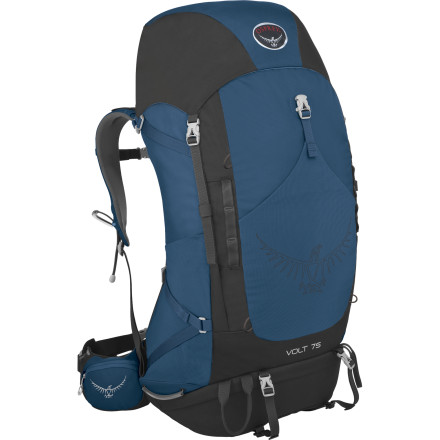 Description
The suspension you need without a bunch of excess bells and whistles.
If you want your pack to fight right, but other than that you adhere to a less-is-more philospohy when you wander through the backcountry, the Osprey Volt 75 Backpack was built with you in mind. Osprey designers gave the Volt a high-end fully adjustable suspension to ensure it would comfortably carry heavy loads, then trimmed away unnecessary bells and whistles to produce a sleek bag that provides everything you need for multi-day excursions into wild places.
LightWire peripheral frame gives the pack structure and effectively transfers the load to the waist-belt
Fit-on-the-Fly waist-belt extends up to three inches for a custom fit
Torso length can be easily adjusted between 17 and 22 inches
Back panel has a highly breathable mesh spacer for improved ventilation and comfort
Top access makes for easy packing
Suspension is designed to comfortably carry loads between 35 and 50 pounds
External hydration sleeve protects the inside of the pack from spills and allows you to hydrate on the go (reservoir not included)
Front mesh stash pocket is ideal for a rain jacket or puffy
Dual waist-belt pockets provide on-the-go access to lip balm, bug spray, and small snacks
Dual mesh side pockets provide quick access to gear
Sleeping bag compartment with divider allows you to quickly pack sleep gear
Removable sleeping pad straps provide a secure exterior attachment point
Dual compression straps help to balance the load
Stow-on-the-Go Trekking Pole attachments allow you to quickly secure poles when not in use
Good lightweight Pack
Gender:

Male

Familiarity:

I've used it once or twice and have initial impressions
Bought this as I needed a bigger pack for winter and mountain trips. So far have just used one time did a three day backpacking trip in the Great Smoky Mountain National Park. For it light weight the suspension system does well. Was pretty comfortable with a 35 to 40 lb load. I would not suggest exceeding that limit as I feel that the pack would get uncomfortable pretty fast. I think is was designed for carrying bulkier items and not heavy weight. Over all for the price I feel it was a good value. Will get to really test this summer during a 12 day trip to Colorado backpacking in to scale a couple of 14ers.

So far the only cones are the pockets on the hip belt are hard to zip, and the water bottle holders are hard to slip a bottle back in without assistance. Please over all especially at this price point.

Photo is me and my friends returning form the Road to Nowhere GSMNP
Overall a great pack
Familiarity:

I've used it several times
I bought this as an upgrade to a GoLite Quest 65 for the extra 10L in capacity and to retire the GoLite after several years of faithful service.



My initial impression was that was a 5-star pack at a 3-star price! I have not totally departed from that impression, but use in the field has highlighted some minor flaws.



First the good stuff:



The suspension system and pack cloth is designed to handle whatever you throw in here. I have comfortably carried 50 lbs loads over hill and dale without discomfort. The pack cloth was a pleasant surprise as I expected something thinner for a 3 3/4 lb pack - it's burly and light.



The "extendo-matic" hip belt works well which is key to a pack with a fully-adjustable torso length.



The pack has a sleek design (obvious from the pictures) that rides well and doesn't grab any of the passing branches. The stuff-it pocket on the outside is great and has accepted everything I've shoved into it. One little feature on this pack and other Ospreys is the Stow-On-The-Go trekking pole holder. It works well enough if you are walking on generally even terrain and trying to look at a map or something, but it is not the best option for a rock scramble.



A few cons that knocked a star off my rating:

The bottle pockets are huge but they're not designed to easily pull a water bottle out or put the bottle back. That said, they each fit 2 x 1L bottles.



The hip belt pockets are difficult to zip shut. My own fine motor skill challenges aside, it usually takes an extra hand to hold the pocket taut while I zip it shut. Beyond the zipper challenge, these are plenty big for a point and shoot camera, compass, pocket knife and a snack bar or two.



Some have mentioned the hydration pocket - I use the Osprey 3L bladder and haven't had any problems. However, if you try to stuff another brand's bladder in the pocket that does not have a spine board, you will be challenged to stuff it in there with a full pack.



Overall a great pack for the price.
Fantastic pack
Familiarity:

I've used it once or twice and have initial impressions
The first pack I got after my military CFP 90 patrol pack gave out, was a six moons design Fusion 65. Much too small for my winter camping needs, although light as a feather and seemingly well built with nice attention to detail.

I got the Volt 75 as a replacement. VERY nice pack! Fits so much more, and the bottom 'sleeping pad' straps fit my Eureka mountain pass 3XTE tent! If you know that tent, it ain't ultralight. Tent can fit in the space between the top pocket and main bag too.

I can cram a Big Agnes Deer Park 30 bag in the sleeping sack compartment; a little tight, but fits without too much effort. Main compartment fits three large fleece blankets with room for clothes. Top pocket fits my mess kit/water filter/food for a few days. Side pockets stretch to fit my Thermorest Neo-Air mattress and water bottle WHEN FULLY LOADED!. Outside stretchy pocket fits tarps for the tent.

All that plus more rides very comfortable on me (6'-1" @190lbs), with most weight directed to the hip belt. Also the pack frame contours around your neck at the top so when you look upward, the back of your head doesn't smack into the frame; a beautiful design. Freedom of motion while fully loaded felt generally unrestricted; the pack seemed to stick to my back, with a nice lumber pad to boot.

All in all my first impression is: I made the right choice.

Finally, Backcountry price matched me on an EMS sale, AND delivered quickly for free! Top notch people to buy from.
Will a LG Bear Vault bear canister fit in...
Will a LG Bear Vault bear canister fit in this pack horizontally? I usually pack my canister horizontally at the bottom of the pack. Can I do that with this pack?

Thanks!!
Best Answer
Depends on the size of the bear canister. Is it the BV450 or the BV500? Alternatively, is it another bear canister brand. it would appear the maximum width on this pack is 13 inches, so I would measure your bear canister and make sure that it is under the 13 inch mark, preferably closer to 10, maybe 11 inches.
I have a BV500 and it fits in the Volt 75 with no problems.
Attractive pack.
Familiarity:

I've used it once or twice and have initial impressions
I haven't taken this out yet, but so far I'm pleased with the quality of the bag. The fabric is strong and resistant to wear. There is plenty of room for all my stuff. I put a lightweight sleeping bag, pad, and all my camping gear in it with no problems.
Awesprey
Familiarity:

I've used it once or twice and have initial impressions
Yeah you heard me... er... read that! Osprey is awesome--Awesprey. I have been mulling over travel packs for literally a year or so, reading countless reviews and watching countless video walk through's. With the cost upwards of $150 for any week long pack I felt I had to be well informed before a purchase. Let me begin with my initial impressions.



Sleeping bag compartment is spacious, there is a fabric divider that isn't sewn into the inside of the pack 100% (however that doesn't mean it's fragile). I have a Columbia reactor 35 and it fits fine in it's compression sack with lots of space, so when I pack it out of the sack when I travel I know it will fit.

The interior is approximately the size of a 5 gallon water jug, 2 of them. That would be the best explanation I can think of for a newby like me.

the top strap on (ha) pocket is surprisingly large, I would say you could fit like.... 2 pairs of folded jeans in it. Like.... 20 bags of doritos in it. like.... a jet boil, pillow, rain shell, tool kit, and whole bunches of stuff in it. Seriously though it's large.

2 daisy chains and water bottle pockets adorn each side in a symmetry that rivals a perfect square.

Water bottle pouches could easily swallow a 32 ounce nalgene.

Attachments for crampons or the daylight pack.

Compression straps are EVERYWHERE on this thing, I'm not worried about that at all.

Suspension system is comfortable, hip belt and every other strap cinches down smoothly to pull the pack as close as possible.



Bottom line--I'd buy it again (but I don't have to with my life time warranty), and you should buy it too.

My plans are for the Fjallraven classic next year, Denali this summer, and Canada this fall. I'm confident it will work perfectly.
All around great pack
Familiarity:

I've put it through the wringer
I was able to fit a -40 Inferno sleeping bag, a full size thermal rest, JetBoil, pack cover, extra jacket, food, and some other miscellaneous things in there, Not counting the top pocket. A lot of loops on the outside that I used to strap on some dromedary bags, and an additional food bag. My 2 person Mountain Hardware EV2 tent was able to fit in the stretchable side pocket and strap down, and I put the tent polls on the other side.



Lots of adjustment and very comfortable. I used it on a 2 week trip in winter and it was amazing.



I'm 5'10", 140 lbs, with a 32" waist. The medium position that it came set to was perfect for me, but it also quickly adjusts for larger / smaller individuals. Just wish it was available in all black.



I had enough credits saved up from BackCountry that I got this pack for free!
Good volume, light weight, comfortable
Gender:

Male

Familiarity:

I've used it several times
Well made and easily adjustable, you can tweak the way it rides easily while on the go, which is nice to shift the load around a bit if you are having any trouble spots. I added the 3L hydration bottle from Osprey, and I like it, especially the valve. But it's not a Platypus when it comes to durability though it looks like it will last a reasonable amount of time. The shoulder straps are good with a bit over 40 pounds, but I agree with others that if you really load it down it might not be the best situation. The fabric is strong, and stitching looks good, but I noticed that it's in Osprey's lighter line, others I've compared are heavier material.



The reasons for just 4 stars is that I'm very thin (6' 2" 155) and for my use it could have a little more hip belt padding-I had some issues with chafing. (Not really the pack's fault.) I wouldn't load it down with much more than 40 lbs. Secondly the pockets and openings are pretty spartan. I'm ok with it, but some would really miss side openings and a half dozen outside pockets. The elastic mesh back and side pockets are nice but aren't super heavy duty and I'm sure would not last long if heavily loaded.



Bottom line, I like it, got it on a great sale price, so I'm pleased with the value. It's a middle of the road pack for weight carrying capability, and durability.
don't overload!
Familiarity:

I've used it several times
This pack was purchased for my job a wilderness therapy instructor. it was great as far as size and the amount of stuff it would hold, the problem was the weight. it struggled with heavy loads and the shoulder straps became pinched when heavily loaded. Some small things have also become worn out such as zippers and the front stretch pocket is coming apart. other wise it is an opsrey, a nice pack for the price.
With a trip planned to the West coast this summer (I'm on the East), didn't think my'78 Kelty Tioga would fair as well as an internal frame pack for the plane ride. Needed something that handled the same volume and weight (~70L & 40 lbs) and narrowed it down to three sub-4 lb packs: Dueter Aircontact Lite 65+10L, GoLite Quest 80L and the Volt 75. Load testing around my house with 40 lbs of books, the Volt was a pretty clear winner. Why? Adjustablity: esp. liked the ability to shorten the hip belt padding ... the others came too far forward around my hips and impeded thigh movement when climbing. Build: Dueter, imho, seemed overbuilt (and actual weight > 4 lbs!) while the GoLite seemed a little weak in the straps, buckles and esp. the suspension (it also squeaked). Volt seemed just right & does the same thing as the Quest with the bottom of the frame coming forward on your hip to move weight forward. It also just felt more comfortable and stable on my back and easier to hoist up and get into. Torso adjustment was the simplest of the 3 and was able to dial in the right length in seconds (I'm 5-10, 165 pounds).



Now back from a 25-mile Memorial Day weekend shakedown on the AT & can report that it's just as comfortable and performs as well in the real world as it does full of books around the house. Plus, discovered some nice little things: elastic side pouches are deep and huge (each will take 2 Nalgenes and are top and front accessible). The big top lid swallowed all my loose stuff organized into smaller bags. Load lifters, shoulder/sternum straps, hip belt: all easy to get at & adjust while under way. Even the zipper pull loops on the bottom opening are really well done. Bearvault 500 fit sideways above my clothes & bag at the bottom. Rear stuff pouch swallowed things small and large, including a Montbell thermawrap pro. Didn't use the hydration sleeve. Sweet, light & inexpensive ... N I C E !
Just back from a week backpacking in the Black Range (southern NM), used the 75. I'm usually wary of packs with this much suspension adjustment; usually the carry gets sacrificed. The Volt adjusts in minutes w/o tools - not just back length but also HIPBELT pad length - and once adjusted the pack carried up to 48 lb pretty comfortably. I was impressed, especially for a pack that weighs less than 4 lb on my scale.

Some features are less than optimized. Compression doesn't work very well, and I'd like more strap length so I can stow my foam pad behind them. And the pack never got that "glued to my back" feeling; too much random movement for use on technical terrain. The hipbelt pockets are useful stash for food, sunblock, compass, altimeter, etc, but once the pack is on it's really hard to close the pocket zips one-handed. Top lid can't be easily removed, but it does float and it is HUGE. Lots of stash there. Mesh pockets on back and sides are handy for need-quick gear. Oh, and the hipbelt straps are too long - I mean like FEET too long. Who needs this much hipbelt?



Bottom line: a lot of little things could have been done better, and that's unfortunate. For a 4 lb pack designed to fit a wide range of people in a single size (and <<$200) this pack has remarkable carry. It doesn't dig, slip, or drag; it's just kind of there on your back. The little things bug me because the main pack function - hauling your stuff - is almost unnoticeable. For a trail pack it's definitely worth a look.