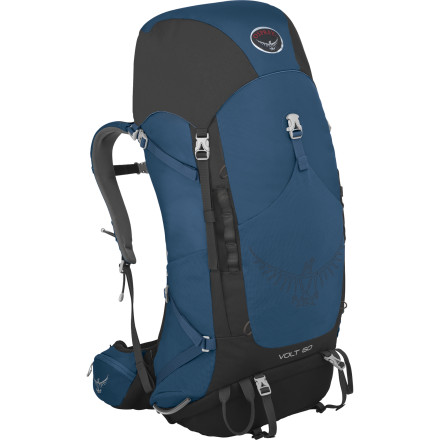 Description
A solid, quality backpack for weeklong trips or weekend excursions.
After a long six hour hike into the backcountry you finally arrive to your campsite overlooking a pristine mountain lake and place the Osprey Volt 60 Backpack on the ground. Surprisingly, your back and shoulders feel good, thanks to the Volt's LightWire peripheral frame that transfers load weight away from your shoulders and to the hip-belt, and the Fit-on-the-Fly hip-belt itself that provides a custom fit and support. This lightweight, thoughtfully-designed pack features all of the backpacking essentials without putting a major dent in your wallet.
Fit-on-the-Fly hip-belt extends up to 3in (7.5cm) on each size to provide a custom fit while accommodating different hip sizes
LightWire peripheral frame effectively transfers load weight to the hip-belt
Spacer mesh covered lumbar and back panel pads offer cushioning and ventilation
Torso length is precisely and easily adjustable over a 5in (13cm) range to provide an exact fit
Viva 60 comfortably carries a maximum weight of 50 pounds for weekend backpacking trips
Large top opening lets you effectively pack your gear while a floating top pocket can extend to handle overloads
Wide-mouth compartment with divider stashes your sleeping bag and supplies easy access to it when you set up camp
Strong, durable fabric offers you a solid pack for years to come
External hydration sleeve in back panel simplifies refilling and protects pack from spills
Large stretch mesh front pocket for quickly stashing extra gear, dual-access mesh side pockets for your water bottle or flask, and zippered hip-belt pockets provide secure storage for your camera or energy goo
Dual-side compression straps, removable sleeping pad straps, and two ice axe loops for convenience
Stow-on-the-Go trekking pole attachment allows you to tuck away trekking poles quickly without having to remove your pack
Everything you need nothing you don't
Familiarity:

I've used it once or twice and have initial impressions
Great pack for someone who just wants a good quality pack without a bunch of stuff you just don't use. You get Osprey quality for the price of a lower grade competitors pack.
Great buy
Gender:

Male

Familiarity:

I've put it through the wringer
This was my first pack. I was very excited to purchase it. I spent weeks searching for gear in general and this pack finished off my list. The adjustable height has allowed me to find my perfect comfort spot, which can be difficult for somewhat tall people like myself. It is easy to pack. I honestly love the sleeping bag compartment. It makes it very easy to stuff the sleeping bag in from the bottom (also you can take it out w/o unpacking the rest of the bag, I have had to do this on occasion) of the pack and acts as a compression sack that is built into the bag. For the price, this bag is one heck of a deal.

There are a few minor things, however, that will eventually lead me to an upgrade. Although the bulk of my gear takes up a good chunk of space in the main compartment, this pack has more space that I believe I really need for the 2-3 day trips I usually take. More space, of course, tends to lead to more stuff (and more lbs). Building on that, I think the weight of this pack itself is a little much, and I will consider buying a somewhat lighter (and smaller) pack when it is time for an upgrade.

Until then, I will continue to put this osprey bag through the wringer.


I am a huge fan of Osprey, to me they have mastered the art of comfort. I am not a bells and whistles guy so this no nonsense pac fits the bill. It handles weight beautifully and I am able to take along all the essentials and luxuries one wants on the trail. I searched every pac on the market and kept coming back to the Volt. I could have spent more but saw no need when it had everything that suited me. With so many great pacs out there nowadays it can be mind boggling to narrow down the field to find the one that fits your needs - this is the one for me. My wife will be getting a new pac soon and it's Osprey for her as well.
Does the hip belt have adjustment straps on the outside back of each side where you can shape the pads around your hips? I've had these on a few of my packs, but I can't tell if this one does from the pictures.
Great on so many levels!
Familiarity:

I've put it through the wringer
I had to really stop and think about what to highlight with this review. There are so many wonderful things about this pack, I want to be sure to cover them in proper priority.



Osprey uses an innovative design for the frame, harness, and belt sizing that results in a light-weight, flexible pack that feels like it moves with you but still is rigid and load bearing.



The pack feels like it sits closer to my back than other similar packs, resulting in a much greater sense of balance. The load lifter straps feel like they really pull the pack in close. In fact at first I often found it hard to look up because the pack was that close. Once I got used to it, it wasn't a problem.



The 60 liter has plenty of space for gear. I've done 5 day trips just fine. Max weight I've hauled was 37lbs, but I would prefer to keep it a bit lighter than that. I would be concerned that the larger version would just tempt me to load it heavier. (Pretty sure the harness system doesn't get any beefier on the 75 liter version).



My only complaint is that the side mesh got a bit torn up on my first outing, but no further damage was done on the subsequent trips. Must have just snagged it while being careless.
Where can I put my tent? Would it be best...
Where can I put my tent? Would it be best to use the pad straps at the bottom or compression straps on the side? Wondering if this pack would be good for up to 6-7 days (i'm relatively minimalist).
Best Answer
Inside. Depending on the size you can spread it out within your other gear. I like to have my ground pad handy for chilling out or unpacking. Poles on the outside. If you can fit enough food in for 6 days and have small tent, bag, pad, you could probably make this work. I've found the bigger pack I use the more crap I take with me.
I've easily done 5 day outings with this pack. I usually stick my tent in a stuff sack and place it above the sleeping bag. Poles and stakes go in the side mesh. In terms of hauling gear, it easily has room. The limiting factor in my opinion will be how much food you need and how heavy that will get.
I have been looking at the Osprey Aether...
I have been looking at the Osprey Aether 60 and the Volt 60. Just 1-3 day trips, occasional use. I am not sure about the sizing though. I am 6'2" and 210 lbs. From the sizing chart, it looks like an XL but the Aether 60 is only available in L. Any input would be appreciated.
With packs it is very important to have a good fit, if you don't have experience with fitting packs yourself I would highly suggest finding a store that carries the packs you are interested in and finding someone to help you measure yourself so you can be sure of the fit. Also trying on packs is key, as just because they numbers work doesn't mean it will fit your body well. Good luck!
Can the lower compression straps be routed...
Can the lower compression straps be routed internal to the side pockets?? If not, do users find that the straps interfere with pocket access?? Thanks for any replies!
Nope. The mounting points are sewn into locations where there are no gaps in the mesh. I took a close up of my bag to show you.



I haven't had a problem with pocket access, though I'm not sticking a nalgene in there solo (had another person to assist). The straps on the outside do seem to work well for keeping tent poles and loose items like bug spray from moving around or falling out of the mesh.
Exactly what I needed.
Familiarity:

I've used it several times
This is a great pack for the price. This packs works perfect for everything I do from climbing day trips to several nights in the backcountry. The only thing I wish this pack had is more waist-belt padding but it does not bother me enough to keep me from giving this pack five stars.
Can anyone tell me anything about the...
Can anyone tell me anything about the LightWire frame? Does it hold a load as well as something with an aluminum stay? Thanks!
Best Answer
Definitely. The LightWire frame is still a metal frame, but they won't say what it's made of. They call it "alloy" on their website, but I'd still guess it's mostly aluminum. In any case, Osprey's big packs are very good at heavy loads.
Hey Tyler,



Angus is definately right regarding Osprey's ability to hold big loads. The weight limit for this pack is around 60lbs! Not to say that it'll feel comfortable but it'll do it. Around 40 -45 lbs is this packs comfortable weight load. Here is the link if you want to check it out.



http://www.ospreypacks.com/en/product/mens/volt_60?tab=specifications
I just got a smaller Osprey with the LightWire frame, and overloaded the hell out of it to test it out. Worked great, transferred/took the load well, and was actually much more comfortable and supportive than previous Opsreys with the stays. I also hike and backpack a lot without my hip belt buckled, so I take it on the shoulders pretty hard, but it did do as-advertised with the shoulder to hip weight shift.; the wire frame put it right down to the back of my illiac crest and eased the shoulder load massively, but without me even having to buckle up. With the spacer mesh back panel, it held the shape of my back and the pack itself really well. Honestly, it's just something different that works, and I wouldn't even give it a second thought if ordering another larger pack with the same frame system.
Osprey Packs Volt 60 Backpack
How do these carry when compared to the...
How do these carry when compared to the Aether series? This pack doesn't have a T6-main stay. How much difference will that make?
I would guess that the lack of center stay will reduce the max weight for comfortable carry. I carried about 48 lb in my Volt 75 and it wasn't too bad. You do need to be careful to pack the heavy items close to your back; this pack is less tolerant of weight that's far back in the packbag than are packs with sturdier suspensions.
Wanted to like it
Gender:

Male

Familiarity:

I've used it once or twice and have initial impressions
Confession: the pack never made it out the door. Just loaded it up, walked it around a bit in the house, and discovered the fatal flaw.



I actually like the design. The packbag cut is carefully designed to keep the load close to the back. The adjustment system is clever and seems to work. I can't tell yet whether the velcro will hold against a 40 lb load, but I'm betting it will. The "wire" frame looks flimsy, but my wife has the Viva 50 and says it floats 35 lb just fine. There's a large mesh pocket on the back and a pocket on each side. Very usable and very nice. Straps are well-cut, nicely padded, and the hipbelt has a pocket each side. Nice for snacks, compass, camera, etc.There's also a clever system for temp stowing of trekking poles. I used similar system on my Talon 33, and can be quite useful for stretches where you need your hands but don't want to fully stow the poles. Overall, nicely done.



Little annoyances. I don't think a pack this size needs a sleeping bag compartment or opening. Osprey might argue the shelf adds structural support inside the packbag - a fair point. but the opening is too small for me to load my 20 deg down bag, so seems too small to me. Top lid floats for overloading (good) but doesn't detach from the pack (bad). And there are too many (my opinion) strap snubbers and other widgets on the pack, but that's just me. Fact is the pack is pretty light for its volume (< 4 lb), and if you're annoyed by the features there's always the razor blade and butane lighter approach...



OK, the fatal flaw: I thought it was the hipbelt length - too short for my hips. However, the Osprey guys have come up with a clever way to adjust the length of the hipbelt pads, so no worries. No, the fatal flaw is that the pack is just too small for my planned loads. If it fits you and your loads the Volt 60 is a very nice pack. I'm trying the Volt 75 next...