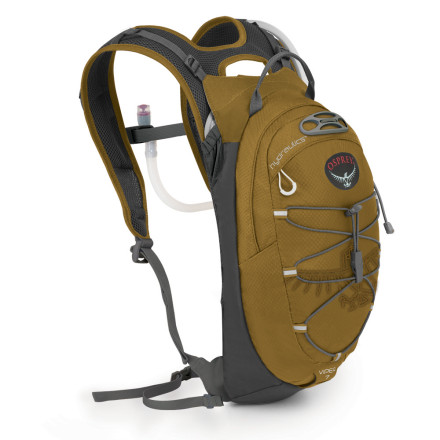 Community Images
There's a long stretch of high-desert single-track ahead of you and your map isn't showing any blue squiggles where you can tank up. It's a good thing that you topped off the two-liter HydraForm reservoir inside of your Osprey Viper 7 Hydration Pack before you clipped in this morning.
HydraForm reservoir is made with BPA- and PVC-free materials and features a design that squeezes your water supply for easier drinking

SpacerMesh back panel provides super-light cushioning for a comfortable fit

BioStretch shoulder harness system features mesh-covered foam for superior comfort and small sleeves to hold your energy gel pouches

LidLock helmet clip feature allows you to attach your bike helmet to your pack for hands-free storage.

Wide variety of organizational pockets keep your tire pump, patch kit, and multi tool in place

Rear bungee system helps reduce pack volume if you're carrying a smaller load

Reflective detailing on front panel and a blinker-light attachment loop help keep you visible

GREAT SMALL HYDRATION PACK THAT ALSO SUITES YOUR SMALL GEAR NEEDS. I PACK A XTRA DOG COLLAR, 4" FOLDING KNIVE, KNIFE SHARPERNER, XTRA LEASH, & A ROPE IN THE BACK STORAGE POCKET. WALLET,KEYS IN THE UPPER REAR POCKET. ON THE LEFT SHOULDER STRAP THERE IS A CELL PHONE POCKET THAT FITS MY IPHONE PERFECT AND A FOLDING KNIFE FOR QUICK ACCESS. THERE IS A CLINCH BUNGY STRAP ON THE REAR OF PACK TO TIGHTEN UP THE LOAD OR FOR RAIN GEAR. THERE IS A WAIST BELT THAT SECURES THE PACK WHEN RUNNING. THE MOUTH PEICE HAS A MAGNET THAT KEEPS THE PIECE SECURE WHEN WALKING OR RUNNING. OVERALL A VERY GOOD PACK FOR QUICK TRIPS OR THE ULTRA LIGHT HIKER.
Very Handy
Gender:

Female

Familiarity:

I've used it several times
This little bugger is great for hikes. Small, light, and full of sweet pockets!
this is a great versatile pack, I've used it for hiking, biking, skiing. Kinda love the mustard color too, don't see that everywhere.
Osprey Packs are great but run small
This is my third Ospey pack and I still use them all for different purposes. I have had Gregory, Dana Design (before they went downhill), Mountain Hardwear, Camelbak & Arcteryx (they should stick to clothing). I will keep buying Osprey unless they change something. I love their hydration system and with one small and one medium pocket, the Viper is on the small side but super light and comfortable.



The one knock against them is that everyon seemes to agre is their packs seem to hold less than other brands of similar size. Maybe it's how they measure them. The Viper 7 is supposed to have 400cu inches. That's 4x10x10 I don't see that much usable space in this pack. I put in a couple liters of water, a wallet, phone, keys and a lightweight fleece pullover and it's packed tight (not counting the outside bungee). If in doubt, get the larger size. Osprey's are typically amongst the lightest so no downside.


Went with the Viper 10 instead
This is a fantastic, lightweight pack. I like the bungee construction on the outside. It's perfect for dayhiking or mountain biking. I was trying to decide between this and the Viper 10. I ended up going with the Viper 10. It is only 1 oz. heavier and has expandable straps on the side so you can fit a bit more in it. I took it hiking the other morning and was able to throw a lightweight vest and wind shirt inside just fine. Still had room for phone and snacks in the small pouch and my microspikes in the outer stretch pouch. This is no dig on the Viper 7...I think it's a great pack. Just felt that for one more ounce, the 10 offered more versatility.
Great pack! I love the magnetic clip for the mouthpiece, very convenient. The mesh backing keeps me cool even in the desert. I think my favorite part is how easy it is to fill the bladder up. Osprey has a handle that runs the length of the bladder which allows you to fill the bladder all the way up. My water doesn't have that funky taste that my camelbak did either.

Not a ton of extra room but enough room to get the necessities in there, maybe even a jacket if it's small and packable. I am realizing that having a slightly larger pack would probably be nice but this will do for most rides this summer. I'd say if you plan on carrying layers maybe go for a viper with more storage space.
I bought this pack to use for running back and forth to work, small enough so it doesn't weigh me down too much and large enough to bring my lunch. The outside bungee straps rock, I can roll up a change of clothes or bring rain/snow gear. My other pack is an 1800 cu inch behemoth so I figured that this one would be roughly 3 times smaller, the hard plate between the pack and the hydro pack seems to restrict the size. Other than the smaller than expected size I love this pack, I wish I would have gone for a 600cu in though. I plan one using it for several races this year so I can keep my keys, wallet, and other essentials with me.