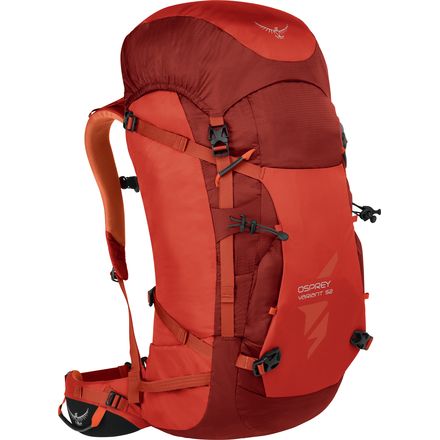 Videos

Community Images
Description
For extreme winter assaults, fresh lines, and good times in the cold.
The three-point haul system of the Osprey Variant 52 Backcpack makes lugging your stuff up a wall, mountain, or glacier way easy. The big volume and convenient pocketry of this winter pack make your gear easy to access, and the removable hip-belt and frame sheet shed weight when you need to go light. Stash your crampons, ice tools, or probe in their own dedicated locales for quick gettin' and puttin' away. A water-resistant zippered front pocket keeps maps dry, and dual ski loops carry your sticks with ease.
Removable HDPE frame sheet provides lightweight rigidity and pairs with aluminum tubing to help transfer the load to your hips
Thermoformed contoured backpanel provides cushioning and is shaped to better encourage air flow
Contoured hip-belt curves around and pads your hips to ensure your load rests where it should; reverse-wrap ErgoPull closure makes cinching down belt easy
Padded shoulder straps ergonomically shaped for chafe-free performance and pressure-reducing comfort
Removable top lid lets you ditch extra weight for summit bids and fast-packing
Unique side compression straps are low-profile and let you adjust the pack's volume to fit different load sizes
Glove-friendly buckles improve ease of use
Under-lid rope compression strap holds your rope in place during mellow pitches or bootpacks
Dual ice-tool loops and keep your vertical gear on lockdown until it's needed
Dual ski loops hug your planks while you earn your turns; dedicated probe pocket keeps Ol' Probey ready for action
Crampon compression pocket tames your claws when they're not in use
Climbing loops on waistbelt provide more room for your rack
Water-resistant front pocket protects your map from flying snow
Reflective detailing helps keep you visible in low-light situations
Optimal for 35-50 pounds of gear
is this the new variant or the same one?
this is the new variant, we are getting the photo changed.
What is the minimum height of this pack? wondering if I could squeeze it into an overhead compartment in an airplane (22 inches)
dimensions are : 29 x 13 x 11 which is 53 linear inches. Most carry on dimensions are 45 linear inches max.
I'm on pack #2
Gender:

Male

Familiarity:

I've put it through the wringer
Over a period of several years, I beat the hell out of my old Variant 52. Winter Mountaineering, schlepping rope/rack/etc on long approaches, etc etc. It wasn't perfect, but for the price and what it was, I was a very satisfied owner. Carried the weight well, and was fairly durable. I ended up breaking off a buckle or two, tearing something. I sent it back for repair and they handled it quickly, no charge.

Recently took out my new version of the V52 - they improved on a bunch of the little "if onlys" I had on the last pack. Job well done. I know the fit is specific to your body, but the thing fits me like a dream, and carries weight really well. Stuff it full of cams and all your camping gear, and go get after it. I've looked at a lot of the more specialized climbing packs, from CCW and CG. They have their merits for sure, but for the price I paid and the comfort of carry, I'm good with my Variant.

What do I like better about the new version?
1. better tool attachments
2. flap for running lidless
3. small mesh storage just inside the main opening
4. shovel/crampon pouch improved
5. hipbelt has better padding?

Osprey Variant in the Tetons
Awesome Pack
Familiarity:

I've used it several times
I originally bought this pack with the intention of using it to carry my full trad rack on long climbing approaches. I have used it for this, and it worked fantastically carrying a heavy climbing rack and rope! But i have also used it for many overnight trips and even a 2 night trip. I'd like to start off by saying this is an awesome pack!It has so many cool features in it! The shelled outer pocket would be great for storing crampons, and you wouldn't have to worry about them ripping through your pack. The three point haul system makes it easy to tow it up a wall behind you if you're planning on staying over night on the summit of a climb. This pack also works great for a quick lightweight overnight trip, and if you don't plan on taking much stuff, could easily be used for atleast a 5 day trip. The nice thing about the size of this pack, is i can pack my whole rack in the bottom, and still have room for a sleeping bag and coat on top. I can then store my tent on top of my rope under the lid of the pack, secure them both down with the rope carry system, and have a solid setup to camp and climb for a few days. This pack is lightweight, durable, and very comfortable. I highly recommend it!
Bigger and just as good
Familiarity:

I've used it several times
The Variant 52 takes all the great things that I love in the Variant 37 just a few days further.



For one, it's got a comfy hip belt and properly padded shoulder straps, making that stupid load a bit less painful. It's easy to isolate the weight on either the hip belt or shoulder straps or blend both in increments. The ice axe/ice tool carry is sublime. No rattle or movement, but plenty of quick access. I'd make the crampon pouch pocket a little bit deeper for easier access with a full bag.



Once everything is unloaded at camp, the 52 does a terrific job of being just a day pack. The compression straps hold everything together, so there's no flop, and it's an overall low profile.



If the beating I've given my 37 is any indicator, the 52 will look new and act brand new for quite a while.



I'll check in later once I've used it more.








Skiers delight
Familiarity:

I've put it through the wringer
I love this bag so much. It's incredibly light yet super durable. most recently did a ski tour and at one point with my skis strapped to the back it weighed 45-50 lbs but it it never felt like I was hauling that much weight. I quickly was able to attach my skis in an a-frame and easy climb a rocky area. A few times I almost lost my balance but everything was stable and secure I'm my bag. The outside pickets were stupid short but I bought some narrower water containers for spare water and mainly used my bladder for drinking water.

This bag holds a whole heck of a lot of stuff and I still manage to find room after stuffing it to the brim. I appreciated the ability to get a size that suits my height and build. The straps are comfortable, adjustable and the waist strap sits comfortably and yet snug in my hips.

I am 5ft4 no hips and got size small.

I like the bright red. It actually helped when we got socked in and the person close behind me kept her eyes on my bag. Great all around ski tour bag and summer backpacking bag. Maybe a little big for short trips but you can always remove the too if necessary.
Skiing the Sliver Couloir w Variant Pack
Grand Teton National Park, WY
Best all-around pack I've used
Familiarity:

I've put it through the wringer
Variant 52 is nearly perfect. I've beat this thing up pretty well with crampons, ice tools, mountaineering tools, skis, and lots of rock gear. If you're into shedding weight you can take out the back lining and replace it with a very light sleeping pad. The hipbelt and brain come off to create a combined daypack if needed. It carries heavy weight impressively well. Haul straps are well-positioned. The whole pack is very adjustable.

Like other reviewers mentioned, the side pockets are oddly short. I assume this is to accommodate nalgene removal without taking the pack off, but if I'm climbing I biner all bottles anyway.
Awesome everywhere overnight pack
Familiarity:

I've put it through the wringer
When an objective calls for a comfortable overnight, this is my go-to. Not quite as waterproof as the seam sealed arcteryxs so my stuff has gotten wet in NW rain/snow mix, but where its just snow or spring corn everything stays dry. Easy to pack in 4-5 days of stuff for backpacking, skiing, or anything in between. Lasted well so far and fit is spot on medium 5' 10" 145.

I do wish it was a bit more streamlined, but then I just bring a smaller pack and live less comfortably in camp.
Perfect Transporter for Climbing gear
Gender:

Male

Familiarity:

I've put it through the wringer
After using this pack this past spring and summer for climbing pursuits, I have found that this pack works great in any condition. Although the pack is meant to specialize in ski mountaineering and alpine climbing, I would argue that this is the pack that gets it done for any activity because of its size and storage systems. Hoping to use this up on Mt. Rainier, Adams, and Hood this upcoming Spring/Summer for ski touring and ascents.
Ski Pack
Familiarity:

I've put it through the wringer
I've used this pack for the entire ski season however; I truly put it to the test this past weekend in late June. I enjoyed a two day backpack ski trip into the Three Sisters Wilderness Area. I had to pack my skis for close to a mile just to reach the snowline. The pack handled the weight extremely well. Total weight of the loaded pack with skis - 55 lbs. Make sure to tie you ski brakes into the closed position (like when your boot is locked into the binding). This will keep the ends of the brakes from rubbing against the sides of the pack. The best feature of this pack is the ability to compress the bag for tiny loads. Once I'd set up my base camp, I was able to pack it with just the essentials and ski the couloirs above Moraine Lake. By the way, when I bought it in December I wondered why a ski pack would have a hydration bladder sleeve? I really needed it while skiing in 60+ degree weather! Great pack!