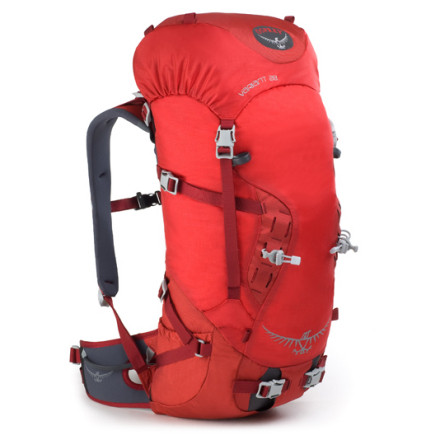 I bought this pack as a daypack/light overnighter for situations where my Baltoro 70 was overkill. Having tried the Variant 52 in store, I figured the 28 would have a similar fit and suspension. As it turns out, the 28 is basically a frameless pack. A foam backpanel provides practically no support -- unloaded, the panel will flex if I stand the pack up against a wall. Fully loaded, the backpanel becomes more supportive, but I typically remove gear as I hike; whether it be drinking the water in my hydration bladder, eating the food I brought along, or removing camera gear for scenic portions. At this point, the panel develops a V-shaped crease at mid-back, which leads to pain over long distances.

Pros: I love the toploading design, the rugged fabric and the supportive waistbelt.

From what I've seen, both the Stratos and Talon series packs have better suspensions, at the expense of "abuseability." I'll likely switch to one of these packs.
Variant 28 - long ski days
I like this pack in the winter, when its cold and snowing. I do most of my backcountry skiing in the spring, so my Osprey Atmos 35 gets more use because the back has a much more breathable suspension system, which i like in the Sierras. The top pocket is perfect for easy access to skins. The lightweight waist belt handles the weight surprisingly well. Nice craftsmanship. The waist belt does not have a pocket for cell phones and snacks, like the Osprey Atmos 35 does. The skinny shape means you barely feel it while you ski. Lastly, I am 6'2" tall with a long torso and the large fit well.
How's the ski carrying capability? quick...
How's the ski carrying capability? quick and easy to lash skis on? a-frame or what?
A frames up good. Couldn't figure out a diagonal carry in the 5 or so minutes I played with it.

Didn't have reinforced straps where ski edges rub the straps... Osprey's upcoming CODE bags are far more appropriate.
I'm surprised to be the first one writing a review for this. It fits so well, and the pockets are so well thought out, that it makes the design behind other packs seem so rudimentary. Amazing product.