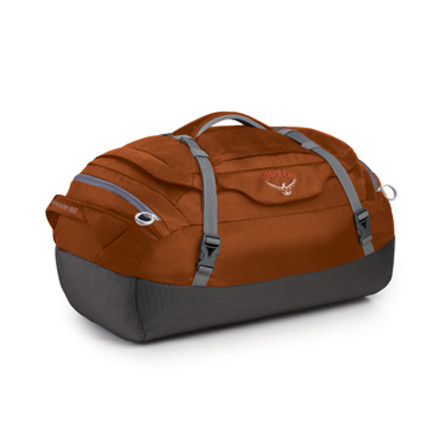 Detail Images

Community Images
Osprey designed the Transporter Duffel Bag Series to combine all of the organizational benefits of traditional luggage with the comfort and easy carry of a backpack. A large zippered panel on the top of the pack allows you to get to the item you need quickly and efficiently without a lot of rummaging around. The Transporter 60 is big, burly, and convenient—just the thing for a trip to Akron or Antarctica.
Osprey Transporter 60 Duffel Bag – 3600 cu in
Dual end pockets for easy-access to small items
1680 denier water-resistant bottom keeps your gear safe and dry
Built-in shoulder straps and burly handle for easy carrying and durability
Comfortable backpack straps with duffel/luggage organization
From 46 to 60
Familiarity:

I gave it as a gift but have feedback to share
I've spent months traveling , am limited to what I bring on each trip and have loved the durability of the smaller Transporter 46, so I purchased the 60. The material is strong and have held up extremely well to the abuses of airport handlers and porters. The soft shape of the bag makes it so much easier to load in crowded taxis when traveling with others.



The heavy duty zippers have never failed, the handles are very well padded and have shown no signs of wear. It is weather resistant enough to keep everything safe and dry. I did increase the water repellency of the bag using an aftermarket product (Nikwax) as I was headed to London and it has worked great.



I've not used the backpacking straps on the 60, but they appear to be "comfortable enough" to get around the airport and maybe a bit more without any issues. Those who have complained about the inability to use one of the end pockets when the bag is used as a backpack have a point, but I just put a packing cube (Eagle Creek-Packit Twin) fits perfectly in this pocket and I am able to keep all the contents in while using the straps. I tack sewed the ends of the cube in the pocket, but Velcro would work as well.



One can also cross clip one of the backstraps to carry the bag as a regular carry bag instead of as a backpack as necessary.



All in all, a great bag. My decision to buy the Transporter 60 from BC is a testament to my satisfaction of both the product and the service I received from BC.


this bag is a great size and though it may not technically be carry on dimensions, we've been able to carry it on every flight we've tried. plus, being able to use it as a backpack is a super nice feature when moving lots of gear in multiple bags. couple issues though:



unlike most duffel bags, the lid must be shut for you to pick it up by the top strap. not a big deal, but would be nice.



more annoying is that the straps pack into one of the end pockets, so some of the space is taken up by the straps. also, if you have it set up as a back pack, that end pocket must be open and is therefore unuseable.
Osprey Fall '09 Packs Transporter
What are the dimensions of the osprey 60...
What are the dimensions of the osprey 60 transporter duffle bag? H x W x L?
Best Answer
Hey Rhonda,



The dimensions of the bag are on the osprey website.

cu. in. -- 3661

liter -- 60

lbs/oz -- 1/13

kg. -- 0.81



Hope this helps
The dimensions are: 23 x 16 x 10" (L x W x D)
Does as expected!
Familiarity:

I've used it several times
My second Osprey bag and I love it! I travel every week by car and plane. This is a great bag... Workmanship material and zippers are all phenomenal. The lifetime warranty speaks for the manufacturers confidence in their products. Love the size of this bag it works for an overnight or week long trip. The shoulder straps along with carry handles make for a number of different options. I actually had someone ask me about this bag in a hotel lobby the other day. Thanks for the quick processing and delivery from Backcountry.com I believe I will choose an Osprey pack for my next one also.
Transporter Series by Osprey
Great bag
Gender:

Female

Familiarity:

I've used it several times
I have a 22" Meridian Osprey bag and it's a great bag - so well made. I've fit enough stuff in it for a 3 week trip to Morocco. But it's a hassle to convert it to a backpack if you just are in some foreign hotel and need to lug it up 4 flights of stairs. I think the Transporter 60 is the same volume as the Meridian *including the Meridian daypack*. It's technically too big to be carry-on but since it's not hard-sided you'd never be stopped. It is a perfect travel bag. And a very reasonable price! Also, since you can tuck away the straps, you don't have to worry about them getting caught in an airline luggage conveyor.
Love. This. Bag. It is definitely an all around go-to bag, because, lets face it, a roller bag is sometimes a real pain. I've taken this bag on numerous car camping and international travel trips. I carried it all over Peru, then to Florida, and then another separate trip to London. It has been in the hands of airline personnel more times than I'd ever be comfortable with and does not show a bit of wear. The backpack straps are incredibly useful, and it has good sturdy handles on both ends and the top. The straps pack up into their own pocket, and the whole bag packs up into one of its pockets as well. The lid is nice an large, so there's no having to dig around in it, the zipper is burly, and the compression straps both compress and give extra security in addition to the zipper. Don't go crazy packing it to the limit if you want to take it as a carry-on. It's a little too big for the over head bin when it's at max capacity.
I needed a new all purpose bag. I really needed it for a specific week long trip but also plan on using it for weekend get aways and general gear. I was easily able to pack a weeks worth of warm weather clothes as well as a couple pairs of shoes in this bag. Now mind you I, unlike my wife, do not pack everything I own for a week long trip but I am no minimalist. The shoulder straps were great and made traveling a lot easier. I have other Osprey packs and the best part about them is the customer service and the warranty. I knew without seeing this bag that it will go with me everywhere I travel for many many years to come. Now, ahving seen and used this bag several times, I am very happy with this purchase.
Not Small Enough for Carry-On
This is a pretty sweet duffel bag and is a little different than the 46L Duffel. The 60L has 2 end pockets while the 46L only has the 1 side pocket. The 46L is Carry-On, the 60L is not. both bags fold up into the side pocket for easy storage when not in use. Both have the easy pull tabs on the zippers.
This duffel is one of the better investments I've made. I've used this for weekend get-a-ways and even a 10-day stay in Mexico (with the help of compression sacks). The stow-able backpack straps are clutch and everywhere I go I get compliments. While all of my friends look like chumps either wheeling or lugging their luggage around I just have one bag and it's strapped to my back. I think it exceeded most carry-on standards but I haven't been stopped once for it. I think as long as it straps to your back they tend to not care. End pocket is great for an extra pair of shoes or flip-flops while the top zippered pocket is a solid place to stash your passport and I.D.
What are the dimensions on this bag? Can...
What are the dimensions on this bag? Can you use it for carry-on luggage?
The dimensions: 16" x 23" x 10"

I have used this SO MANY TIMES as a carry on. So though this pack is a little big as far as exact carry on dimensions go, since there is no internal frame, the bag will fit in overhead compartments no problem. So yes, it is a great carry-on bag.
backpack strap pocket stays open during use
Seems to be a great bag, (I love the U-shaped, zippered top opening,) but I can't get past one flaw. When the backpack straps are out, (which they need to be whenever you want to actually carry this bag anywhere, since there is no shoulder strap,) the end pocket that they normally stow inside stays wide open.
I am a person of many bags--a bag for clothing, a bag for gear, a purse--and it is nice to consolidate those things into one bag when traveling! The backpack straps make it easy to haul around. Pure Genius!
If you don't need frills but want a solid, well made bag, then this is the one!
I just received this so haven't tested it on the road as yet. It does however, look like it will do the business and is very sturdy looking. The one thing I wish it had was a shoulder strap so that my hands can be free.
So far so good, I am impressed with the Osprey workmanship and this bag is not different. Have used it once and it survived the airport luggage handlers, good grips on the bag so I think that helps a lot. Carried it 2 miles with the backpack straps and about 25 lbs in it, that was a little mixed, also carried my nomal day pack on the front (kangaroo action) and that was a fair amount of weight at the end of a long day. For this size duffel I think the those straps are fine, I sure hope they have something better for the larger duffels. All in all I am quite happy with this, would give it 5 stars if I knew it would last a long time...its also a bit bulky to carry, needs to be a bit longer and hence thinner...