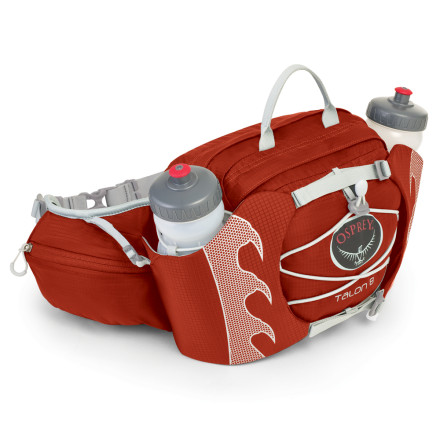 Grab a hold of the Osprey Talon 8 Lumbar Pack and head out for a fun day on trail. Whether you're planning on hiking, biking, or running, the Talon 8 comes with eight liters of internal space to carry your snacks, camera, and an extra layer or two. The hip belt pockets work well for carrying energy bars or a cell phone, and the side stabilizers help keep the pack steady when you're moving quickly over uneven ground. And since you're bound to work up a big thirst as you log all those miles, the Talon 8 also comes with two water bottles so you stay hydrated as you go.
Not for trail running in my opinion
Familiarity:

I've used it once or twice and have initial impressions
I tried this for trail running and it just didn't work for me. I'm a guy and have never been comfortable running with a hip pack on my back side. It jostles too much and the thin strap really does make a difference. I tried the front (as I do with other smaller hip packs) and it was too bulky in front. I did have some luck on the side, but the amount of water storage and packable area I got just wasn't worth it. I think Osprey tried to think too "technical" and not enough real human experience on this one.



If you are not a trail runner, you may find the pack more to your liking, possibly with the exception of the thin strap.



I've rated it a 3 to give the pack the benefit of the doubt for other uses.
Small straps Small straps
Familiarity:

I've used it several times
I know my figure is kind of like Hank Hill's, but the pack kept sliding down. I'll probably be able to remedy it with some suspenders. Also the thin strap really accentuates my gut.


If your waist size is over forty incles you won't be able to close the belt. Otherwise comfortable and everything as described.
I am training for a 60-mile walk and needed a pack that would accommodate essentials. Other packs I tried were either too small to fit a rain shell in or so large I couldn't walk comfortably. This pack is the perfect in-between size. The pack is sturdily constructed and looks great. I prefer my SIGG water bottle to the plastic ones that come with the pack, but the SIGG fits comfortably in the bottle sleeve so it's not a big deal. Since I generally only carry one bottle at a time, the second bottle sleeve is the perfect place to stash my hat. I wish the strap in front was a little more substantial, but so far I haven't needed to pack it too heavy so the strap hasn't been overloaded to the point of sag that other reviewers mention. My iPhone easily fits in a side pocket and the back compartment fits my rain shell, a snack, first aid and other sundries with a little room to spare. I no doubt will get a lot of use out of this pack beyond just the 3-day walk I bought it for. It looks sturdy enough to last for years of family hikes and long bike rides. I would definitely recommend the Talon pack.
NajWhat size are the water bottles that...
NajWhat size are the water bottles that come with the Osprey Talon 8 Lumbar pack ? Also is it possible to use other water bottles with this item?
Best Answer
it comes with 2 - 20oz bottles. you can use other ones, but just know there is not a whole lot of stretch in the water bottle sleeves, so you would not be able to go much bigger. as long as they are similar diameters, and they dont extend much higher than the top of the sleeves (making them top-heavy), you should be fine.
I really love the pack itself, it holds a lot of stuff, so on long rides or walks, U won't go without.
It's summer right now and the stuff U take with U can melt or get yucky, but I'll bet it will be even a better companion in the winter & fall seasons on trails.
The one thing they need to do is to get more support for this puppy. With too much stuff, it begins to sag on you hips, unless of course your a fine bosom babe with that wonderful support.
Well worth the price...