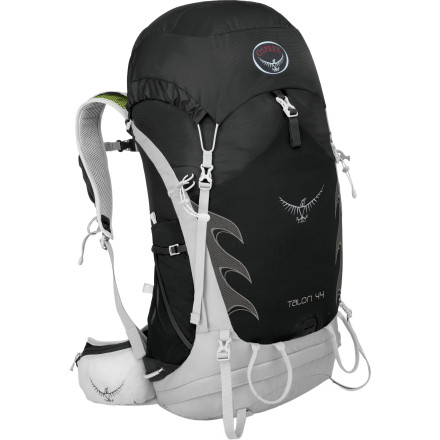 Community Images
Description
Super light with multi-sport and multi-day versatility.
The lightweight Osprey Talon 44 Backpack rides on your back comfortably whether you're spending a night out in the woods or thru-hiking in the desert for a weekend. The designers at Osprey molded the Airscape back panel and the lightweight aluminum frame somewhat like a chimney to ventilate any excess heat so your back isn't a sweaty mess when you reach your campsite. Biostretch covers the shoulder straps and waist-belt for maximum comfort and breathability while you hike, and the ErgoPull tabs cinch across your waist for an ideal fit. If you pack light, this top-loader can fit all the supplies you need for a full weekend out on the trail, and you can remove the top lid for quick day hikes while you're out there.

The Talon 44 has a lower zippered compartment for easy access to your sleeping bag, and it has straps for your sleeping pad. It also features an external hydration sleeve that's easy to refill, side stretch pockets that can fit extra water or some snacks for the trip, two zippered pockets at the waist-belt for lip balm and sunscreen, and one front mesh pocket that you can slide your map or a book into. The shoulder straps have Stow-On-The-Go attachments for your trekking poles when the trail is nice and flat, and lower InsideOut straps compress the pack down quickly and simply. This pack even has two ice tool attachment loops with bungee tie-offs so you can continue using it throughout the year.
Airscape back panel with aluminum frame
Biostretch waist-belt and shoulder straps
Top loader with single drawcord
Lower zippered sleeping bag compartment
Removable top lid with zippered top and mesh under-lid pockets
External hydration sleeve
Side stretch pockets
Two zippered pockets at waist-belt
Front panel stretch mesh pocket
Sleeping pad straps
Stow-On-The-Go trekking pole attachment
Lower InsideOut compression straps
Ice tool attachment loops with bungee tie-offs
Great weekend pack.
Familiarity:

I've used it once or twice and have initial impressions
This is a great lightweight pack. It is super comfortable to use, and has great airflow on the back. It is low profile and thin material, so best for a low-maintenance hike. It probably wouldn't be the best choice for a load over 15-20lbs. But it's great for a lightweight weekend.
Great Pack
Familiarity:

I've put it through the wringer
The Osprey Talon 44 is an outstanding pack. Not only is it light, but it is also comfortable. The airscape back panel provides excellent support and breathability. As far as materials and hardwear go, the fabric is a little bit on the thin side, but perfect for those going ultralight. The buckles are also on the smaller and thinner side, but they have preformed well so far without any issues. Overall the Osprey Talon 44 is a great pack for overnight to weekend long packs with its light but durable construction.
I am Looking for an easily accessible pack for 2 or 3 day treks during my days off in the Rockies and was wondering if this pack would fit what I was looking for. I am a fan of osprey packs but have little experience with the smaller pack size.
Hey Rylon, I'm 100% an opsrey pack supporter. This pack specifically is going to be really versitile and will be great for light day hikes, to weekend trips. I really like how comfortable Osprey packs are and the airscape back panel frees the extra warmth/sweat and lets it dry out so you won't be chafing the whole time you are wearing the pack which is a big plus for me. Please feel free to use me for all your future gear questions and if you place your orders with me I am always able to give you some type of savings and a free return label for every order placed with me. My personal email is skdavis@backcountry.com ; feel free to contact me anytime!
My favorite backpack by far.
Familiarity:

I've put it through the wringer
I used to lug an 88L pack around for all my adventures, but have since adopted a less is more philosophy that suits my traveling style better. Hammock instead of tent. Trail runners instead of boots. The talon 44 is now my go to pack for most of my travels. While not exactly ultra light, its a heck of a lot lighter than my previous pack, and super comfortable without sacrificing durability. It just hugs my back like it's a part of me. Although on the upper end of carry on legal, I've never had to check it while flying even when fully packed. Perfect size. Perfect fit. My favorite pack thus far.
Another Osprey Victory
Familiarity:

I've used it several times
Osprey packs are like cocktails, I've never met one I didn't like. The quality is always top notch, and you can tell they put a lot of though into the ergonomics and real world functionality of their packs. They aren't quite as generous as some other packs when it comes to external strap potential so if you like to pile on tons of junk on the outside you may want to just look for a larger Osprey pack. If it's the right size for what you're looking to do though (and you can definitely attach some gear externally) then you will definitely be happy with the Talon 44!
Great lightweight pack
Familiarity:

I've used it several times
I've been working on lightening up my base weight for a while, so it was time to look at downsizing from my 50L pack and saving a little weight. I tried about a dozen light and ultralight packs, but none of them fit properly. Many packs will not cinch down enough to fit my waist, and a lot of packs are designed with wide straps that cut into my neck, since my shoulders are very narrow. I was about to resign myself to the fact that I was stuck with my Osprey Aura, and then decided to try one more pack...this one. Rather than order the women's version, I got this one, because it had slightly larger volume.



Well I was surprised to find that it fit me! The waist adjusts small enough, and the shoulder straps fit just right. The sternum strap fits in the proper location, and the adjustable torso length is a nice feature. I would like just a bit more padding in the hip belt, but it's adequate. The only feature I really don't like is the zipper around the bottom of the pack. For me, it's unnecessary, something that could possibly fail, and adds extra weight, but I decided to keep the pack, despite that one little detraction.



I've now used it on a 2-day trip and a 3-day trip with great results. I was carrying a total load of about 18 lbs. including all food and water. By the way, the Osprey 1.5L hydration bag works great with it. For weekend trips, this bag is more than large enough for me, and should work out just fine for week-long trips. Actually I know some people use it for thru-hiking, so it should be all the pack I need. This ended up being about 1 lb. lighter than my old pack. Now I will admit that I am slightly envious of my husband's Osprey Exos pack, but unfortunately that pack didn't fit me at all, so the Talon works for me.
I took this pack on a week long trip with friends. I was able to fit all my clothes, electronics, and camera easily. I wore the pack all day while riding around whatever city we happened to be in and was comfortable throughout the day.
Like the older model but BETTER!
Familiarity:

I've put it through the wringer
When I had to retire my old original Talon 44 I tried many other packs (many other brands & Osprey models) & nothing could compare to the fit or functionality of this pack. It is the only bag I need for all excursions. Weather hiking the PCT or for a quick day hike into the Cabinet Mtns. this pack can handle it comfortably. It is definitely for light/ultra-light backpacking but is built to last (unlike a lot of other lightweight packs I have tried). The quick attach/detach feature for the trekking poles is nice & the bigger mesh under-lid pocket is super handy. I do miss the pocket inside the brain pocket that the original Talon 44 had but I have learned to cope without it. With a 20 lb. load this thing feels like it is a part of you. If you are looking for a lightweight pack that will perform for years & look great doing it, this pack is for you!
perfect pack!
Familiarity:

I've put it through the wringer
this pack does it all! use it as my book bag during the week, cragging pack on the weekend and multiday backpacking/alpine scrambling over break! i can fit all my trad gear, rope, layers and snacks for a day of climbing, usually stuff my rope in the bottom and snitch the straps tight, so i don't need a rope bag. for backpacking, I've gone a week out of this pack, with a 20 degree down bag, bivy sack, and full length pad. the only thing that ended up on the outside was my 30m rope for short raps off of alpine ridges. end weight including water was 19 lbs and carried well the entire trip! really like the front mesh pocket, because it fits my rain gear perfectly so it is really easy to access quickly if i need it. size wise, I'm 6'4 with a pretty short upper body and i got the M/L but I might even fit the S/M better, make sure to measure yourself before buying! I would recommend this to anyone looking for lightweight backpacking bag or cragging pack.
Great Lightweight Pack
Familiarity:

I've put it through the wringer
I bought this about a year ago for trekking the Inka trail. It's a great size for travelling with enough room for clothing, water, DLSR camera, tripod, and a sleeping bag (just use good compression sacks)! I bought the mens S/M which fit my back perfectly (at 5'4" I have a slightly long torso compared my height). The hip belt is slightly large for me (I have a 28" waist) - I have to tighten the belt all the way but it still works. If I were to buy it again I'd go with the women's M/L. What I love about this pack is it's incredibly light and it's an easy size to manipulate - I easily tossed this in overhead compartments while my friends with larger trekking bags were struggling. This bag is JUST small enough to be a carry-on so on my flight to Peru I was able to fly down without checking luggage. The only criticism I have would be there are a lot of straps hanging off it which can get stuck in conveyor belts and whatnot. I like that you can tuck the compression straps under the water bottle pouches to get those out of the way but I would love to be able to tuck away the ice pick loops (if there were 2 drain holes next to the ice pick loops that would be perfect) and other straps that aren't often in use when backpacking. Also the pocket under the lid is very small - I would widen that to be big enough for a map or other flat items. I would also put a small velcro pocket on the bottom of the pack for a rain cover. Those small changes would make a perfect pack!