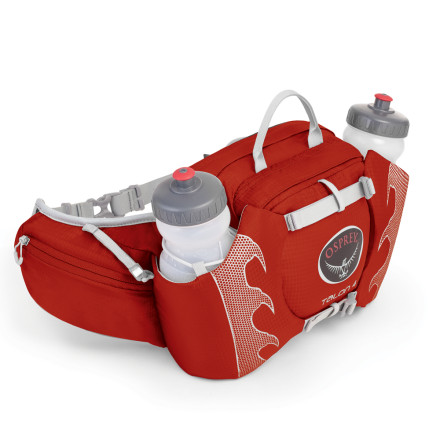 Whether you're into hiking, biking, running, or Nordic skiing, The Osprey Talon 4 Lumbar Pack allows you to carry your basic provisions without weighing down your shoulders. The Talon 4 comes with four liters of internal space to carry your snacks, a camera, and perhaps a thin base layer. The hip belt pockets are the perfect size for carrying energy gels or a cell phone, and the bungee compression system lets you reduce the pack volume after you've gone through all of your consumables. And since you're bound to work up a big thirst as you log all those miles, the Talon 4 also comes with two water bottles and pockets to house them so you stay hydrated as you go.
Little Bag with Lots of Room!
Familiarity:

I've put it through the wringer
Nifty little bag that packs a lot & is quite versatile. Been using this bag for hiking & biking every weekend for 4 months now.

Size: This bag is slightly big for my 5ft frame & it sticks up a little when I bike (I'm bent over the handlebars). This isn't a problem for me as it helps air out the lower back actually. The pack itself has a built in mesh-y back that is designed for airflow & keeps the bulk from the body to prevent it from getting sweaty. The pack sits flush against me when I am upright & hiking with it.

Adjustability: The straps are fully adjustable so I can wear it on my lower hips (35in) or up at my waist (24in). The side straps help hold the pack down so it doesn't bounce about. There are also two compression straps along the front to make the pack smaller (more aerodynamic?). What I really like are the adjustable straps on the two water bottle pockets. It holds different size bottles if you don't want to use the bottles that it comes with. It can also shrink the pocket down so much that I actually keep my phone (inside a wallet case) in it without it bouncing or falling out. The release pulley gives me quick access to my drinks or my phone without needing to take the pack off.

Pockets: The front compartment has a key holder that gives me quick access to my bike lock key without digging to the bottom in addition to holding my tissues, snacks, hand sanitizer, lotion, & emergency kit. The main compartment has double zippers that is large enough to hold my windbreaker. There are two zip hip pockets on the side that gives me easy access to my chapstick, eyedrops, gum, & more.

Appearance: I got the meteorite color & it is a nice light black that goes with everything. The design gives it a nice sporty look without it looking like an old-school frumpy fanny pack.

Use: Used to use a backpack but it made my back sweaty, was too heavy, & I never needed that much room; this bag solves the problem. The pack doesn't get in my arms' way when they swing.
Perfect Fit
Familiarity:

I've used it several times
This pack fits perfectly. It is adjustable enough that it can be comfortably positioned low on the hips or high on the waist. The perfect fit also prevents the pack from slipping around you or twisting.

I've been looking for the perfect lumbar pack to take mountain biking and this is not it. It's the closest that I've found, and it might sound absurd, but it actually has too much storage capacity. I realize that this pack was not designed for cycling, so I can't actually fault it, because none of my gripes would apply if I were hiking. If I wanted this much storage for cycling, I'd use a back pack.

I appreciate that the main pockets are very compressible and I really like the side pouches for quick access items. The pack really is a treat to use, I just don't need the extra water bottle spot and could do with a main pocket half the size. If that meant the bottle could be angled a bit more for easier access on the bike, I don't think I would be able to fault it.
I'm going for a 4 week hike (Camino, Spain)...
I'm going for a 4 week hike (Camino, Spain) and am unsure what to take with me to a) have my valuables safe, b) to have money handy. I never mind too much where I put my 50 l pack, but I want something to be able to wear it with the pack, yet have it on me when I don't have the pack (toilet, cafe, shop). I've been thinking to get what used to be called "bum bag" worn at the front but it needs to be comfy and not interfere with the pack. I don't want to continually pack/unpack wallet and I don't want those worn underneath clothes, as I want to use it openly... Anyone any ideas? Thank you!
Best Answer
Hi, your question is hard to answer because you don't define what "valuables" you want to carry, but I'll take it from the standpoint of the basics like money, passport, etc. I can also tell you with certainty that this (or any) lumbar pack will interfere with your main pack. As far as valuables go, there are really only a few ways to deal with them: keep them close to you, guard your pack well, or don't carry them at all. Choosing clothing with more pockets like a jacket, shirt, pants is always what I prefer- cleaner, more discreet, easier to access...If a camera is part of what you want to carry outside your pack, smaller is better, and there are plenty of smaller, zippered, clip-on/lanyard cases to choose from that can go from pack-person in a flash. Mountainsmith is a good source for lots of these types of things. Also, if they're not too bulky and clunky, there are quite a few pouches/bags that can be worn around your neck that hold quite a bit of stuff. Anyway, have fun, good luck, and I hope this helped you out a bit.
My Go to Pack for quick adventures
I have own this for about three summers now and have used it extensively. No wear is present.



Two pockets. One can hold a small medical kit while the larger can hold a variety of things.



Two zippered lumber straps pockets hold small item such as a compass, phone, keys, etc....



The hang is good and can be adjusted for very snug. As a word of caution. Lumbar packs such as these are not very small packs like in the past as they can hold a lot due to the inventiveness of Osprey, so be prepared to hold all of your kids (and wife's) stuff
Love the fit of this pack. Movement is minimal, love the ability to take water and a small coat with me.
I really love this thing!

Out of my collection of lumbar packs, this is the one that I instinctively reach for, whether heading out for a quick jaunt in the canyons near my house with my pup, or longer day treks that don't require much space for clothing or gear. I've been using this thing at least four times a week for almost 2 years and still looks & works like new!

The fit is great, and it can be locked down snugly so nothing flops around when the going gets jiggly.

There is an amazing amount of smart engineering put into this seemingly simple device.

Thanks to the Airscape back and side panels (which hold the pack off your body with a combination of curved semi-rigid frame sheet, highly dimensional, perforated foam pads and soft netting)it stays cool on my lower back and rides like there's nothing there.

In addition to the sophisticated suspension, nice touches abound, like the substantial, reflective talon graphics;
waist strap adjuster keepers (keeping the straps readily at hand and preventing them from whipping around);
foam reinforced bottle pockets (never collapse, so it's easy to re-holster the H2O while on the move);
Osprey's excellent, easy grab zipper pulls.