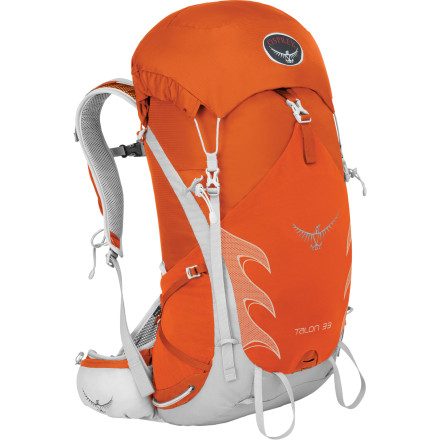 Community Images
Description
Lightweight and high-performance with multi-sport versatility.
You might only have the weekend to head out into the wilderness, but the Osprey Talon 33 Backpack has your back whether you're a light-and-fast backpacker heading out for an overnight or you're more of a summit-in-a-day adventurer who starts pre-dawn and ends just as the sun sets. The designers at Osprey molded the Airscape back panel somewhat like a chimney to ventilate any excess heat so your back isn't a sweaty mess when you reach your campsite or lunch spot. Biostretch covers the shoulder straps and waist-belt for maximum comfort and breathability while you hike, and the ErgoPull tabs cinch across your waist for an ideal fit. If you've set up camp and want to take a quick hike up to the ridge, just remove the top lid and pack your camera and a snack inside.
The Talon 33's external hydration sleeve makes your reservoir easy to refill, side stretch pockets can fit extra water or snacks, two zippered pockets at the waist-belt carry a point-and-shoot, lip balm, or sunscreen, and one front panel pocket holds your map, a book, or a last-minute item you might want before you head out. The shoulder straps have Stow-On-The-Go attachments for your trekking poles when the trail is nice and flat, and lower InsideOut straps compress the pack down quickly and simply. This pack even has two ice tool attachment loops with bungee tie-offs so you can continue using it throughout the year.

Airscape back panel
Biostretch waist-belt and shoulder straps
Top loader with single drawcord
Removable top lid with zippered top and mesh under-lid pockets
Back hydration sleeve
Side stretch pockets
Two zippered pockets at waist-belt
Front panel stretch mesh pocket
Stow-On-The-Go trekking pole attachment
Lower InsideOut compression straps
Ice tool attachment loops with bungee tie offs
Not designed for all body types, flimsy.
Familiarity:

I returned this product before using it
I am just shy of 6' and not fat but I could barely fasten the hip pad buckle on this pack so I decided to return it. I also do not think the outside pockets on the pack would hold up to being snagged on brush or tree limbs either; material is very thin and flimsy.
Initially I loved this pack for day hiking. It now it's really uncomfortable. The back is too soft and flexible and makes an S shape that does NOT conform to my back.......it actually makes a big lump In the bottom against my lower back with only a first aid kit, rain jacket and soft jacket. Anyone else having this problem? Any ideas on how to make it comfortable again? Can't see from the photo but there is a big blob in the center of my back. Tightening the straps accentuates the curve and the blob
Best Answer
Nancy, Thank you for including a picture! So, here is what I would like for you to do. load your pack with what you want in it. Evenly distribute the gear and then compress the side compression strps to keep everything in place. Now, loosen all straps that fit around your body (hip, harness and top load straps (behind your shoulders)).

Now, attache the waistbelt and gently tighten - not too much! Then take your harness straps and pull diagonally backwards and down, towards the pockets on your shorts. Once you do that, gently tug the load straps at the top of your harness gently in. This should do it!

Please let me know if this was helpful!



Leta

Osprey Rep
Best medium size backpack
Familiarity:

I gave it as a gift but have feedback to share
I got this as a Christmas Gift for my husband (I already have one in red) and he loves it. Truth be told, we both love the packs so much that we end up using them for pretty much everything, travelling, day hikes, overnight hikes with light load and most recently skiing. Our older day hike designated packs (18 liters) have been abandoned ever since...

The packs are extremely comfortable, whether fully loaded or not quite full, and everything we need fits in the pack and it is easy to find.
Love it!
Familiarity:

I've put it through the wringer
I got this pack to carry all of my climbing gear, have to say I'm very impressed with the quality and features of this pack. With the 33L, I can carry a 60m rope, climbing shoes, harness and a rack of 10 quick draws, plus a few other pieces of equipment (packed properly). I do wish I got the 44L so I can fit a few other goodies in this, but it holds what I need and is a great pack regardless.
Great All Around Bag
Familiarity:

I've used it several times
I picked this bag up primarily for day hikes but now I use it for everything. I use it for carrying gear on my bike, day or overnight hikes when I can lighten the load, random travel, and just about anything else. It fits extremely well and is comfortable when loaded down, the hydration reservoir slot is clutch, and the hip belt pockets are a huge plus. This is my favorite day bag and I don't see myself switching it up anytime soon. Grab one while they're still on sale!
Hi, does anyone know if this pack could be small enough to be used as carry-on luggage? I know the site lists the dimensions but if not fully loaded could it be compressed down to fit or is it just too big? Thanks
Hey Colin, the dimensions for the pack are measured with it full, so this should meet the requirements for carry-on baggage.
Hey! Does anyone have used this pack for overnight backpacking trips?
I have sergio, I'm able to take up to 3 days worth of gear during winter. I haven't packed up summer gear yet. I do use a hammock however, so that saves me some space.



I'd imagine with some strategic packing you could use this for a night or two with any backpacking grade gear.
Best gift
Familiarity:

I've used it several times
I got this pack for my boyfriend for Christmas, knowing that packs are a very personal item, but that Osprey was a great brand that he has had in the past. He spent about two hours fiddling with the gadgets before we used it for the first time. And it was a hit. It is comfortable, breathable and fits a ton for a day back. It also has a lot of extra features that make it a steal.
I have an issue with the pack when it's not fully loaded. The full camelback bladder turns into a basketball like pressure mass in my back, even though it's in the designated compartment and attached to the loop. Does anybody else have this issue? Otherwise, I love this light pack.
Perfection?
Familiarity:

I've put it through the wringer
I'm beginning to believe this is the perfect pack.



My first test was a 10 mile run on a pretty uneven trail. With the pack being close to full, and around 18 pounds, it felt very comfortable and stable as I navigated multiple obstacles. The venting on the back panel really is a nice touch.



After a few more short runs, I took it on an overnight 50 mile round trip. Was really glad with my purchase after having just enough space, with plenty of comfort and stability.



I don't plan on using this for anything but fastpacking, but it really could be used for whatever you need it for.
Not too shabby!
Familiarity:

I've used it once or twice and have initial impressions
I used the backpack for a long day hike. 17 miles through the high peaks of NY. I fell twice, once in a mid puddle, and it still held up well. Lots of room and the option to remove the top compartment makes it pretty convenient. I was a little skeptical about the toughness since it seems lightweight and thin in spots. But, the pack made it through the day with no holes and was VERY comfortable. I highly recommend it. It cleaned up easily and I got to my gear without trouble all day.
Unanswered Question
The 33 in S/M is marked at being 66 cm...
The 33 in S/M is marked at being 66 cm tall - i suppose this is from the bottom to the top of the top pocket when stuffed full .

Does anyone have the measurement of just the height of the padded back panel ?

How tall would the pack be if not packed all the way up ,

with the top pocket zinched flat and down with the front vertical straps?

I've seen pictures of people hiking like this , and the size of the pack resembles the smaller Talon 22 quite nicely.



But leaves the option for more space when needed.



Thanks a bunch,

Erik




Here's how I use the plastic C buckles in order to shorten straps "leftovers" - used to do a similar thing to tactical bags back in the army days - the point is (obviously) to shorten the straps length, to minimize the number of loops the bag got and the possibility of straps getting caught into stuff. You can also do the same thing for the rest of the straps using a good Tesa tape, simple fold into a box shape to desired length and then tightly apply few rolls of Tesa tape to hold it down.
One of the best bags I've ever owned
Familiarity:

I've put it through the wringer
I've had this bag for 4 years now, and it still amazes me everytime I use it. I've done everything with it from day hikes, winter day hikes, summer over nights, traveled through Europe, days at the crag, cycling, and everything in between. It's comfortable, light weight, and built like nothing I've ever seen. The bag is simple, but has the capability to haul probably more than it's designed for (45lb). Not only does it just work seamlessly, but it is also very good looking. All in all if you are looking for a general hiking bag (of which there are many), I would stick with the Talon series. I've had the 22 and I have the 33 now (the 22 was stolen), and they are hands down my 2 favorite. If you are just getting into hiking, I would get one of these over any other bag because they have a timeless design, and are very reliable, and most of all they can be with you from your first day hike, to your last peak 14er's. Totally worth the cash for the quality this bag provides.
Great Pack!
Familiarity:

I've put it through the wringer
I use it for rock climbing, trekking, for trail running and almost every day.
Its Got My Back
Familiarity:

I've put it through the wringer
I love it. I love it. I love it. I've had dozens of packs. This is my favorite by far. I use it for everything. Short hikes, long distance hikes, carry-on luggage, weekend suitcase, bicycle beer transport. One thing I'm non-plussed about is the cheesy talon/flame design on the back.