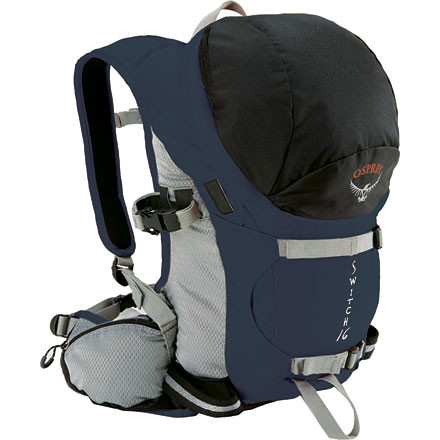 Detail Images
I bought this as an ultralight day pack for hiking. Great construction and accessability to gear. Fits well and comfortable. Hatch access is simple and fast without having to open buckles and string cords. Top level features in a small pack without overdoing the bells and whistles. Osprey makes great packs and this one stands up for their QUALITY and Reputation.
Great for inbounds and sidecountry
This pack is great for those days when you aren't hiking a long way from the lifts, and really just need oyur avy gear, some lunch and an extra layer.
It fits snug on your back so you hardly notice it's there, and there's no problem having it on on the chair-lifts.
It fits my G3 avitech shovel perfectly, and allmost seem to be tailored to fit it. I can also fit in lunch, a 3L camelback, some extra layers and gloves, extra goggles, my skins and not much more. I love the hip pockets for phone, camera and other small items wich are useful to have within reach.
Don't buy it if you need to fit your helmet in it, I don't understand why backcountry.com states that you fit the helmet in the top pocket, because you can't. I have also asked about this on the live chat, but they have not corrected this error. Osprey does not say that it fits a helmet in the top pocket in contrast to what they say about the 26 and 36L versions.
The Little Pack that Could
This pack rules. It has so many great features, and even the size small/medium is amazingly roomy. For a day of back country touring or snowboarding, I can fit an extra (puffy) jacket, goggles, lunch, a heavy duty space blanket, water reservoir, miscellaneous stuff like maps, headlamp, first aid kit, camera... and still have room to stow more layers of clothing as I peel them off. It's so comfortable and well-thought out. It's the perfect day pack for heading up to the snow.

NOTE: Backcountry.com's description above is erroneous regarding a helmet pocket. It is the Switch 26 that has a stretchy helmet pocket, not this one.
Is the ski loop big enough for skis that...
Is the ski loop big enough for skis that are 110 underfoot?
Chugach tested and recommended
Having read other reviews, I want to share my experience with this pack. It is certainly a day pack. Don't try to fit a tent in here. That said, the helmet pocket has room for my Smith Variant helmet (m), goggles and balaklava. The interior has plenty of room for a shovel, probe, skins, med kit, extra layers and other odds and ends. I do have trouble with the water tube freezing. The bladder fits well in it's own compartment in the pack and the tube is insulated through the right shoulder strap. All in all, I'm very happy with it.
Small but great ski carrier
Pros: Excellent ski carrying A-frame; Internal hydration; no freeze water hose; waistbelt pockets; top load fits everything for a slackcountry day and nothing more.

Cons: Small size limits junk you can carry (good or bad).

Best Use: Hike to ski areas like Aspen Highlands or Telluride; Ski area pack or slack country short trips.
Garbage, get the 26L version instead
I really like the 26L, but this one misses the boat completely (I was hoping to downsize a bit). It lacks the two main features that made 26L great: the stretch helmet pocket and the backpanel access. The helmet pocket on this pack is too small, no way a helmet will fit in it; on the 26L model the pocket is larger and it is made from a stretchy material. Backpanel access is essential for a ski pack- that way you can dump it in the snow with the skis on and get your stuff out. There is no way you can get your stuff out from the 16L version. Major disappointment.
Upgrading from an old tried and true pack was difficult. This pack is awesome and has just enough room for everything. May be a little small for mid winter outings when you need a lot of extra warm gear but has been great for spring.
perfect for inbounds access, lunch, shovel, probe, best part is the "420" hip belt pocket, very useful. Zipper pulls are great w/ gloves. love it
The pack is small. There is no way a helmet will fit in the top lid compartment, no way. Website is extremely deceiving. Pack is relatively small. It does have 2 compartments inside however it doesnt really expand well. Better packs out there. This site's support is second to none however. Returning this bag. Should of gone with one of the larger packs but too late now.
, ☃bcs_badge_alumni_label☃
Love this pack
There are so many pockets and straps on this pack that it comes with a manual!
Still, the features that I have used have been very handy, particularly the hip pockets for camera and phone. The big zip handles also make it easy to open and close with gloves on.