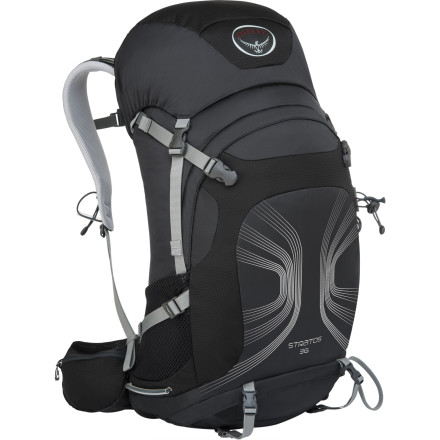 Detail Images

Videos

Community Images
Description
A bigger small pack that's perfect for hot and rainy weather.
Stay cool and dry on long summer hikes when you wear the Osprey Stratos 36 Backpack on your back. The Airspeed suspension and spacer mesh hip-belt and shoulder straps make hot morning inclines a delight. When the muggy heat whips up an afternoon thunderstorm, you can pull out rain gear from the 36-liters of internal space.
AirSpeed suspension combines the rigidity of aluminum stays with a tensioned mesh back panel for effective load transfer and cross ventilation
Ergonomic Spacermesh hip-belt and shoulder straps ensure your load rests where it should for max efficiency and pain-free hiking
Front panel access means you can easily reach everything in your pack's main compartment without unpacking
Top lid pockets give you extra space and cover the main compartment's top access
Hip-belt and shoulder strap pockets hold your camera, shades, or quick snacks so you can stay in the groove
ErgoPull waistbelt closure makes cinching down the belt easy
Stow-on-the-Go feature on the left side lets you holster your trekking poles as you walk
As soon as the rain starts to fall, deploy the built-in rain cover and keep your load dry
Compression straps let you adjust the pack's volume to fit different load sizes
Go for the Best
Gender:

Male

Familiarity:

I've put it through the wringer
Put simply, this is the best single to multi-day, middle capacity pack on the market. It checks every box - comfortably lightweight, packed with pockets and storage, strong, well-supported, and comfortable. 8, 12, or 24 hours in, you will not feel this pack.
I love this backpack
Familiarity:

I've used it several times
Plenty space, it sits very well in my waist, it's very comfortable, the materials are strong and the color is awesome, highly recommended.
Thinking of buying this pack for multi-pitch climbing and long day climbs that might require carrying in a large rack + other gear. Was curious to know if the airspeed suspension makes the pack feel further away from your body?
Does anyone have experience using this for climbing, if so, what do you have to say about it?
It's noticeable at first, but not off-putting at all. The suspension system feels snug and tight during activity, but definitely creates some space between your back and pack.



I've found it to be mostly all in my head, though! In reality, it's one of the most comfortable, secure packs I've owned, and my go-to no matter the terrain.
Bomber Pack
Familiarity:

I've put it through the wringer
First off the trampoline suspension system is amazing! This pack is so comfortable I'm hesitant to take it off. Plentiful gear and compression straps also make this pack very versatile. I took this on a 5 day trip to West Virginia and was able to get everything I needed in here for the trip (pad and tent strapped to the outside, clearly). The pack underwent rain, hail (oddly enough), and plentiful bushwhacking, but came out unscathed.

There are two caveats: 1) The sleeping bag compartment is small, and will only fit the lightest of summer bags. I worked around this by packed my clothes in there instead. 2) The sleeping pad straps are slightly too small. I had a foam thermarest (blue) for winter camping and it wouldn't fit. However, it just makes it around the summer one (green). These could've been better thought out, but it works nonetheless!
I highly recommend this pack
Great pack
Gender:

Male

Familiarity:

I've put it through the wringer
UPDATE! -



The pack worked wonders! I carried everything I needed in it for over a month and it never let me down. I love that the mesh kept the pack away for my back and allowed for some breathability as we hiked across Spain. Plenty of space if you're packing light - which we were. No complaints at all.



My favorite part of this pack is the mesh back panel that allows my back to breath without requiring a huge clunky backpack system. I got this pack for a month-long backpacking trip across Spain carrying the bare minimum and as I've gone out to try it out beforehand it looks like it'll work like a charm!




Great Pack for long day hikes
Familiarity:

I've put it through the wringer
I am extremely happy with this pack, great for long day hikes or even that occasionally over night. Well built and designed. I purchase the 3 liter hydration reservoir as well, thanks Backcountry and Osprey!
Totally love this pack
Familiarity:

I've used it several times
This lightweight pack has a terrific hug that keeps it from sloshing around on your back. The duel entrance zippers allow easy access to your gear. Perfect for full day or lightweight multi day excursions.
can anyone comment on the adequacy/protection...
can anyone comment on the adequacy/protection and ease of use of the built in rain cover?


Best Answer
I haven't used the rain cover on this specific pack, but I have on other packs, including some built in Osprey ones. The built in rain covers are great, they have a separate pocket they zip into when not in use, and it's a cinch to pull them out and buckle them on when needed. That being said, and this applies to all rain covers, you just don't get very serious weather protection from a rain cover. They will protect your pack in mist, light rain, or for a little while in heavier rain, but there is a huge tendency for water to get in on the back of your backpack (The part of your pack against your back, where the rain cover stops). If you want to be truly waterproof use a pack liner (I use a contractor trash bag) on the inside of your pack, and make sure anything not inside that can either get wet or is in waterproof stuff sacks.
would this pack be suitable for daily...
would this pack be suitable for daily commute by bike? or would this be a bit too big. i'm 5'9" and 160lbs.
Best Answer
Really depends on what you plan to carry with you. This bag could be great for commuting, as it has a great mesh trampoline style back suspension system that will ventilate really well while allowing the bag to stay stable on your back.



As for size if you plan to carry a full change of clothes for once you get to the office, shoes, lunch, water, etc. and then pick up something for dinner on the way home this would be perfect! Plenty of room, but it should pack down with the compression straps fine when it's not so full. If you plan to just carry lunch and paperwork, or just generally less stuff, you might want to look at the 24L version.



Cheers and good luck!
great pack!
Familiarity:

I've used it several times
this is my 2nd OSPREY pack after the atmos35L..i really love this pack..even on 30lbs, its still comfy!..i love its every detail & features-airspeed system, straps, belts, hydration compatibility, raincover, etc..lookin' forward for its updated version..
not a bad pack. does not hug your back as well as my other larger pack. construction quality is not the greatest i have seen either. ice axe stow placement is a bit clumsy given the shape of the pack.

used on the AV1 and the haute route.
Realistic ultralight backpack
Familiarity:

I've put it through the wringer
The ultralight backpacker community would scoff at using even a light pack such as this, but for me it's perfect. I use the large size. I bought this originally for a larger day pack for those longer day excursions where you want to be prepared. I absolutely fell in love with the fit and features. A MT forest service ranger said it best when describing her Osprey pack: It hugs my back like a baby Koala. The Airspeed system is heaven sent for a sweat hog like me. Simple and straightforward pockets and features.



I've used other larger Osprey packs for my extended backpacking trips in the past and loved them, but I decided it was time to go lighter...much lighter. A smaller pack is the best place to start: forces you to pack lighter, more compact and saves weight right off the bat. I took this pack for 6 days in the Absaroka-Beartooth mountains. My starting total weight was 31 lbs (with water/food) and came home at just over 20 lbs (no water/little food).



This pack is a dream. For me, it splits the difference between featureless ultralight packs and the huge load monsters you see everywhere on the trails. My whole paradigm of backpacking has been changed and I may be selling off some "load monster" packs soon, The attached photo is all the gear I fit in the pack for a 6 day trip. Yes, I fit the large bear vault in there. It's the first time my pack has actually looked like the stock photos...all puffed out and perfectly full. Without the bear keg, I bet I could do 2 weeks or more out of this thing.
Quality Product, like all Osprey product
Familiarity:

I've used it several times
This product is an excellent day pack and would make for a great light over nighter. This is the second Osprey pack that I have and I love it. It has an excellent assortment of pockets and straps and is everything I could ask for. 36L is about the biggest I would use for a day pack though. I would absolutely recommend this for anyone.
Great day pack!
Familiarity:

I've used it once or twice and have initial impressions
I've used this twice so far and I've been very happy. I like to bring too much stuff with me, and so far the 36L is a great day hiking size for me. Holds my water, snacks, layers, headlamp, stuff for dog, and lots more, with no problem. I haven't even filled it up completely yet!

It also carries very comfortable, and the different pockets are very useful. I really wanted something that had a stretchy pocket on the back for shedding layers, which this does not. But it has a decent sized zippered pocket on the back for small items and accessories, and it also has access to the main compartment from the back. One quick zip, and I'm in the main compartment to get rid of my jacket or quickly grab it out for a sudden storm, without having to unbuckle the lid and go in through the top. So I've been satisfied with not having the stretchy rear pocket.
is there a laptop pocket inside?
is there a laptop pocket inside?
Best Answer
There isn't a dedicated laptop pocket however you might be able to fit one depending on the size of your laptop but there will not be any padding to protect it. The pack is designed for the needs of a hiker so there is a sleeve for a hydration bladder however, I doubt that'll be large enough for a laptop.
If the Stratos 36 is not loaded, or is ...
If the Stratos 36 is not loaded, or is lightly loaded and not filled to the top, will it fit in a 22 or 24 inch luggage rack on an airline?
I was at the Seattle REI today and took a...
I was at the Seattle REI today and took a look at this pack. I came across a zipper that is located above the hydration sleeve and hanger that unzips across the top allowing access into the area behind the tensioned mesh back panel. I asked one of the staff and he had no clue and even he had asked the Osprey rep himself on a previous occasion and even the rep. had no clue as to what its for. Hoping someone here may have the inside scoop as to what that was intended for. Thanks for your time.
Best Answer
There are two main reasons for the zippered access point. 1. It is an access point for Osprey to get at something--an area of the frame for example--if the pack is sent in for a warranty. 2. Osprey hates the idea of "wasted space" so if they can give the consumer access to an area easily--for stashing a layer or a spare reservoir--they'll give you access to that region.



So that's why there is a zipper there. Not everyone will use it, but it's there if you want to.
Took the stratos 36 to Peru for a 5 day hike through the Andes then to Tanzania to climb Kilimanjaro. I'm 6" tall with a fairly normal torso length, and the medium fits me perfectly. Osprey nailed it with this pack. Very durable, very comfortable. Built in rain cover is perfect, and well placed. Also like the walking pole positioning on the shoulder strap, makes it very easy to put poles away when they're not needed. The ONLY drawback I've found with this pack after plenty of travel around the world in the last six months, is that it doesn't sit upright due to the 'airspeed' back. The back is curved to allow for air to flow off your back, which is very helpful in the heat - the trouble is, when you put the pack on the ground it will fall forward because of the design, so if you need to get something out of you have to prop it up while digging around. Still, this pack is amazing, and EASILY worth five stars - great value, great pack.