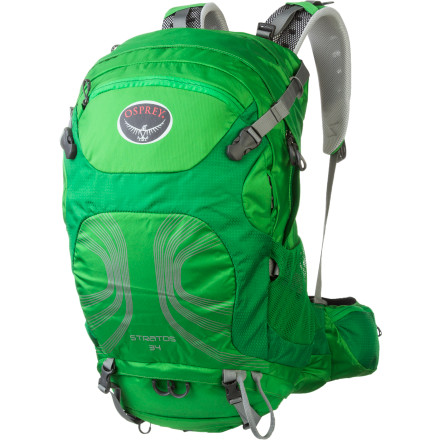 Detail Images

Community Images
Description
A burly backpack with versatility in mind.
You're ready for any mountainous adventure whether it's hiking, climbing, or backpacking for a night with the Osprey Stratos 34 Backpack. This pack fits all the gear you need for a day at crag, food and snacks for a full day hike, or even the necessary equipment to spend a night out in the woods. The designers at Osprey shaped this pack's LightWire alloy frame in such a unique way that it optimizes your load's balance as well as enhances the ventilation system with the help of the AirSpeed back panel. Add that to the sewn-in spacer mesh at both the waist-belt and the shoulder straps, and you're ready to tackle anything in the mountains without a sweat. The waist-belt utilizes ErgoPull straps for an ideal fit, and the panel access allows you to get anything out of your pack with ease regardless of where it is. The blend of high-tenacity nylon and 420HD nylon overlays will handle rocky scrapes and dirt dragging for years, and Osprey even integrated a rain cover so you can continue your mountainous adventures in poor conditions.
The Stratos 34 also features a bottom zippered compartment for your sleeping bag, straps for your sleeping pad that you can remove, side mesh pockets for water bottles, zippered pockets at the waist-belt for any small item you want quick access to like lip balm or sunscreen, and zippered stash pockets at the top and front for anything you want to keep separate from your gear like your keys, wallet, and phone. Both the upper compression and lower InsideOut straps compress all your gear so it doesn't move around when you're riding, and there are attachments for your trekking poles at the shoulder straps and attachments for an ice tool below the pack so you're ready to get out all year long.
AirSpeed back panel with LightWire frame
Sewn-in spacer mesh at shoulder straps and waist-belt
ErgoPull waist-belt closure
Panel access
Zippered lower sleeping bag compartment
Removable sleeping pad straps
210D high-tenacity twill nylon shell with 420HD nylon overlays
Integrated rain cover
Side mesh-woven pockets
Zippered waist-belt pockets
Zippered top and front stash pockets
Upper compression and lower InsideOut straps
Stow-One-The-Go trekking pole attachment
Single ice tool with bungee tie-off
I have the Osprey Farpoint 40. I am looking for a day pack for when I travel and also use it for commute (college student). I tend to do a lot of hiking while I travel. I was wondering if the has a laptop compartment or could fit books?
Does not have a laptop compartment and can fit most books, the inside width of the bag is 13in.



Feel free to hit me up at bporreca@backcountry.com or 801-736-6398.
My new fave
Familiarity:

I've used it several times
I hike, camp & travel internationally, and this is my new favorite pack. Since adopting a 'less is more' philosophy, 34 liters is more than enough for most of my travel needs. If I ever need more space, I've got my Talon 44, but the Stratos 34 is the perfect size for traveling light & fast, and best of all, it's carry on legal for most airlines.

I was never one for suitcases or travel specific packs. I don't like lugging around a suitcase when I land, and travel specific packs tend to not have the most comfortable suspension systems.

The Stratos 34 is a panel loader which I love for travel. Easy to get in & out of. I'm 6'4" and 230lbs, and got the ML. It has the most comfortable suspension system. The airspeed back panel feels wonderful, and lets lots of cool air flow between your back & the pack, which is always nice - especially in warmer climates. No sweaty back syndrome here.

Outside the pack are plenty of pockets to store items. Two large mesh side pockets for water bottles, and two nice stash pockets on the front for other items. There are also two large hip belt pockets. Often hipbelt pockets are too small to even hold a cellphone. But Osprey did them right on the Stratos. Very roomy.

Inside the pack is one big space to store all your gear. There is a sleeve for a water bladder, but I find it perfect to store my iPad when traveling abroad.

There is a separate zippered sleeping bag compartment on the bottom of the pack with a divider between it and the rest of the interior of the pack. The divider can be opened up to create an even bigger space. The inside of this compartment seems to have a thicker lining which could be nice to store wet clothes when on the trail.

Speaking of wet, the Stratos 34 comes with a rain cover in its own little zippered pocket at the bottom of the pack. I wish all Osprey packs would include this feature. My Talon 44 didn't. But I tested the Stratos 34 rain cover on my Talon 44, and it fits perfectly.

The Stratos 34 has the Osprey 'stow on the go' straps for quickly stowing trekking poles when scrambling up rocks or other hand free activities. There are also removable sleeping pad straps on the bottom of the pack. If Ya don't need em, you can just take them off. Which is nice. Unlike a lot of top loaders, the Stratos 34 doesn't have a lot of dangly straps which creates a very streamlined pack.

I love this pack. It will be my go to pack for light hiking, camping & international travel. So why only 4 stars and not 5? One reason & one reason only. Osprey got rid of the front stretchy pocket on this model. This is one of my favorite features on most Osprey packs, and I don't know why they decided to remove it from the Stratos line. It really comes in handy to quickly store items like a rain jacket or other discarded layers. I won't lie, I really miss it on this pack.

Some people say that you can store such items in the space between the airspeed back panel...and that's true. But it's not the same. And I don't want to risk damaging the trampoline mesh by jamming stuff back there.

Other than that tho, this pack is perfect. As was the price and service from BackCountry. Very happy with my purchase.









Kilimanjaro Lemosho Route
Familiarity:

I've put it through the wringer
I bought this Stratos 34 for a Kilimajaro trek that I just completed, and it was the perfect pack. I was able to stow my gaiters, rain pants and rain jacket in the bottom compartment that was easily accessible, and the rain cover was easy to deploy and effective. The light frame, air speed ventilation and compression straps made for a stable and comfortable pack as one transitioned from tropical to arctic climatic zones over a variety of terrains. The internal hydration with a 3 liter reservoir is very convenient and the hipbelt pockets made it easy to reapply lip balm and sun block at elevation. This is another great overall pack that I've come to expect from Osprey.
If I wanted something that would also work for traveling/plane friendly, would it be this one or the smaller size?
Best Answer
Hey there - Leta from Osprey here. The Stratos 34 would be great for carry on. You will be psyched with this product!
Best day pack I've yet had
Familiarity:

I've put it through the wringer
After decades of slogging up trails with book bags and better-hipbelt day packs, I rolled the dice on Osprey's Stratos 34. About the only way I can describe this pack is, it's carrying the load (up to 25 lbs. some days), and it just happens to be attached to me. The suspension system is miles ahead of other day packs on the market. The killer feature for me? The load lifters. Once I have the pack adjusted to my liking, I give those babies a pull and the pack just snuggles to mu upper back like a hug. Seriously, I am more focused now on the trail than the load, and after 10+ miles, no back fatigue or sore shoulders. I manged to pick mine up from another vendor for about 30% of what it's MSRP is, but even at full price, this pack is worth every penny. The mesh pockets on the hipbelt, hydration pocket, etc. are just icing. With this pack attached to you, your hike will be a pleasure!
I plan to use this pack for rock climbing and want to know if the sleeping compartment is large enough to hold a 60 or 70 meter long 10mm diameter rope. Can anybody test it out for me and let me know how it goes?
Best Answer
I haven't tested it myself, but I've seen many a 10mm 60m rope, and I'd be very surprised if it fit in the sleeping bag compartment. Even my 9.5mm rope, compressed in a rope bag as small as I can make it, is bigger than my sleeping bag in its stuff sack. 34L is already at the small end for a sport climbing pack.
Great for short trips in hot climates...
Familiarity:

I've used it several times
I usually don't like this type of suspension system(especially on larger packs like the Atmos & Exos) because it tends to pull the wt off your back & disturb your center of gravity. But on a smaller pack like the Stratos 34 it really works. Particularly on trips to tropical, hot & humid places where you don't have to pack heavy. That's when the airspeed system really shines by allowing huge amounts of air to flow btwn your back and the pack. I also like that the Stratos 34 is a panel loader and comes with a rain cover. Again, a great feature to have when traveling in the tropics where sudden downpours are common. If I had one nitpick about this pack, it'd be that Osprey opted to remove the back stretch pocket in this years model. Most Osprey packs have this, and I do miss it. It comes in handy when you want to stuff wet or dirty items outside the pack. In a pinch, you can stuff a wet rain jacket behind the airspeed panel I suppose. There is enough space, but it's not ideal. Would prefer a stretch back pocket. Oh well, guess you can't have everything. Otherwise a great little pack for short trips to tropical places or for those who like to pack light. I'm 6'4" and 220lbs and the M/L fits me well.
Love it!
Familiarity:

I've used it several times
I picked this pack up for an overnighter and it more than fit the bill. It had enough room for some colder weather cloths, food, sleeping bag and a few other essentials. Love the air-speed back, it helped keep the back nice and dry. The built it rain cover came in handy as well. Super comfy pack! Do it!
Perfect weekend pack
Gender:

Male

Familiarity:

I've used it several times
This is the perfect pack for me on a 3 day 2 night trip when I'm going hammock style. I like the sleeping bag compartment. My Sierra designs backcountry bag stuffs in nicely. the only thing that I strapped to the outside of my pack was my chair (luxary item). I was able to pack my hammock, tarp, pillow, hammock hanging kit, sleeping bag, 3 days worth of food, the usual personal items and a pullover. The pack felt great on my back and the shoulder harness did not dig in to my shoulders. I recommend this pack to anyone that knows how to pack light.
Hydration Compatible? ospreys site says...
Hydration Compatible? ospreys site says yes, bc says no. can I put a hydration reservoir in it?
Best Answer
We had a mistake in our description for the hydration compatibility so yes this backpack is hydration compatible and you can choose which side you want to drink from. Below is a link to a pretty good review of the pack if you would like to check it out.



http://www.troutalope.com/2014/02/osprey-stratos-34-2014-model.html
Favorite midsize pack
Familiarity:

I've put it through the wringer
I originally purchased this for field work, and it could not have been any more perfect. I can easily pack layers, food, water, and geologic field study goods in it with room to spare (and fill up with rocks throughout the day). The pack is very easy to adjust, and is VERY comfortable to wear- so even with a heavier load, I didn't notice it due to the custom fit. The hip belt is very comfortable, and slims down pretty tight. I am pretty petite- 5'2, 115lbs with a 25" waist, and I can easily adjust this pack (in a size S) to fit. The AirSpeed back panel is a killer feature- even hiking for 10 hours in the desert heat, it kept my back ventilated no problem. The zippers on the pack are easy to function, and the stowable rain cover is a great feature as well. The only thing that is even slightly weird is how the suspension system makes the pack curve internally- but it's really no problem, and you can still pack the bag full. Hands down the most functional, comfortable, and good looking mid-size pack that I've found!
Here is a look at the Osprey Stratos 34!
Stratos 34 Review
Familiarity:

I've used it several times
I picked this pack up for a few reasons. It is somewhat light (you can do lighter) and it has plenty of space. I am using this pack as not just a day/overnight pack, but also a pack to take on some extended fly fishing trips. There are days where I will be on a stream all day fishing. I need a pack that will allow me to not only take my shelter, cook kit, food/water, and other hiking gear but that has enough room for my fly fishing gear as well.



This pack can do all of that. I can store my waders in the sleeping bag compartment, or a wet rain jacket. I can have a rod tub in one of the water bottle pockets with enough storage everywhere else for everything else. I will say that if you are looking for just a day pack I would look at the Stratos 24 as this is on the large side for a normal day pack. I feel Osprey did an awesome job with the redesign of the 34 by adding all the little features to make it a stellar overnight pack.



I would not hesitate to purchase this pack again.