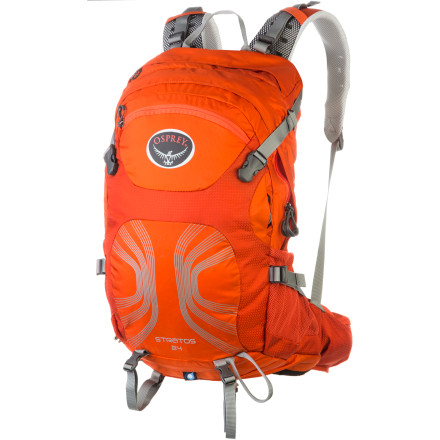 Community Images
Description
Perfect for a day on the mountain.
Despite your busy schedule, each week you're up playing on the mountain whether it's hiking, mountain biking, or climbing. The Osprey Stratos 24 Backpack is ready to take on whatever you're doing up there. With this pack, you can fit all the gear you need for a day at the crag, on the trail, or at the park with some room for snacks too. The designers at Osprey shaped this pack's LightWire alloy frame in such a unique way that it optimizes your load's balance as well as enhances the ventilation system with the help of the AirSpeed back panel. Add that to the sewn-in spacer mesh at both the waist-belt and the shoulder straps, and you're ready to tackle anything in the mountains without a sweat. The waist-belt utilizes ErgoPull straps for an ideal fit, and the panel access allows you to get anything out of your pack with ease regardless of where it is. This pack's blend of high-tenacity nylon and 420HD nylon overlays will handle all your rocky scrapes and dirt dragging for years, and Osprey even integrated a rain cover so you can continue your mountainous adventures in poor conditions.
The Stratos 24 also features sleeping pad straps that you can remove if sleeping outside isn't part of the agenda, side mesh-woven pockets for water bottles, zippered pockets at the waist-belt for any small item you want quick access to like lip balm or sunscreen, and zippered stash pockets at the top and front for anything you want to keep separate from your gear like your keys, wallet, and phone. Both the upper compression and lower InsideOut straps compress all your gear so it doesn't move around when you're riding, and there are attachments for your trekking poles at the shoulder straps and an ice tool below the pack so you're ready for adventures throughout the year.

AirSpeed back panel with LightWire frame
Sewn-in spacer mesh at shoulder straps and waist-belt
ErgoPull waist-belt closure
Panel access
Removable sleeping pad straps
210D high-tenacity twill nylon shell with 420HD nylon overlays
Integrated rain cover
Side mesh-woven pockets
Zippered waist-belt pockets
Zippered top and front stash pockets
Upper compression and lower InsideOut straps
Stow-One-The-Go trekking pole attachment
Single ice tool with bungee tie off
Awkward sizing
Familiarity:

I've put it through the wringer
Can't get over how much room it appears to have, but the damn thing can't fit anything very wide, aka it doesn't have much space between back and front. Really annoying. BUT! It is the MOST comfortable day pack I have used, wow!
Perfect Size
Familiarity:

I've used it several times
The size of this pack is great for long day hikes or peak bagging.
Load up and head to the trails
Familiarity:

I've put it through the wringer
I'€™ve been using this pack for the past year and overall it'€™s a fantastic pack and has held up to use extremely well. I use this pack for day hikes and can easily fill it with 3 liters of water, first aide kid, lots of food, extra clothing layers, and FF DSLR (not with a 200mm tele though). You can put quite a bit of gear in this backpack.

My absolute favorite feature is the ventilated back panel. It keeps air moving and keeps things cool.

The pack is very comfortable and the straps are easy to adjust. The pockets on the waist belt are very useful. You can stuff snacks in there and even a point a shoot camera can fit in there so you don'€™t have to peel your bag off every time you want to eat or take a photo.

The two side pockets are great as long as your run the compression straps on the outside of the pocket. When running the compression strap on the inside of the pocket, the strap interferes or catches on to whatever you put in the pocket (for instance sunscreen bottle, jacket, and so forth) and prevents it from being completely stowed in the pocket.

Removing the hydration reservoir can be tricky. There is a pocket body that dangles right at the opening of the sewn hydration sleeve. If you have the pocket full of gear it blocks the exit of the hydration reservoir and removal can become quite cumbersome and frustrating.

Anyone notice the zipper at the top of the pack above the hydration sleeve on the interior? It's not a functional pocket or access point so my best guess is that it helps with the sewing process of the bag.

Great for those on the go
Familiarity:

I've put it through the wringer
I recently needed a smaller day pack for hiking and mountain biking, so I decided to check this bag out. I was not disappointed! As is normal with Osprey packs, the straps are all designed very well and are comfortable without chafing. It comes with sleeping pad straps and stow on the go for those of us who like to take a small overnight bag camping as well! Further, the panel access makes it so you can easily find anything in your bag and the included rain cover is easy to access and works very well! The only complaint I have is that the hydration sleeve is stitched into place and so it takes up a lot of the room in the bag with a 3L bladder. That is to be expected of a 24L pack, but if the bottom was not stitched into place it would be easier to pack overall. I definitely recommend this bag for anyone looking for a solid day pack and occasional overnight bag!
GREAT BACKPACK
Familiarity:

I've put it through the wringer
I love this backpack. I've used for school, hikes, biking, as a crag bag, travel, and even for a couple of overnights. It performs admirably everywhere. The suspension is comfortable, the mesh panel is glorious, and the build quality is AWESOME.



As for interior shape, there is a pronounced inflex on the backpanel (allows for the mesh airspeed backing). A lot of people expressed concern about fitting things like books and laptops. They fit fine. A pocket of space is produced at the top of the backpack toward the back and is a great place to store chargers, cords, kindles, or books.



I highly, highly recommend this bag.
Anyone know whether this will conveniently hold a 15" MacBook? I bike to school and work and looking for a good day pack with waist straps and pockets that I can use for both my commute and day hikes/mt bike trips.
Hey Ryan,

This will fit a 15" macbook but if you hold large (wide) water bottles in the side pockets (such as the hydro flask 40oz) the two will interfere a little with each other. It is an awesome pack and feels really stable on the back and distributes the weight really well. I use it for similar things as you. school and day hikes. You might want to consider the stratos 34 as well if you want a little more space, but the 24 is awesome
Nice little day pack !
Familiarity:

I've used it several times
Was looking to replace my old day pack with a new one . After picking up a new Osprey 60 liter I was sold on looking at the smaller packs that they offered . I was not disappointed at all with that decision . Pack offers great breathability as well as all sorts of adjustment to fit no matter how light or heavy the load. My favorite thing about this pack as well as my lager pack is the quick stash for my trekking pole.
What color is the rain cover for each colorway of this bag?
This rain cover comes with a green rain cover. That is for all colorways.
old model review
Familiarity:

I've put it through the wringer
I've had an older version of this pack for about five years now and it's still my favourite. This thing goes everywhere with me from carrying my books to class to hiking to fishing to weekend getaways. The mesh back panel keeps everything nice and cool, the straps are so comfortable and don't dig in at all. This isn't even a female specific model and yet the hip belt works perfectly for a lady's figure. The hip belt pockets are perfect for a camera or phone and a cliff bar. The water bottle pouches on the outside fit any size bottle including regular size nalgenes, and if you have a skinny bottle the compression straps cinches everything down tight. I've never actually used the rain cover that comes with this, it seems to handle light rain just fine! I can also carry a good amount of weight with this pack, the only thing for me is that if it isn't weighted it tends to come up a bit higher than I like on the back of my neck. All of my favourite bits seem to be on the newest model so I super recommend this one. It's still my all time favourite pack and started my love of all osprey packs. I've add an Aura and a Zena to my collection too!
Fantastic backpack that vents well
Familiarity:

I've put it through the wringer
I bought the orange Stratos 24 for commuting to work and really love it. I'm 6'5" tall and find that the m/l size fits my body really well and properly distributes weight on my hips. Most importantly, I can actually feel the airflow down my back! It is stable yet far less sweaty than any other pack that I've used.

Can't wait it to use it for some hiking too!
Will the side mesh pockets accommodate a...
Will the side mesh pockets accommodate a standard large mouth Nalgene bottle?
The mesh side pockets should be perfect for a standard Nalgene bottle.
Osprey's website says the Stratos 24 is...
Osprey's website says the Stratos 24 is hydration compatible with a bladder sleeve and two exit ports, but Backcountry.com says it isn't compatible. Any idea where/what the discrepancy is and is this pack capable of loading a bladder?
Best Answer
Hey Chris,



Simple mistake by our content team. This does come with a sewn in hydration sleeve and duel ports for the hose. I will be sure to find somebody to change that.
Anyone with any experience mountain biking...
Anyone with any experience mountain biking with this (for much longer rides)? Just wondering if the upper aluminum support gets in the way of your helmet when you're in the riding position. Thanks!
Best Answer
The top of the frame is not right at the top of the pack, so unless you have it really hiked up on your back I don't see there being an issue with a helmet.
No issue at all when using this for any sort of riding. It is stable, cool and very unobtrusive.