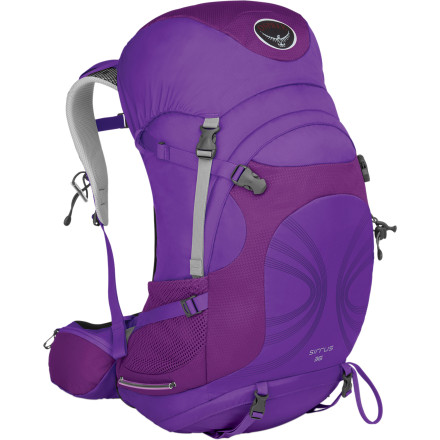 Colors

Detail Images

Community Images
Description
A big day pack with plenty of suspension and features.
A women-specific fit, three different sizing options, and the super-breathable mesh back panel conspire to make the Osprey Women's Sirrus 36 Backpack the comfortable choice for long, demanding day hikes. The shorter torso size, tapered shoulder harness, and narrow waist belt were designed to match your body's curves, and three different size options let you hone in the perfect fit.
AirSpeed suspension combines the rigidity of aluminum stays with a tensioned mesh back panel for effective load transfer and cross ventilation
Women-specific Spacermesh hip-belt and shoulder straps ensure your load rests where it should for max efficiency and pain-free hiking
Front panel access means you can easily reach everything in your pack's main compartment without unpacking
Top lid pockets give you extra space and cover the main compartment's top access
Hip-belt and shoulder strap pockets hold your camera, shades, or quick snacks so you can stay in the groove
ErgoPull waistbelt closure makes cinching down the belt easy
Stow-on-the-Go feature on the left side lets you holster your trekking poles as you walk
As soon as the rain starts to fall, deploy the built-in rain cover and keep your load dry
Compression straps let you adjust the pack's volume to fit different load sizes
Solid Day Pack
Familiarity:

I've used it several times
Bought a small/medium as a gift for my GF (5'8") as a day pack before she heads down to South America. Its the perfect day pack but more than 1-2 nights worth of stuff would be too difficult to cram in there. She has been using it for day hikes with beers, water and layers. So many functional pockets, especially the ones up top that keep things like your phone away from the rest of the pack. She accidentally spilled an entire nalgene of water in the main compartment and her phone and keys were just fine. A great looking pack with tons of functional attributes.
We love it
Familiarity:

I've used it several times
I typically prepare our load outs the week before a trip and each morning at base camp make sure hydration bladders are full etc etc. This pack is simple to navigate and easy to plumb for hydration, which is made all the easier by the included 3 L Osprey bladder. This pack just loads so well, the layout seems very intuitive. Conversely it's easy to find any of its contents in an expedient manner. It is of course my wife's pack and above all else she loves this packs suspension. We put major mileage behind us at Arches National Park this past fall. As the Utah sun beat down on the red rock canyons we sweat and sweat, electrolyte tabs might as well have been skittles. The padded mesh of my North Face pack was saturated at the end of each day where as my wife's packs suspension system let air freely pass between her back and the pack's body. The suspension system in my opinion is phenomenal, I've been genuinely impressed by all of Osprey's offerings.
The Perfect Day Pack
Gender:

Female

Familiarity:

I've used it several times
This is the perfect pack for day trips, or maybe even an overnight trip if you don't have to carry a ton of gear, but it's definitely not a multi-day trip pack.

I have my Sirrus 36 a handful of times, mostly for single day trips that require more packing space than the Raven 10 Hydration pack that I use for mountain biking and smaller hikes. I did use the Sirrus for a spring hut trip recently because I don't own a larger pack and was pleasantly surprised by what I was able to fit.

By utilizing the side straps I was able to pack my ski shell and my tripod, and in addition to a full 3L reservoir, I fit my DSLR camera (in its case), an second wide angle lens, a heavy down jacket, a change of clothes, sunscreen, and toiletries in the main compartment. I also managed to snap down my sub zero sleeping bag between the body of the bag and the top compartment.

What I like about the the pack is the rigid raised mesh backing that allows for good ventilation without sacrificing comfort or proper weight distribution. The bag also offers the same great magnet system as other Osprey bags which secures the hydration hose to your chest strap for easy access.

The only reason why I didn't give this pack all 5 stars is because after a few miles the waist belt rubbed my hips funny.
How big a hydration reservoir will it hold/accommodate?
Hey Benjamin,



A sewn in fabric hydration sleeve on the packs internal backpanel along with dual reservoir hose exit ports accepting up to a 3 liter reservoir providing easy use and access to hydration.
A pack so nice we bought it twice
Familiarity:

I've used it several times
I have the Osprey Stratos which is apparently the men's equivalent of this pack. My wife liked it so much she decided she wanted this women's version for herself. We've used our packs for a few things but not much yet.



We love the space that the stretched mesh gives between our backs and the actual pack. We got these packs to walk across Spain in so we really wanted something that wouldn't make our backs a sweaty mess the instant we put them on.
I'm looking for a backpack to use as...
I'm looking for a backpack to use as Hand-luggage for my upcoming year in Singapore and also for day trips/ 3-day trips in South East Asia. Is the Sirrus 36 the right pack for me? What about the Kyte 36?
While I am a huge fan of Osprey pack as they are well designed, light weight, easy to pack, comfy to carry, will distribute weight well on your frame, and will hold up for years of use; unfortunately I only hesitate as I am not sure this pack will fit your flight needs due to its size. If you have this one in mind, I would recommend double checking the carry on size limits the airlines you intend to use has, as many may not allow you to use this as hand luggage since it will not reduce in size below 24 x 11 x 9 inches. Overall this Sirrus 36 is a wonderful bag and would work well for your trips, but you may need to rethink size if the airline will require you to check this any time you fly.



*Dimensions of the Osprey Kyte 36 will be 26 x 12 x 11"



** Size wise, you may want to check out the http://www.backcountry.com/osprey-packs-sirrus-24-backpack-1400-1600cu-in-womens if the 36 exceeds your size limits.
Osprey Cirrus 36 Review (Women's_)
Familiarity:

I've put it through the wringer
Bought one of these for a hiking /horseback riding trip into the Mustang area of Nepal. Just got back I am about 5'4 and needed a small/medium size. I was very pleased with this pack -- it is light, and settled onto my hips very well. We had some tough slogging, and I put the pack through its paces. Zippers were durable and never gave any trouble. Mustang is very, very dusty and the pack kept most of that out even without the rain poncho deployed. There are lots of little pockets here and there for sunscreen/lip balm . The only criticism I had was that i could not figure out how to use the trekking poll attachment on the left shoulder strap. However, I just stuffed them into a side pocket and secured them with a strap further up the pack and things were fine. Good value for the money if you want a larger daypack.
Hello, I have the Sirrus 36 and am going...
Hello, I have the Sirrus 36 and am going to travel Africa for an extended period of time. I want to travel light and do not anticipate doing much hiking. Do you think this pack will be big enough? I'd much prefer not having to buy another backpack and like I said am planning on traveling light, but I don't want to feel like I don't have enough space. Planning on being gone for minimum 6 months. Thanks!
If you can fit everything you think you'll need into and really don't want to buy another pack, don't. Personnally I can't fit a week's worth into a 30L. Something about the sirrus and the Airspeed suspension though is those aluminum rods that keep the back panel taught can be easily bent while traveling, making the pack uncomfortable. I would almost recommend getting something more suited for traveling and less for hiking
this is my first big trip and I'm not totally sure what exactly I need to bring or how much room it will all take up. Do you have a recommendation that you think would maybe be better suited? Thanks for the advice I will definitely consider it!
You are working the problem backwards. This bag might be large enough, depending on your lodging and activities. Instead of starting with the bag, you'd be smart to assemble what you need, cut that back even further, then choose a backpack. Firstly, a backpack is a container, but it is also something you will wear, and even kinda your apartment. There are tons of good packing lists online. Study them and make your own packing list before choosing your backpack.
Great Daypack
Familiarity:

I've used it once or twice and have initial impressions
This fits like a dram. I am a curvaceous woman and the hip belt really helped carry 25 lbs. over an 8 mile hike. Since then I haven't been really using it, my only quip is that there are two pockets. It wasn't exactly what I needed but it got the job done and would be great as a camping pack or a day pack.
Where do you put your sleeping bag?
Where do you put your sleeping bag?
Best Answer
Hey Serena,



This is not going to have a separate sleeping bag compartment it's more of a day pack. If you are a super ultralight packer then maybe, but that would be extremely difficult.
I have the stratos 36 (the male version of this pack) I have used this backpack for two years now as an ultralight pack for my gear. Have done 4 days out of it with a big agnes 20 degree bag. In the summer I have a BA 45 degree bag that is perfect for this pack. Unless you are an ultralight/minimalist, this bag will be to small. With a normal size sleeping bag in it, you only have enough space for a smaller cook-set and a little bit of food. When using this on extended trips, I have always had to strap my hydration bladder to the outside of the bag too. Great pack but you really have to leave luxuries home if you plan on using it for an extended trip.
Small or medium. Stratos or sirrus? I need...
Small or medium. Stratos or sirrus? I need a good pack for my trip to Nicaragua, something that is big enough to take clothes down with but small enough I can pack just a few things for the day to day without being bogged down. I'm a little under 5'7" and 130 lbs. I'm torn between the two and need some help with choice and sizing! Thanks!
Hey Musp,

Nice choice, these Osprey packs are awesome. I just returned from Nicaragua and you are going to love it! As far as sizing goes, you are actually going to need to measure your torso to see which size will fit perfectly. Then click on the little sizing ruler icon underneath the prices to see where you fall. Check out the link below on Osprey's website to see how to properly measure your torso. (I also suggest grabbing a buddy, it's not a fun one to attempt alone).



http://www.ospreypacks.com/en/web/sizing_and_fitting/?request=PackTech/SizingandFitting/
Also, take LOTS of sunscreen if you can, it's expensive down there!


Thanks Lexi!

Do you have a suggestion for the Sirius or the stratos? And if so why?

Thanks again
I'll weigh in. You'll get good volume out of both packs (they're both bigger than they look), but I've always found that the simpler the pack, the better it carries and feels when it's not fully loaded. I also prefer a front-loader to a top-loader for basic ease of access to the gear at the bottom of the pack. The Sirrus is going to give you more pocket and compartmentalized storage options, but the Stratos is nice and simple. I have a bunch of different packs, and when I'm not using a duffel bag or a multi-day pack, the two packs I gravitate towards first are either my Stratos 26 or my React. If I can carry just as much comfortably in one as I can with another, while lots of places to put stuff is sometimes handy, K.I.S.S. is the name of the game for me. IMO, via con Stratos 34. Hope this helps.
I wish I had bought one for every girlfriend I have. This is a fabulous pack. Planning on taking it on a 2 week trip to Thailand. It has loads of room. It is light and easily accessible. The hip support is great and the vented back makes it very comfortable.
Women's ventilated technical daypacks
Is the lid part of this pack removable?
Is the lid part of this pack removable?
It is not. It is fixed in place.
Any thoughts on either this sirrus or...
Any thoughts on either this sirrus or greggory's jade? Besides the capacity and weight. I feel like the osprey is going to breathe better but I have not been able to try on either of these particular packs. Although i have tried on multiple greggory and osprey. It seems to me that greggory is more durable.

Thoughts? I am hoping to buy a good day pack within the month.
I have had a Jade 30 and I didn't like it very much. It was well made, but the interior space was not very usable--the pack is too narrow to fit things in an efficient manner.

However, I did find that the breathability and the durability of both packs is comparable. The carry of the Osprey was a bit better--the harness and hipbelt fit much better.
I tried on both, and while I liked the look of the Jade a lot better, I ended up buying the Sirrus. It was just more comfortable on my tall, narrow-shouldered frame. Among other things, the hip belt on the Jade was too big when the torso length was correct, and the Sirrus just seemed to sit better on me when weighted.
Has anyone tried on both the Sirrus 36 and...
Has anyone tried on both the Sirrus 36 and Talon 33? I've been able to test-wear the Sirrus 24 and 36 and like them both. I'm borderline S/M with a back length of 18.5 inches. Thanks!
Hi Shelly, these packs are two different animals. The Sirrus will give you more cush and more suspension, but more weight. It will also carry more weight better. The Talon is one of my favorite series, so you can't go wrong either way. Its really up to you: lightweight, or more featured?
Best Answer
Hey Shelley! I was debating between the Sirrus 36 and Talon 33 too. After testing both, I went with the Talon because it's much more lightweight and moved with my back better after I loaded it with stuff. I've mainly used it for daytrips skiing, rock climbing and on a winter climb of Mt. Washington and I've been super happy with it. My biggest hesitation before buying the Talon was that it basically has no frame, so I wondered whether it distributes weight effectively, but it has a stiff back panel that compensates well and I've had no problems with loads up to ~15 lbs (which I figure is about the max I'd have for a daytrip anyway). I have an 18" back so I am right in between the S/M too. The Talon only comes in S/M but for my Osprey Ariel, but I went with the S because I have narrow hips and the hip belt fit me much better. Hope this helps!
What are the dimensions of the size small...
What are the dimensions of the size small pack? I'm hoping that it's small enough to carry on my flight this summer.
Best Answer
You should definitely be able to bring this as carry on. I traveled with a 42L Black Diamond pack that fit fine, and this one's only 33L in the small size.
Agree with Angus, you will not have a problem using this as a carry on.
The dimensions of the medium are 23" tall (with lid stuffed out) x 12" wide x 8" deep. Adds up to 43" which is less than the rule that all dimensions must add to 45" or less. You are interested in the small so it will probably be more like 21" or 22" tall. So yes, it should work.

And from personal experience, I have never had my backpack measured for the 45" rule and it is about a 44" pack. I traveled with it to Costa Rica with no problems. If it were a rolling luggage, I'd be more careful though.
Thanks! I think I'll definitely get this pack then!
Excellent day or overnight pack
With 20 lbs of gear and 3L bladder, I took this pack out for an 8 mile hike in Red Rock Canyon on a Friday then again Saturday. Friday found me hiking in snow flurries and 40 mph winds in the desert. This pack fits my small torso perfectly, does not shift around as I jog downhills or reach down to boulder. Saturday was sunny and relatively hot in comparison. The air speed mesh back kept me cool, I almost didn't want to take off the pack on my rest stop. The 2 waist belt pockets are difficult to unzip and zip yet handy for energy packets. Shoulder strap pocket is tight fit for cellphone.
I found myself having to retighten shoulder straps every 2-3 miles.
Includes integrated Osprey raincover. 3L bladder pocket inside or 2L can be squeezed in between mesh and pack. I may use this to hold additional water when climbing Mt. Charleston 12k; 18 mile roundtrip 4,500 ft gain with NO available water. 2 side mesh pockets to hold sweaty socks or frozen water bottle (think desert).
This is going to be my go to pack for extreme dayhikes and overnighters. Not too keen on color but who can see their pack when hiking?