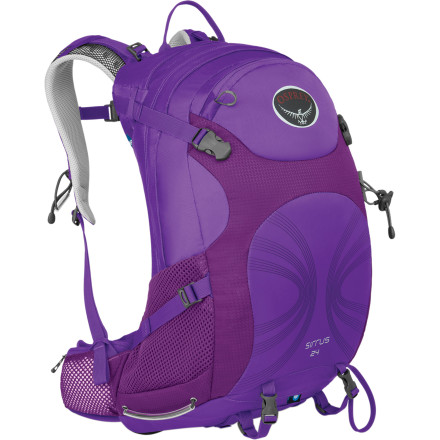 Detail Images
Description
A women-specific day pack that incorporates ample cooling and an effective suspension system.
The moment you put on the Osprey Women's Sirrus 24 Backpack and feel its mesh AirSpeed back panel successfully transfer the load to your legs, you get overwhelmingly excited, if not giddy for the big hike ahead. Thanks to this pack's tapered shoulder harness, shorter torso length, and narrow waist belt, you no longer associate ten-mile hikes with pain. And since the Sirrus 24 comes in two different sizes, you can find one that's just right for you.
AirSpeed suspension combines the rigidity of aluminum stays with a tensioned mesh back panel for effective load transfer and cross ventilation
Women-specific Spacermesh hip-belt and shoulder straps ensure your load rests where it should for max efficiency and pain-free hiking
Front panel access means you can easily reach everything in your pack's main compartment without unpacking
Hip-belt pockets hold your camera, shades, or quick snacks so you can stay in the groove
ErgoPull waistbelt closure makes cinching down the belt easy
Stow-on-the-Go feature on the left side lets you holster your trekking poles as you walk
As soon as the rain starts to fall, deploy the built-in rain cover and keep your load dry
Compression straps let you adjust the pack's volume to fit different load sizes
great pack, makes life easier
Familiarity:

I've put it through the wringer
the added comfort from the space behind the net helps keep the sweat off you. worth every penny. belt, chest strap easily adjustable. lots of little benefits, pockets, place to put your poles. highly recommended. amazing quality. it'll last for years.
wanted to like this...
Familiarity:

I returned this product before using it
I researched around for the perfect pack for day hiking and/or biking, plus some standard daily use. I decided on the Osprey for its name brand/quality and awesome features like the hydration compatibility, size, hip belts, integrated rainpack, and overall construction/back support. I like the offering of gray blue tones (not much of a pink/purple type girl). The pack came in and I immediately loved it out of the box......until I put it on. Unfortunately it was just too short. I couldn't get it to fit properly on my back and sit correctly on my hips, even with it loaded. The straps sat funny on my shoulders. I will add that I have a pretty athletic frame. Goes to show not all packs fit everyone the same. I was able to return it and then settled for the Deuter Airlite unisex (which I really LOVE). It's an awesome trade-out and extremely comparable to the Osprey in quality and capabilities.
great midsize pack
Familiarity:

I've used it several times
this is a great mid size pack, we bought it for trips when we needed a little more than just a hydration pack. A lot of great compartments on it, comfortable on and when in motion even over longer hikes.
Could you use this for skiing too?
Hi Maggie,



You could, but I wouldn't recommend it; it would probably make skiing difficult. The AirSpeed backpanel will be pushing the packs weight farther behind you, encouraging you to stay in the back seat while skiing. I definitely wouldn't recommend using this as a touring pack.



Feel free to reach out and we can find a ski-able pack for you.



Ben

brabinowitz@backcountry.com

801-746-7564
great pack but...
Familiarity:

I gave it as a gift but have feedback to share
I was trying to find the perfect pack for my mom, and thought this was "the one". The pack is durable, feature-full, comfortable and great looking BUT I was really looking for all this in a slightly smaller pack. All of the smaller Ospreys are hydration packs, and my mom isn't really a camelbak user. I wanted a small but not tiny day pack which was not mostly designed for hydration sacs. We are keeping the bag finally, but unfortunately it is not as perfect as I thought and the search is still on for that perfect pack....
Are the 2 side water bottle pockets large enough to easily slide in a 32oz nalgene?
Yep! 32 oz Nalgenes will fit just fine!
You sure about this? All the reviews I've read suggest that the 1 litre (32oz)nalgene won't fit in the side pocket.
Comfortable
Familiarity:

I've used it once or twice and have initial impressions
While this pack is more comfortable to wear than my Camelback, the Camelback has many things that I like. 1) It offers a couple of small mesh pockets for small items (moleskin, lip balm, etc) that are easy to get to inside the small compartment. 2) and the main one for me, the water reservoir is in a separate zippered compartment. The Osprey design of weight distribution on the hips is more comfortable but I don't like the reservoir design at all. You have to almost empty the pack to put the full reservoir in place. I will use it on longer hikes for comfort but on half day hikes, will probably still use my Camelback. Wish Osprey would change the reservoir to a separate compartment. Also I can't find the strap compartment that is pictured on this pack.
Soon fell out of love...
Familiarity:

I returned this product before using it
I bought this pack and immediately fell in love with it. The aqua blue color is brilliant, as well as all of the cool "doo-dads". The integrated whistle on the chest strap, included rain cover and of course the handy zipper pulls that were so easy to grab. Unfortunately I fell out of love with my pack the moment I put it on. While I really liked how the frame kept the pack away from your back and allowed you to carry more weight, I couldn't deal with the actual shoulder straps. Not only did they feel rough, I could not get them to fit me properly. They rode way high up on my delts and even rubbed the side of my neck. Thinking I got the wrong size, I tried the next size up (at a local store) to no avail. Being that I have broader shoulders, I thought maybe I would have better luck with the men's pack. So I orderd that one from Backcountry. The blue color on the mens pack is more royal blue and while I didn't love it as much as the women's color, it wouldn't be a game changer. When I tried this one on, same problem. Obviously we are all different in body types and sizes and for that reason, this pack is not for me. It seems like Osprey needs to place the shoulder straps a bit farther apart on the pack or else this will ride up on other people's necks as well. Returned the pack and ended up buying another brand that works wonderfully for me.

* I tried the pack on empty and fully weighed down. Thinking I might be doing something wrong as this is my first pack, I took it to a local gear store and brought the pack with me. No dice. Osprey packs just do not fit me.
Is the Summit Blue color accurate? I've seen several different hues of Blue for this pack.

Thanks
Hey Bernice, it's Leta with Osprey Packs. The Summit Blue color is super close, but the actual is maybe a tad brighter than what the picture shows. It's beautiful! I went to my sample room and pulled it up to my computer to check. I think you will love it. Hope that helped!



Leta
This is the color I had and I'd say it's a tad more vibrant and a bit more aqua/teal in person. It's really an awesome color!
Great Day Pack
Familiarity:

I've used it several times
I've taken this pack up Mt. Whitney, Mt. Wilson and the Inca Trail. It is perfect for day hikes and super comfortable.
The grey color is actually green. Not sure how they decided it was grey.
I used it as a carry on to Peru and it fit nicely under the seat.
I take a 2 liter camelback in the hydration pocket and also a 1 liter nalgene inside. The only issue I have with the pack is that the hydration sleeve can be hard to get to if there's anything in the top pocket. I had some frustrations wrestling with that.
The main pocket can seem small, but I've stuffed a ton inside. No problem getting all your layers in for a long day.
I also love the stow-n-go feature for your trekking poles. I don't use my poles often but always carry them with me. When they are secured on my pack I don't even notice they are there.
As far as fit, I am 5'8, 150 lbs. I measured my torso at about 20 inches and the small/medium fits me just fine.
I want to buy this bag for my girlfriend. She is 4'11" is it fairly safe to assume the xs/s would fit here best?
Hey Chris,



Depending on torso length, the XS/S will be the best option.



Osprey will also most likely be the best company to look at for a smaller pack for her torso.



Shoot me an email anytime you have questions!



Jared D.

Expert Gearhead

801.736.4336

jdowns@backcountry.com
nice but...
Familiarity:

I returned this product before using it
I got this for my wife for an upcoming trip to Europe. The idea was for me to get a larger size bag that I could check and for her to get a smaller size we could carry on with a few days worth of gear in case something happened to my checked bag. The size was nice for a a carry on, but didn't like the arch in the back that, while increasing air flow, seemed to limit the useful space for packing things inside. The design is nice, just didn't fit our particular need. We upgraded to the 36L Kyte, which may be pushing carry on size limits when full, but seems to have more useful space.
Most Comfortable Pack
Familiarity:

I've used it several times
I love that it doesn't sit right on your back allowing air to flow through. I tried on several packs and this one fit best for my 5'-5" frame. I have narrow shoulders and it doesn't hurt at all.
Unanswered Question
For anyone who tried both, how does this...
For anyone who tried both, how does this compare with the Osprey Mira ? I'm debating between the 2 of these as a gift for my wife for mother's day. It will be used for day trips with the kids (zoo, theme park etc.).
Geology-friendly!
Gender:

Female

Familiarity:

I've used it several times
I am 5'5", 130lbs with a 29" waist and 17" torso. I ordered the small. This bag fits perfectly from my shoulders (rare pinching) to my waist where the waistband settles just above my hips. The aquamarne is not available anymore, but the colour is more of a teal that aquamarine (to my happy surprise). It is very light even with gear and a full 1L nalgene bottle. The waistband has convenient pockets but they aren't the easiest to open. I don't use a water bladder. I am a geologist and the storage, weight, and compartments are perfect for hiking and climbing. I highly recommend it!
What's the right size for someone 5'5" and...
What's the right size for someone 5'5" and ~130lbs?
I'm the same size and Osprey packs fit me best in a size small. Medium would also work.
Hello, thanks for the question!

I am 5'3" and 120 lbs and the size small works best for me. The most important part will actually be to determine your torso length to achieve the correct fit. Grab a friend and have them help you measure your torso. Here is the sizing chart:



http://www.backcountry.com/Store/content/sizingChart.jsp?chartId=737&categoryId=bcsCat71111081
Your height and weight don't matter as much as your back and waist measurements.

Measure from the big knobby vertebrae at the base of your shoulders to the middle of your sacrum(the flat bit at the middle of the back of your pelvis).

If you're 17< I'd go for the S/M

If you're 16> I'd go for the S/XS

(I'm serious, it's VERY small, I usually wear an XS(I'm 17in) and I wear a S/M in this pack)

On this pack, the waist measurements are a little off and don't really matter 'cause they top off at the same size and it's not interchangeable, but the measurements are:

XS/S: 24<

S/M: 26<

But I'm 25in and the S/M fits me nearly perfectly.
FANTASTIC PACK!
Gender:

Female

Familiarity:

I've used it once or twice and have initial impressions
I've never provided a product review before (though I rely heavily upon them during my decsion making process) but am so head over heels with my Osprey Sirrus 24 Pack and my exceptional customer service experience I felt compelled to contribute one.



I'm a beginner hiker who live in the Souther Adirondacks of New York. About 13 hikes under my belt including two high peaks. I've had a heck of a time finding a suitable day pack. I'm short (5'2" and about 160 lbs) with a small torso. After purchasing, using and returning two day packs (Kelty and Merrill) I was pretty frustrated. After much online research, frustration with the decision making process and procrastination (because of some hefty price tags) I happened upon the Backcountry.com website. What a terrific resource! I was able to limit product searches to specs unique to my wants/needs. That made the search so much easier. The detailed product descriptions, product videos and customer reviews provided additional critical information. Best of all was the personalized customer service provided to me by Backcountry's customer service rep by phone. My rep was incredilby friendly, helpful and arranged for the product to be delivered by air the next day for next to nothing! WOW! I used the pack on today's hike. OH MY GOD. Perfect! No chaffing of skin, no pressure points, extremely lightweight with excellent air flow/ventillation (this pack comes with a light frame). Soooo many zipper pockets, creative stow away features. There is a place for everything on this pack. It is beautifully designed, high quality and provided me with total support and comfort while hiking. I was nervous about spending $100 on a day pack. After using it just once -- I know this money was well spent. No regrets. PS everyone of my hiking friends "ooohed" and "ahhhed" over my pack. One wants one herself! FIVE STAR PRODUCT/FIVE STAR COMPANY!
I was super excited about this bag, since I'm going to be travelling to Asia this summer I wanted something small and portable to carry my few essentials every day. But no matter how I tried, this bag rested on my neck muscles, not my shoulders. The shoulder straps are attached to the bag way too close together, and all the weight of the bag rested at the base of my neck. After a 2 day practice run with it, I had to return it. I adjusted every strap, I even had 2 other women try to make it work on them, and none of us could get it to fit comfortably. It is incredibly functional, and worked great for carrying the things I needed on my 2 day practice run, so if it fits you this bag is great. It just didn't work for me.