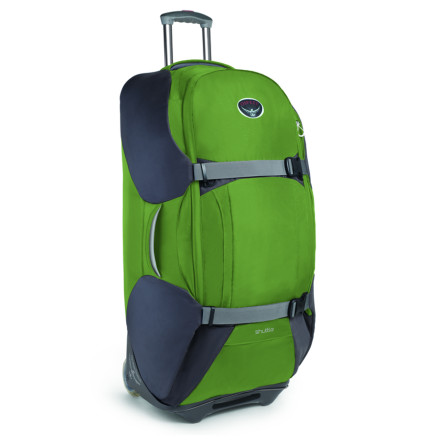 Description
All you really need is what's in the Shuttle 32.
The Osprey Shuttle 32 Wheeled Large Gear Hauler encourages you to get out of the rat race and find your passion. Built to withstand the hustle and bustle of travel, this super-durable bag features an aluminum frame, injection molded high clearance ABS base with integrated footbar, and large polyurethane wheels with sealed bearings. In other words the Shuttle 32 has no problem being tossed, banged, or kicked around, while keeping your gear securely intact and protected.
Foam padded top and side walls help protect fragile internal gear
StraightJacket compression (internal compression straps) keeps your gear securely in place when you travel
Multiple grab handles and extendable handle for easy transport
A lower zippered compartment with bellow divider for dirty clothes, shoes, climbing gear, etc.
A full length external side pocket for extra-long objects
Three internal zippered mesh pockets and two zippered slash pockets on front panel help keep you organized
Top zippered pocket for easy access or small items
Lockable zipper on the main compartment
Very Nice Piece
Familiarity:

I've used it several times
Review of Osprey PacksShuttle 32 Wheeled Large Gear Hauler - 6713cu in.
Hey, this is a great piece, I own several pieces of Osprey products, backpacks, luggage and was always impressed with their design and quality. This piece is great. I travel most of Europe and all of the major US cities. The lightweight enables me to get away with 1 piece of checked luggage vs 2 pieces even though I could get 2 free internationally and 3 free domestically.
It's big, but well balanced and rolls better than other pieces I have had and worn out.
Highly recommended.

Works really well
Familiarity:

I've put it through the wringer
Growing up in southwest Colorado I use a lot of Osprey packs. I bought the shuttle suit case for the frequent trips to and around Alaska. The bag has held up well with numerous trips to villages, Anchorage, and the lower 48. The exterior soft shell is tough and allows you to pack heavy or light based on the needs of the trip.
I have the larger roller suit case and the smaller carry on that has the back pack straps inside which is a nice thing to have if you have to walk a ways to a car. I highly recommend anyone who travels frequently and needs something reliable to look at the packs from Osprey.

The number of storage spaces makes this bag very effective. Osprey is well know for building packs and bags will tough zippers and this bag holds up to the reputation.
a really tough bag for a tough traveller
Familiarity:

I've put it through the wringer
I need a bag that is rugged as hell and that's not too enormous. As a film and documentary cameraman I travel virtually nonstop throughout the world to some remote places. This bag having completed its first round-the-world trip is suiting me well. I'm very pleased.
Awesome Ski Bag
Familiarity:

I've used it once or twice and have initial impressions
This is the second Osprey bag I have purchased. Another great purchase. I just took this bag on a 6 day ski trip to Park City. The storage was more than enough to handle ski boots, helmet, and other other ski and casual clothing for the trip. All this while staying under the 50lb threshold for over sized airline baggage, in part because it is so light. This fact alone offsets the slightly higher price of the bag. The quality of the bag is great, with one exception. I stored my boots in the bottom compartment, which showed noticeable wear on the water proofing after the trip. This could have been eliminated with either placing duck tape at this wear point(which I will do) or packing other items(maybe gloves) in this place to eliminate the pressure point. Osprey may want to look at adding some reinforcement or padding in this area. Overall, more than happy with the bag, this is the only item that kept it from being a solid and resounding 5 STARS
Great Suitcase
Familiarity:

I've used it once or twice and have initial impressions
I haven't used it yet, but the workmanship looks sturdy and I like that the zippers are large and very durable. I also really like the multiple pockets and compartments. One big pocket to split up clean and dirty clothes is especially useful and I can't wait to try it out and see how the bag holds up to TSA handlers. I really like the giant wheels and how lightweight the bag is and the color is really nice.
Years of heavy use, still in great shape
Familiarity:

I've put it through the wringer
I've flown 50K+ miles each year for the past 3.5 years with this bag and it's holding up to the abuse and in good shape. I'd recommend it to anyone and have done so on quite a few occasions. It looks like I'll still get a few more years out of this bag.



What makes this bag a great one for travel is all the storage compartments and its light weight. My last suitcase weighed close to 2x as much and I often had to reassess my packing jobs after exceeding 50lbs on the scale--but that doesn't happen with this bag.



Another feature that isn't mentioned in the description or video review below is that you can use the compression straps for storage between trips. In fact, you can collapse the bag so it can easily fit into a small space.



The crew over at Osprey think of everything. There's a place for everything.


3 weeks into a 3 month trip, good.
I bought this for a 3 month roadtrip across the country, mainly due to the fact I'm a fan of Osprey packs in general, it's size, and functionality.



It's quite large, a little bigger than I actually expected when I bought it. But the compression straps help manage it's bulk, better to be too big and compress than too small and overstuff.



I like it. It's built well, can be tossed around, it's rugged wheels for a variety of terrain and conditions are nice.



It fits nicely between a pack/soft bag/duffle, and a more traditional suitcase. The big handles on all sides make it easy to maneuver despite being very heavy loaded.



My only real complaints: It should have one more compression strap built in /or detachable. There's two fat/strong straps, but they're trying manage such a huge area that it feels need a third, or if opening/closing that many straps just to get at stuff would be annoying, then make it removable as an option. Second complaint is the main compartment zipper. It's a sturdy zipper, but the nature of 'round the corners' to open it, with overlapping fabric or various degrees of pressure/bag fill make it the hardest thing to do. I find myself constantly yanking on the handles or bag sides to straighten out the zipping angle so it'll actually slide easily. Small thing, but enough of a pet peeve and on such a critically used area that it could/should be better.



Definitely recommend it so far. Will post a follow up after the full 3 months of use.
Bomber
Gender:

Male

Familiarity:

I've put it through the wringer
I've inspected every inch of the bag and the construction is bomb proof. I love how it has separate pockets for dirty clothes or other things you don't want to mix with the main compartment. Took this thing all around Europe for about a month. Rolled it down super rough cobble stone streets, over sand and dirt, and pretty much everything in between. This thing held up great. Wheels are the first thing on a roller bag that will break generally, but with this bag i don't thing that will be the case. This thing is crazy good quality. And as with all Osprey products, they have the best warranty in the industry. For any reason, at any time, without a receipt, Osprey will repair or replace it.... even in 30 years
Osprey Customer Service is Excellent
Gender:

Male

Familiarity:

I've used it several times
Has survived multiple landings in developing world airports - it would probably stop a bullet.



Two issues: you can fit a lot of stuff in this, but since it starts at nearly 9 pounds you have to be careful of getting hit with the overweight baggage fee. That's not the bag's fault, that's you for packing too much in and the airlines for being filthy mugger pirates.



Second is that the slack on the compression straps is held in with plastic clips. Since you'll want to keep the straps from dangling once it's all compressed (lest something catch on a conveyor somewhere) you really need these, but the plastic clips are a little thin and have broken, likely when a baggage thrower flung the bag by the straps instead of the handles. However, Osprey on request sent an envelope full of replacement clips.
The Osprey Shuttle 32 is a beast of a bag. If you need to pack your life with you wherever the destination may be, look here. The Shuttle is feature rich, and exhibits the quality Osprey is known for. However, beware, this bag has liability of oversize charges from the airlines. The Osprey Shuttle 32 is a great solution if you have a high volume need for packing your cargo around.
The Osprey Shuttle 32 is a beast of a bag. It is great if you are looking to pack your life around with you wherever it is that you might be going. The storage capacity speaks for itself. Feature package is pretty self explanatory, I can't find many features I would like to have in addition to what the current build is. Beware, when fully packed this thing is a beast to lug around, and you will most definitely be dinged from the airlines when checking depending on what your cargo might be. Nonetheless if you need to take your house with you, this bag is a great sherpa for the job.
Osprey Packs Shuttle 32 Rolling Gear Bag
Awesome bag. A really high quality made bag. The wheels work really well and run very smooth. Fantastic guarantee on the product.
Osprey Packs Shuttle 32 Rolling Gear Bag - 6713cu in - Great Bag
I am a big fan of this bag. I dragged it around Europe for two weeks and it held up like a champ on trains, planes and automobiles. The lower gear pocket was large enough for my snowboard boots and a bunch of dirty base layers. This was key as the bottom compartment is completely segregated from the main compartment so my nicer clothes stay clean and dry and away from the stank of used gear. The handle is retractable and feels really sturdy. The wheels are high quality, roll really nicely and quietly. There is a side pouch that runs the entire length of the bag that was useful for storing a pack for day trips. There are plenty of pockets on the outer portion of the lid allowing me to keep a down jacket and a few other essentials readily accessible The compression straps are adjustable to to cinch down just the top of the bag or they will reach and attach across the top and down the side of the bag for compression of the large side pocket I mentioned earlier. Overall, a great bag that I would recommend without reservation
Has anyone had any problems checking the...
Has anyone had any problems checking the Shuttle 32 with the airlines and getting tagged with the oversized baggage charge? The external dimensions Osprey posts is 34"x19.5"x15.5" which would put it in the oversize range.
Sadly, airlines don't really give oversized charges anymore. Just overweight. I've used a bag this big a couple times, and nobody cares.
Best Answer
I've flown 50K+ miles/year for the past 3 years with this bag and have never paid an oversize fee.