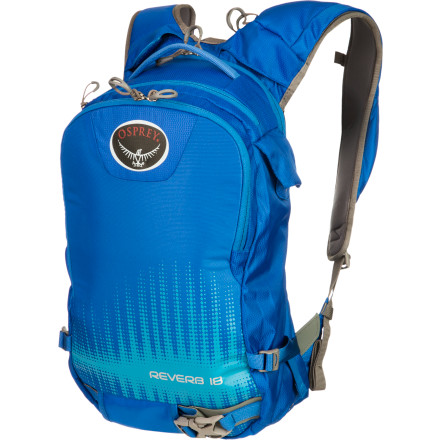 Community Images
Description
Keeping you out of the lodge.
When the powder is fresh, you don't want to be taking time out to go to the lodge to eat. If this sounds familiar, the Osprey Reverb 18 Pack is the perfect way to maximize mountain time.
Sewn from 420 Dobby poly and nylon, the Osprey Reverb carries all of your mountain essentials without being oversized or feeling bulky. A back panel, for dry gear, is accessible from the rear. On the front, it features a quick-access front panel for avalanche gear, and an external sleeve holds a shovel handle and probes. Skis or snowboards are attached via a series of configurable straps. To keep you hydrated, an internal pouch with a hanger holds your bladder of choice. An insulated sleeve for the hose keeps your beverage of choice from freezing. And lastly, the pack's shoulder straps are EVA lined for comfort, while the strap and waist buckles are glove-friendly.
W20 Denier Dobby poly and nylon
EVA straps
Internal hydration bladder pocket
External straps to carry skis, avalanche gear or snowboard.
The probe sleeve is about 15" long, but...
The probe sleeve is about 15" long, but most avalanche probes are 17" when folded. Is there something I'm missing; are you supposed to travel with the probe poking out the top of the sleeve?
I've seen a lot of avy packs that have this type of design. My guess would that it makes the probe easier to access; you wouldn't need to unzip anything to grab it.
The Voile Tourlight probe is the only one I've found that fits in the sleeve and is short enough to allow the velcro flap to close. I've tried and measured current models of BCA, BD, and G3 probes and all seemed to be greater than 16 inches.
There are both internal and external sleeves for the probe and shovel handles. If you want to use the internal sleeve, you need so make sure you use something that will fit.

The BCA Stealth 240 and the ARVA Light 2.40 Compact probes fits perfectly in the INTERNAL probe sleeve.