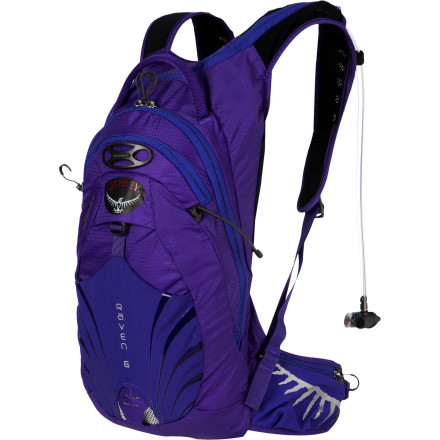 Colors

Community Images
Description
Quench your thirst and your need for speed.
Osprey designed the Women's Raven 6 Hydration Pack with mountain biking in mind. Thanks to the women-specific BioStretch harness, this pack won't shift around while you're riding. The three-liter Hydraulics Reservoir is contoured to match the back panel for a balanced carry, the magnetic bite valve prevents the hose from whipping around on technical trail sections, and the small pack size handles an extra layer or a snack.

AirScape back panel provides cushion and ventilation for long cross country rides
BioStretch ventilated harness is specifically shaped to the female anatomy for a precise and comfortable fit
Full hip-belt keeps the pack in place and the transfers the load to your hips
Small pack size handles a light windbreaker, an extra baselayer, or a few small snacks
Separate hydration sleeve provides quick access to the reservoir
Three-liter Hydraulics Reservoir features a HydroStatic backer plate that maintains a low-and-wide profile, preventing interference with your pack's suspension
Reservoir is made from metallocene PE material that is exceptionally strong, taste-free, and BPA- and PVC-free
LidLock clip allows you to quickly attach your helmet when not in use
Stretch mesh front pocket is ideal for stashing a rain jacket or extra layers
Mesh waist-belt pockets keep energy gels and other essentials close at hand
Roll-up and removable tool pouch keeps essential bike tools handy
Internal sleeves hold pumps
Magnetic sternum buckle pairs with the magnetic bite valve to keep the hose secure while riding
Straight awesome
Familiarity:

I've used it several times
I've been looking for a hydration pack for awhile now, and recently got into mountain biking so I wanted something that had some space for a few essentials and plenty of water. This bag has worked wonderfully for me. I like to have the option for extra stuff sometimes, and this bag doesn't really allow for too much extra, but like I said my main concern was the essentials and plenty of water. I can fit my phone, a light layer, sunglasses, a couple tahoe bars and bike tools in this bag. It can be a snug inside when it is totally packed, but even then the bag fits great and doesn't wobble around when riding.



This is my 3rd osprey hydraulics reservoir and closing the cap can be tricky sometimes. This one seems much better than the first one I ever bought, where eventually it got to the point it wouldn't twist on properly at all so I just had to cut it so the loop was no longer attached to the reservoir itself, and it screws on great now! I'm not too worried about losing the lid, if I can't screw the lid on without it leaking what's the difference!



Other than the reservoir issue, so far I have absolutely no complaints. This bag serves its purpose for me. So great for bike rides and short hikes. Also, with the front mesh pocket I can stuff my dogs fold up travel bowl in there. With the 3 liter bladder I can carry enough water for the both of us for quick trail runs and hikes.



I've only had one crash so far with it, and it wasn't a far or hard fall, but the bag didn't budge :)
Osprey thinks of everything
Familiarity:

I've put it through the wringer
I've been eyeing up this bag for a while and finally bought it. I'm so glad I did!

I love the bright color but besides the look there's so many great things about this bag. The reservoir is 3 liters and easy to fill up. The bite nozzle is magnetic so it's easy to quickly grab a sip while you are riding and clip it back on all while not missing a beat in your pedaling. The air pocket on the back is awesome. I don't sweat nearly as much as I have with other hydration packs on my back. I barely notice this one is there.

While this pack does fit everything I need for riding, it's a bit tight in there. It fits my spare tube, pump, tools, phone and a couple of energy bars. However one evening it got late and I tried to put my sunglasses in there. It was a tight fit with everything else in it. I'm thinking that the 10 might have provided me the little extra bit of space that I'd like without adding too much bulk.

This bag seems really durable also. I've used it many times and it still looks brand new!
Fantastic
Familiarity:

I've put it through the wringer
I love this pack, I'm new to mountain biking and use it while riding every weekend. It's also great for day hikes. And you can't beat the fun purple color. Straight up having this pack ready to go in my car after work, on weekends, or even early mornings just makes me happy.
My Mary Poppins bag!
Gender:

Female

Familiarity:

I've put it through the wringer
Sorry it took me so long to get you all my review, I just really wanted to get a good feel for the pack!

This pack is a clutch piece when out riding my mountain bike or hiking around. I use it about twice a week at least. I have gone OTB ( over the bars ) with this pack and into bushes. I have climbing hills that make you want to puke with it, and I have hit jumps with it and It has yet to fail me!

I can get on chair lifts and I can take it off if I really want but it doesn't bother me to have it one.

A few pros:
The fit is great! I don't even really notice that its on me when I'm biking. This is a huge bonus because I cant stand feeling like a have a monkey hanging out on my back, while I'm being active.

The AirScape back panel keeps a nice continuous flow up my bike when I am biking. I still walk away at the end of the day with a sweaty back on days where we are really working hard but I find that the consistent flow helps keep it to a minimum.

Keeping things compact:
So I can load my pack down with all the necessities needed for biking.
multi tool, snack, keys, sunglasses/goggles. bike pump and Co2 cartridges. I can also throw in some extra gloves.

I wear the Bell Mips2 helmet and sometimes I have to attached my chin guard to my pack and that latches on perfectly with using the LidLock clip. I do not have to worry about it falling off while shredding through a rock garden. Which would suck to have to walk back up a trail in search of it.

Waist belt and chest clip: I love the magnet for my bladder bite valve. This might be one of my favorite features on the pack. :) :)
Its so nice to not have to search for it while riding when I just need a quick drink. Having the valve close to my mouth also is a great reminder to having my chest strap locked and secure.
The hip belt is comfy and you can really get it adjusted to get a perfect fit. and you don't have to worry about loose webbing hanging down either, because it has small attachments that keep them in place.

The stretchy mesh pocked can really hold so many things that you might need in a pinch so they are easy to get to! And I haven't lost anything out of it ... that I can remember losing, hehe.

Lets get a few cons out.

This one drives me crazy....
The bladder. Sometimes I want to throw it in the trash. One day I just might. haha.
So its a screw on lid. Not a quarter turn not a sliding clip, a screw on. Which means you literally have to have it perfectly on there. And when you think its perfectly on and sealed... its not. And then when you think its on for the second time and you put it in your car and then you feel cold water running down your leg, you realize man this is a pour design and I'm going to swap it out for another bladder. Also there isn't a quick release for the hose which is a bummer since this is 2015! Who doesn't have that? It would be nice to have a release so I can clean the hose with ease.

I have put this pack through the wringer and this is my only con for it thus far. After I twist the lid on and its completely straight and not crooked, its usually a fake out and I have to try again. LOL

Its a great size and I'm shocked the bag holds 3L.
Its like a Mary Poppins bag! But I have another bladder that I'm planning on swapping it out for. So lets hope that goes well. ... what can I say, I procrastinate :P
My favorite bladder that I plan on putting in this is the Deuter Streamer Water Reservoirs.

All and all you can see that there are way more pros and cons for this pack and its hands down a great buy.
Its a great fit for biking and I cant wait to take it on short hikes!
Favorite Hydration Pack!
Familiarity:

I've put it through the wringer
I love this pack. I use it for everything...hiking, biking, wood runs. The magnet on the chest strap is one of my favorite things and the pockets on the waist straps are perfect. I also love the color and it really holds a great amount of water for how little you notice its even there.
Great pack!
Familiarity:

I've used it several times
I use mine every time I ride my mountain bike! Holds the perfect amount of water for a 2-3 hour ride! Enough room for tools, tubes and foods! Great colors too! Fits my back perfectly and I hardly even notice it!
great pack!
Familiarity:

I've used it several times
I love my Osprey hydration pack. The color is amazing and the fit comfortable. The best thing besides the easy to use hydration bladder are the 2 pockets at the front of the belt, very convenient!
Awesome for biking
Familiarity:

I've used it several times
This is a great pack for biking or running. It really stays put and is very comfortable. I love that it holds three Liters of water as I tend to drink a lot. I don't feel that this gets me as sweaty as some other packs I have tried. The lidlock took a minute to figure out, but is a really cool feature that is low profile enough that if unused is really not noticed at all.