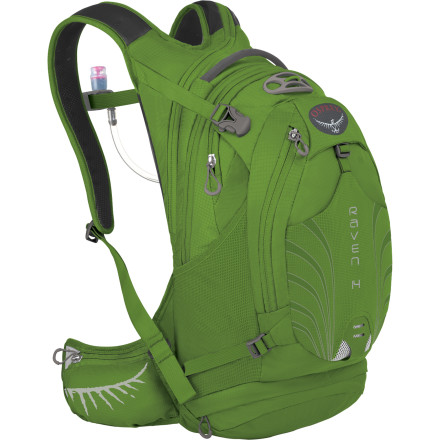 Colors

Videos

Community Images
Description
Be prepared for an epic ride.
Women love railing down dirt, too, which is why Osprey designed the Women's Raven 14 Hydration Pack with specific shoulder straps, waistbelt, and torso sizing just for the ladies. A three-liter hydration system with HydraLock easy handling and ergonomic shape keeps you quenched and energized while you're rolling through aspens or hauling butt down the hillside. With room enough to bring a rain jacket and extra layers, a snack bigger than an energy bar, and essential tools for quick fixes and the organization to hold it all logically, you can go prepared for the ride of a lifetime.
Women-specific shoulder straps, hipbelt, and torso sizing for uncompromising fit and comfort
AirScape backpanel provides cushioned, breathable ridge-molded foam that gives ample support and cool comfort
Stretch sternum strap has magnetic hose attachment for quick and easy access to live-sustaining water
BioStretch harness features perforated EVA foam with large holes for enhanced breathability and comfortable stretch lined with soft, breathable spaced mesh
Mesh-covered BioStretch built-in hipbelt breathes via perforation and features a modified, straight ErgoPull closure
Large front pocket with shove-it pocket behind holds extra clothing and nourishment for a full-day ride
Ample 3-liter Hydraulics reservoir features an integral framesheet to keep water close to your body and prevent barreling, a rigid handle for easy insertion into pack, and wide-mouth cap for easy filling and cleaning
MPE film in reservoir ensures taste-free water and is durable enough to handle hot water
Rugged and light 70 x 100D nylon shadow creek fabric withstands outdoor wear and tear
Removable roll-up tool pouch keeps your fix-it essentials organized and accessible; lower zip compartment provides access to tool pouch
Hydration sleeve allows direct access via zipper for loading in a hurry
LidLock clip secures helmet when not in use
Internal sleeve hold pump for organization and security
Zippered stretch mesh hipbelt pockets secure small, quick-access items; stretch mesh front pocket lets you quickly stash extra gear
Zippered, embossed sunglass pocket protects your eyewear
Blinker light attachment patch and reflective graphics add safety when the ride goes long
Would this pack fit a girl who is 5'-0" tall ?
Best Answer
Hey Cherry Cherry Pow Pow! Do you know how long your torso is? I am 5'4" and have a 15" torso - which is very small. My legs are longer, proportionally, then my torso. The Raven fits me great. let me know!



Leta

Osprey Rep
Hi Leta.

Its for my girlfriend and she is 5'-0" on the nose. How do I measure torso?

Thanks for the quick reply!
CherryCherryPowPow,



Find a friend and a soft tape measure (available at fabric stores) in order to follow the curve of your spine. Tuck in your chin so the C7 vertebra at the base of your neck protrudes. This knob marks the top of your torso measurement.



Grab your love handles. Then use your thumbs to feel for your iliac crests–the tops of your hipbones. The line between your thumbs marks the bottom of your measurement. Use this number (most adults fall between 15 and 22 inches) to find the correct size.
Women have phones too ya know!
Familiarity:

I've used it several times
My husband has the men's version of this pack (the Raptor 14). Before I bought the Raven 14, I looked at his pack to make sure my iPhone 5c would fit in the zippered pocket on the hip belt. It fit perfectly! Yay! My new pack arrived and when prepping for my first ride with it, I went to put my phone in the zippered pocket on the hip belt. Low and behold, the women's pack has zippered hip belt pockets that are about 1-2 inches shorter than the mens, so an iPhone won't even fit in it. Does Osprey think women don't need the same storage space? I was really frustrated and disappointed. Perfect example of how women don't get the same quality in the women's line of products as men do in their "identical" ones. For $130 it would have been nice to have a pack that offered easy phone access instead of having to take off the whole pack in order to take a picture or check my strava app. I'm pretty disappointed.
Could you wear this while skiing?
I want to love this pack.
Familiarity:

I've used it several times
I genuinely love this pack, the color is vibrant, it holds everything I need for a hike, biking, or any activity where you are looking for space for an extra layer, snacks, and water. I do have one complaint that sets this apart from all of my other hydration packs, and it's an annoying enough of a complaint that I'm sad to admit this isn't the first pack I reach for. The waist belt is extremely annoying to me. I am petite, and when tightened up to fit my waist I am left with two big loops of waist belt just hanging out in front of me. If Osprey included something to tuck away the excess material that would be awesome. Maybe they do and I just can't figure it out? Sure wish they would have just stuck with the standard waist adjustment set up instead of trying to come up with their own way of doing things.
Great Pack for hiking too
Familiarity:

I've put it through the wringer
I love this pack - i have the 14L and it's perfect for a day hike, just the right amount of space for a few layers, snacks, camera and a little extra. I use it for ski touring and bootpacking too.

First, i am small, and i love how this is designed for women and the backpack is short and doesn't hang over my back; secondly i like the full zippered access of the main compartment and that the hydration pack is included.

Fits and looks great on.

Here i am wearing it on a hike up to Hope Lake in Telluride, CO
View of the side pockets you can keep some essentials for on the go; unfortunately, they are smaller than the Raptor's side pocket. Hopefully Osprey will tweak this "little" detail...we ladies need to carry a energy snack(s)/phone where it is easily accessible, too. These pockets are just a tad too small in my opinion, but still do-able.
This kit isn't as large as it may seem here (it's just smoothed-out to show detail); it easily fits inside this pack, with room to spare for other items. And you can really carry quite a lot, both inside/outside of it.

The little side zip pockets could be larger, though...for a frame of reference, they just fit one of those little travel tissue packs. So you can keep your lip balm, or other small items in it (I also keep one of those very loud plastic 'survival' whistles in one of the pockets to help ward off coyotes or to call for help in case of a bad crash (or thug...and on that note: a small pepper spray kept handy isn't a bad idea, either)!
All you ladies should carry this med. kit, which fits neatly in this pack with room to spare. It's totally light weight, so there's no reason not to pack it...you may find yourself helping someone else, too. Must be the X-Girl Scout in me (no, not really, but why not!).

Except for the cap problems on both my pack, and my friend Raptor 14, these are by far the best packs out there!
Quick Pic of my Awesome Raven & A.M.K.
Has room enough for the A.M.K. .9 (first aid kit) that fits neatly at the bottom of the main compartment; leaving plenty of room for other essentials. Even room for my Gore ALP-X 2.0 jacket rolled neatly in the 'shove-it pouch; and still there' more room to boot!

Room enough to still add an additional jersey/warmers; and food, too. Love it!
Osprey Packs Raven 14 Hydration Pack
For Ladies', Only...
Gender:

Female

Familiarity:

I've put it through the wringer
Finally! It seems 'someone' has realized there is a real market/need out there, ie us ladies! As mentioned in the description, it has ALL the amentities as the mens' version...only difference is the length of the pack, and the fit of the shoulder straps; just a little shorter, and therefore a bit more comfortable. First hot weather ride this season, with this pack...no problems, a little sweaty on lower back, but that's to be expected. With the right jersey, and a few breaks here & there no biggy, dried-out pretty well pretty quickly! No shifting of the pack, either, though I think the hip-belt could have been made to be able to secure it a little tighter (I tighten it all the way and could go a bit more if it were possible, and I'm not petite). Even though initially heavy fully loaded (I tend to bring the 'kitchen sink'!), it's like nothing when actually on. Want to point out that the A.M.K. .9 (water-proof first aid kit) fits perfectly in the bottom of the large compartment, and there is still tons of room for whatever! Very well balanced and stable, considering.

Hope they come out with one in black next season (got purple, my favorite color). I gave the new Raptor 14 to a friend of mine, so I was able to compare both, and the Raven does have a better fit: I am 5'6", average build(well, maybe just a bit over average!), and as I said, had to snug the straps as tight as they can go, but not uncomfortably...point is that there is plenty enough room for any larger ladies, too. I JUST LOVE THIS PACK!



And remember, when not fully loaded, you can cinch the whole pack down, as compactly as you wish, so there's never any unnecessary bulk.



*Also recommend the raincover made by osprey, available through B.C. Choose size XS for this pack.