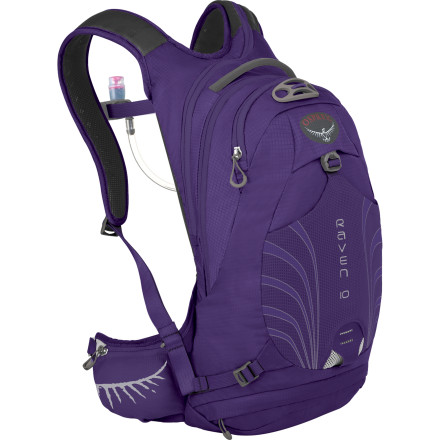 Colors

Community Images
Description
Almost as essential as your mountain bike.
Whether you're mounting up for a cross country loop or crushing downhill runs at the resort, shoulder the Osprey Women's Raven 10 Hydration Pack for an unrivaled fit and easy thirst quenching. The three-liter Hydraulics Reservoir is shaped to match the profile of the back panel for improved balance and less sloshing, the magnetic bite valve keeps the hose from whipping around when you fly down the steep straightaways, and the pack size allows for an extra layer and a snack.

AirScape back panel provides cushion and ventilation for long cross country rides
BioStretch ventilated harness is specifically shaped to the female anatomy for a precise and comfortable fit
Full hip-belt keeps the pack in place and the transfers the load to your hips
Pack size is just big enough for an extra layer and a snack for weather-changes and fuel
Separate hydration sleeve provides quick access to the reservoir
Hydraulics Reservoir features a HydroStatic backer plate that maintains a low-and-wide profile, preventing interference with your pack's suspension
Reservoir is made from metallocene PE material that is exceptionally strong, taste-free, and BPA- and PVC-free
LidLock clip allows you to quickly attach your helmet when not in use
Stretch mesh front pocket is ideal for stashing a rain jacket or extra layers
Mesh waist-belt pockets keep energy gels and other essentials close at hand
Roll-up and removable tool pouch keeps essential bike tools handy
Internal sleeves hold pumps
Magnetic sternum buckle pairs with the magnetic bite valve to keep the hose secure while riding
Are you going to stock the purple again soon?
Hey Cristina,



Unfortunately we don't have a Vendor Order set up for Purple :(

Feel free to call/e-mail me and we can explore some other options!



Ben

brabinowitz@backcountry.com

801-746-7564


Osprey Raven 10
Gender:

Female

Familiarity:

I've put it through the wringer
Love love love this pack!


You can't go wrong with an Osprey...they always seem to cover all the bases with their products, and this pack is no different. This is just big enough to fit all the essentials for anything from a short jaunt to a day long haul. It's big enough to fit my rain jacket, maps, tools, snacks, dry socks, small Nikon camera, and whatever else may be along for the ride. The 3L bladder is usually more than enough to cover the trip as well; and the rigid backing keeps the bladder from slumping into a water blob on your back...sweet. The organizational layout is spot on too...everything stays exactly where I want it!


Osprey nailed the women's specific fit here! Once it's on, I generally forget it's even there. The hip belt is comfortable and keeps the pack in place, I've never had an issue with it sliding around when riding. I also dig the mesh back...it vents extremely well, I've never had problems with sweaty, clammy, miserably wet back...it's not perfect...there is still some sweat build up...but that's to be expected I think.


One thing I've never really liked on any of my Osprey packs is the hip belt pockets...they always seem to be too small and placed too far back making them a bit of a pain to access. I wish they would bring them forward, away from the pack a bit to make them more functional and easy to use.

One other thing...the purple is such an awesomely rich color! LOVE it!
I love this pack!
Gender:

Female

Familiarity:

I've put it through the wringer
If I am going for a hike or going mountain biking, I won't leave the house without this pack!

The thing that I love most about this bag, aside from the fact that it fits me very well (thank you Osprey for making these women's specific!), is the size. Other than the reservoir itself I am able to throw in a rain jacket, some basic bike tools, keys, snacks, etc.


I have to echo the previous reviewers remarks about the benefits of the rigid mesh backing that creates both a comfortable placement on your back as well as providing decent ventilation so you don't end up miserably wet or hot after long rides. The magnet system on the chest strap (which keeps the hose easily accessible) is super clever too, but be careful, the magnet clip can be easy to break-off and lose. Another great feature is the lid lock that allows you to clip your helmet to your pack.

I won't go as far to as as it's waterproof, but it's probably fair to say that it's water resistant because I have been caught in some fairly substantial rain storms and it has protected the items in my bag.

great mountain bike and hiking pack!
Familiarity:

I've put it through the wringer
its like they though of everything with this pack! i bought the raven 10 for use on longer adventures, but it's so comfortable that i've taken to using it for just about every ride, even if i'm only going out for a quick, after work jaunt. it really seems to just disappear on my back and stays in place, even when loaded down or on technical stuff. plenty of room for water, tools, snacks, a jacket, and i really dig the organizational features including a place to keep your pump. the hip belt is very comfortable and the hip pockets are perfect for keeping a gel or blocks handy. the back is adequately ventilated so sweaty back isn't too bad and the hose magnet is brilliant. i also really appreciate that the reservoir has a rigid back which keeps it sitting flat on your back rather than turning into a barrel.



finally, i'm so happy that companies are making mtb packs designed for women. i'm petite so unisex packs usually don't fit very well. but the raven fits awesome and is a testament to the advantage of women's specific designs. my boyfriend has the raptor 10 and having tried on his s/m the raven definitely fits better.
Such a fan of Osprey's mtb packs.
Familiarity:

I've put it through the wringer
This is a really practical and usable pack. The size is perfect for short evening rides or an all day butt-kicker. Good size bladder, and the mouthpiece is the best I've used. The straps are comfy, and the lidlock is nice to have.
Simple to use; and an absolute must-have. I've had no problems with the bladder getting funky at all...just have to remember to empty it out/clean right away after each outing. Shake out any excess H2O from bite valve, too. Hang dry in a well ventilated area. Some folks like to put their dry bladder (wrapped in a sealed plastic zip-lock bag) in their freezer between uses (if you use it infrequently). This is even suggested on the Osprey site! Only thing, remember to let it "thaw-out" before use...the plastic of course becomes stiff making turning the lid more difficult. Only takes a few minutes, or so.
Nice pack
Gender:

Male

Familiarity:

I've used it several times
I bought this for my wife so we can go on day hikes. So far, we've used it on several 10mi hikes, and the 3L resevoir is more than enough. It takes a few uses to get rid of the plastic-y taste, but it's really easy to suck water through the bite valve.



One thing I've noticed is that the external hip pockets aren't good for rigid items like cell phones or keys. They'll wrap around your hips and will cause a pain point. Also, there is a lot of sweat (moisture) going through the hip pockets.



Finally, I've noticed that the straps are rubbing my wife's arms on both sides. Design wise, it doesn't seem any different from the Raptor 10, which I use, and I don't get any chaffing from the should straps. The Raven 10 maybe a bit thinner and skinnier in some places, like the external hip pockets and shoulder straps, but otherwise, is practically the same.



Drying the hydration pack is a pain though. If you don't put something inside the bladder to prop it open, it will never dry. I've been using a 1/4c measuring cup to keep it open while it dries.