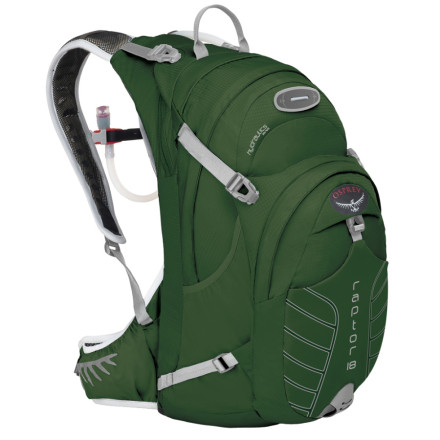 Community Images
Ride your bike up the pass and do an extra lap around the summit when you pack your essentials in the Osprey Raptor 18 Hydration Pack. This pack is the biggest in the Raptor series, and Osprey designed it for single-track chargers who don't like to pedal to the middle of nowhere unprepared. Tools, tubes, extra layers, and a first-aid kit easily stuff inside the Raptor 18's variety of pockets, while AirScape suspension comfortably keeps the pack in place.
Included HydraForm reservoir's rigid structure and handle keep its shape as you ride and installs or uninstalls quickly
Pivot bite valve twists 180 degrees and cuts off the flow for a leak-free ride
AirScape Suspension includes breathable foam padded mesh back panel, hip-belt, and shoulder harness
Hip-belt stows around the front of the pack and attaches to the front blinker patch
Magnetic feature on shoulder harness secures bite valve
Lid-Lock attachment system holds your bike helmet on the way to the trailhead
Reflective graphics and blinker attachment patch keep you visible when you encounter on- or off-road traffic
Great size
Gender:

Male

Familiarity:

I've used it several times
Bought this for xc biking this fall. I've only gotten it out a couple times so I can't speak to the durability, but if it's anything like my other osprey pack it'll last forever. The size is just right for what I wanted...I can synch it down small with just a tube & water for a quick afternoon ride or I can fit a first aid kit, food, an extra layer and whatever else I may need for an all-day ride. It fits me great and I love the magnetic clip for the water hose, I can take a drink hands free.
Unanswered Question
Does this pack have straps to tie a sleeping...
Does this pack have straps to tie a sleeping bag to it?
Will the side pockets on this pack fit a...
Will the side pockets on this pack fit a 1 liter nalgene bottle?
THere are not side pockets on this pack. What you see as "side pockets" is one, large shove-it pocket. While that large shove-it pocket will fit a nalgene bottle, there is no decent mechanism to keep it in place.

On top of that, this pack comes with a 3L reservoir for water. Granted, for a long day, you may need more than that and being able to fit extra water somewhere would be nice. Just wanted to make sure you know what you're getting with this pack.
Osprey does not disappoint
This is exactly what I was looking for. I can fit a compressed down jacket, rain shell, and some snacks in it and still have some room. On a hot Utah day the bladder will last me between 8-10 miles depending on how hard I am working. Over all the pack is extremely well built and comfortable.

The bladder design is genius. It has a firm packing, which not only protects it, but also acts as an internal frame for the pack.
Great pack, but not for my uses
This is a great pack for day hikes, especially long ones. You can fit everything you need in it for a day, but not much else. I use a pack like this for hiking or trail running, and this one is actually a little bigger than is comfortable for me. However, it is fantastically well built and comfortable. I really like how the bladder has a firm backing to it. This not only protects the bladder from punctures, but it also acts as an internal frame for the pack.
Is there much of a difference between the...
Is there much of a difference between the 16L and 18L? I'm looking for something that allows me to occasionally toss my computer in if I need to. Will both sizes allow this or will I need to go with the 18L?
You might need to go with the 18, 16 is getting pretty small.
Osprey makes a Raptor 14 and an Raptor 18. Go with the 18. It also depends on the size of your computer.

Thanks!
Best Answer
Do not decide to get S/M or a M/L based on how much volume is in the pack. The S/M, or 16L pack, is basically a shorter torso and will fit more girls best (we tend to have shorter torsos). The M/L, or 18L pack, is a longer torso and will fit most guys best (guys tend to have longer torsos).

Also, the Raptor 18 style pack will not fit a ton of laptops unless you have a small laptop. If I can make a suggestion--go with the Osprey Talon 22 and get a 3L Osprey Hyrdraform reservoir. It will carry a laptop and some books AND will carry all the stuff you will bring for mountain biking very well. It is a little more versatile of a back.

Hope this helps!!!
Is this waterproof? I'm looking for a...
Is this waterproof?
I'm looking for a rocksack to commute to work and it's rainy season now, does anyone know it this would be ok?
Cheers!
its made of pretty dense denier nylon, so it will be highly water resistant, but not to the point where i would trust it with my laptop/work papers in there. you could always get a small pack cover that will be waterproof.

on the other hand, this is more of a day hiking or biking hydration pack since it is compatible with hydration bladders and has a pretty substantial hip belt and pretty rugged suspension/frame. you may want to search this sight for laptop, commuter or carry-on bags. or check the link below. its for a pack made for your purposes...also by osprey...and cheaper.

http://www.backcountry.com/osprey-packs-flapjack-pack-1500cu-in
The Osprey Manta series of packs come with an included rain cover that stuffs into a pocket at the bottom of the pack. Check those out. I have the 20L and I love it.
Pablo, the Raptor is not the right pack for urban commuting. Try the Momentum 26 or the Metron 25. Both have sweet raincovers and awesome features for the bike commuter. ENJOY!!
I ordered this pack and have been mostly happy. It has a lot of room for stuffing rain gear, wind breakers, and whatever you need for a bike ride. The stiff backed water reservoir is a nice touch. I like carrying 3 liters of water on long ride.
There are two drawbacks. First the hip pockets on the waist are not secure. I have things falling out of them all the time. They have easy access, but no security. The bite valve on mine leaks even when turning it 90 degrees to the off position. It quickly formed a hole on the soft plastic that you bite down on to drink. I am trying to find a replacement.
Another great Osprey pack
Lot's of storage in the pack. Big enough for long epic bike trips. This is the 6th Osprey pack, I've been a fan of Osprey for 14 years. A great product overall.
Looking at this pack for an overnight...
Looking at this pack for an overnight summer trail running trip and curious how much I could fit in this bag as well as how cumbersome it would be. I'm not sure exactly what gear I'll be taking yet , but assume minimal as possible: bivy sack or small sleeping bag, few energy bars, light/packable jacket, spare socks. Also hoping to do some fly fishing on the trip, so will likely strap a 4 piece pole to the outside and have a small fly box and reel in the pack. Any thoughts on if this pack can hold?
Best Answer
Pete, in my opinion this pack is not going to hold everything you need for an overnighter along with a full water hydration pack. You might want to step up in size or add your own hydration bladder to another style pack.
Thanks Mike. I think this is biggest Raptor Osprey offers. For trail running, looking for a pack/hip belt I can snug up pretty tight. Also want a pack that I can snug the bladder pretty well. Any reco's on an alternate? Maybe an Osprey Manta 35 or Gregory Z30 or BD Nitro are others I was looking at.
You are welcome Pete. I would look at the Osprey Manta 30 which will give you a little more room but still not be so big it is bulky. It might be a little much for trail running but I have heard of people wearing them.

http://www.backcountry.com/osprey-packs-manta-30-hydration-pack-1600-1800cu-in
is this a women bag or man's? why there's...
is this a women bag or man's? why there's a pink color on the suction nozzle
Best Answer
Naiyin,
This is a unisex hydration pack. The "pink" at the nipple is just the usual Osprey-red, like in their logo.
http://www.ospreypacks.com/Packs/RaptorSeries/HydraFormReservoirRaptor/
I hope this helps.
Neds Atomic Dustbin-Seymour DH
Raptor 18 in use on the DH.
I use this pack for DH mountain biking on the North shore.Mainly DH riding.
Excellent pack.Fits pads,helmet,extra clothing,tools.It has all the cool
departments for glasses and bars.Easy access to the water hydration system.
can you fit a 15" laptop in there?
can you fit a 15" laptop in there?
Best Answer
Dimensions on this one are 18 x 10 x 10 inches so if you can squeeze it in there you should be good to go..might not fit much else in it..but you'll have your laptop.
This is hands down the best hydration pack ever made. It keeps its shape when filled with water and has ever feature you could want for biking. Have used hiking as well and was not disappointed. The hose is connected by a magnet and not a clip which is so much easier to get to and then put back when you need it out of the way. Your search is over buy this pack and get on the trail.