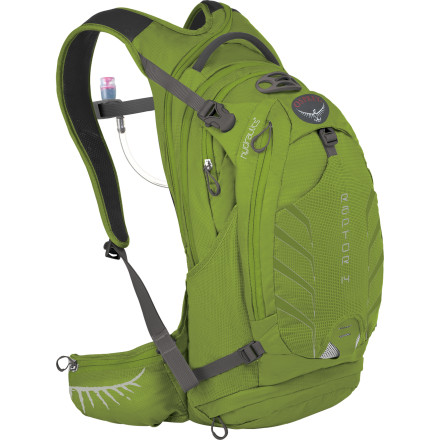 Colors

Videos

Community Images
Description
Serious, not sweaty, riding gear.
Go big or don't go at all is your motto, so you pack up the capacious Osprey Raptor 14 Hydration Pack with three-liter hydration reservoir for an epic ride. With room enough for a light layer, nourishment, tools that you pack into its included roll-up organizing pouch, and your pump in its designated sleeve, you'll have all the essentials and in quick-access organization. And with AirScape and BioStretch mesh-lined, perforated, and padded support and security, you'll do the whole ride without a sweat-soaked jersey.

AirScape backpanel provides cushioned, breathable ridge-molded foam that gives ample support and cool comfort
Stretch sternum strap has magnetic hose attachment for quick and easy access to live-sustaining water
BioStretch harness features perforated EVA foam with large holes for enhanced breathability and comfortable stretch lined with soft, breathable spaced mesh
Mesh-covered BioStretch built-in hipbelt breathes via perforation and features a modified, straight ErgoPull closure
Large front pocket with shove-it pocket behind holds extra clothing and nourishment for a full-day ride
Ample 3-liter Hydraulics reservoir features an integral framesheet to keep water close to your body and prevent barreling, a rigid handle for easy insertion into pack, and wide-mouth cap for easy filling and cleaning
MPE film in reservoir ensures taste-free water and is durable enough to handle hot water
Rugged and light 70 x 100D nylon shadow creek fabric withstands outdoor wear and tear
Removable roll-up tool pouch keeps your fix-it essentials organized and accessible; lower zip compartment provides access to tool pouch
Hydration sleeve allows direct access via zipper for loading in a hurry
LidLock clip secures helmet when not in use
Internal sleeve hold pump for organization and security
Zippered stretch mesh hipbelt pockets secure small, quick-access items; stretch mesh front pocket lets you quickly stash extra gear
Zippered, embossed sunglass pocket protects your eyewear
Blinker light attachment patch and reflective graphics add safety when the ride goes long
Solid Pack
Familiarity:

I've used it several times
This is a great mid size pack, with plenty of space for carrying your gear for a day of riding or hiking.

Favorite features are the tool roll pocket in the bottom pocket, and the magnet for keeping the hydration nozzle in place.
How well does this hold up in wet weather? If I have my phone in the slash pocket during a wet ride is it going to stay dry?
Best Answer
Hey Scott,

No, I would plan on your phone getting wet! There is a cool case you can get from Outdoor Research that protects your phone, even if submerged, and you can still use it with head phones for your tunes. It's called the Sensor Dry Pocket.



Hope that helps!



Leta

Osprey Rep
Great pack, mediocre reservoir
Familiarity:

I've put it through the wringer
I bought this pack to replace my Camelbak Mule. I use it both for day hikes and mountain biking. The pack itself is super well thought out... lots of easy access pockets, low profile, but big enough to put a jacket, lunch, hiking poles, a dog bowl, and 2 beers inside, with the 3L reservoir full. It took me longer than it should have to figure out the helmet clip, but once I did, it's great. The straps are wide and comfy, the air circulation is decent, and the wide waist straps are much more comfortable than the Mule... plus they add two more awesome, easily accessible pockets. I'd recommend this pack to anyone.

My only complaint is the reservoir. The advantages are that it has a magnetic mouthpiece that snaps onto the chest strap, and the rigid back makes it much easier to stuff into its pocket than the Camelbak. But the clear hose yellowed really quickly (I bleach it but... yeah), also leaving a yellow track on the outside of the reservoir. Which isn't really a problem, except it looks gross. Also, where the hose attaches to the reservoir, there's a low-profile attachment, which makes it impossible to stuff a cleaning brush in from the inside. So those are my only complaints... and they wouldn't stop me from buying it again or recommending it.
Well thought out pack!
Familiarity:

I've used it several times
Ive had the chance to use this pack for two weeks on the single tracks around my place...everything about this pack fits my bill...comfort and enough room to fit everything I needed on an all day ride. The fit is nice, Im 5'10" 195lb, with enough adjustments to keep it tight to your back, and you dont feel its there. Air flow is good so far, still cool weather in Duluth so not the greatest test on sweat. The magnetic hydration tube/bite valve works great, with no plastic residue taste. Just the over all craftsmanship seems durable and up for whatever you might throw at it. I would buy this again, Osprey did their homework on this little pack.
Perfect pack for longer mountain bike tr
Familiarity:

I've used it several times
The straps are great, the comfort level is great, the pockets and buckles are great, and the big 1000z water bladder is great. This is just about the perfect pack for longer distance (over 2 hours) mountain bike trips. Helmet clip is a neat addition. I will use this for light day hiking trips as well as it holds a ton of stuff for the size. I can even toss my running shoes in if i want to do a brick workout and do some trail running after/during my ride. The only wonky thing is the magnet that attaches the mouth piece to your chest. It is difficult to put on when you are on a trial and better suited for using on an easier stretch of trail as it requires one hand off the handlebars to accomplish.
What's the difference between this pack...
What's the difference between this pack and the Zealot 16?
The Zealot 15 pack by osprey has just about all the same major features as this pack minus a few.



Things the Zealot has that the Raptor doesn't.

-back panel access

-full face helmet carry



Things that the raptor has that the zealot doesn't.

-extra front stretch mesh pocket

-extra vertical zip front storage pocket



Both packs are great but I am choosing the Raptor because it is cheaper and offers more organized storage potential and I decided that was more important to me than back panel access.



I eealize this question was asked a while ago but hopefully my answer can help someone that is in my position and wanted to know the answer.


My Favorite Hydration Pack Ever
Familiarity:

I've put it through the wringer
This pack strikes that perfect balance of having tons of useful features but nothing frivolous or obtrusive. It's durable but lightweight.



The rigid bladder might seem like a waste of weight at first glance but the more you use it the more you'll wish your current bladders had always had this feature.



The magnetic bite valve is brilliant for mountain biking, everyone who sees it in action wishes their pack had it and there's no way I could go back to having a manual style clip in again.



I seldom use the "Lid Lock" feature, and I wouldn't miss it if it was gone but like most of the features on this pack it's so unobtrusive it's never bothered me or gotten in my way.



Mine is the previous years model than the one being sold here but I'm sure it's an even better pack now. I actually owned an even older Raptor 6 which I loved very much for summer riding, unfortunately it was very very small and couldn't hold even an extra layer. When I bought the 14 I thought I would use it for shoulder season rides and keep my 6 for summer rides. The 14 cinches down so seamlessly that it wasn't even worth it to transfer my gear over to the 6 so I just kept riding on the 14 all year round and gave my other pack to a buddy who really wanted the magnetic bite valve feature.



You really can't go wrong with this pack, getting the 14 over a smaller size is the way to go even if you don't think you need the space you really have nothing to lose.
Great pack for serious trail riders!
Familiarity:

I've used it several times
Thoroughly evaluated this pack before making purchase. Was convinced it would be a great fit for me and not disappointed. This Osprey pack replaced my Camelback. No comparison! The Osprey design, quality and lifetime guarantee made it an easy choice. Plenty of room to carry everything I need for an all day ride.
so long, camelbak
Familiarity:

I've used it several times
Obviously, CamelBak has become quite the household name, everyone has one or knows what they are, even if they call it a "CamelPak." We all know them. But there are several things that I don't think CamelBak does well, or could do better. First, the bladders are nearly impossible to manage when filling with water and trying to close. They flop all over the place, spill water, and just aren't friendly. Couple that with the fact that they have no structure to them, and you find them wadded up in the bottom of your pack, especially if you just use the bladder without the pack. All of that was bearable, several years ago, when the only other options were some crappy water pack from Target. The thing that really turned me off of CamelBak was the design of the packs that the bladders went in. They just weren't good. They were too small, or if they were big enough, too expensive, and had dumb suspension systems, or not enough pockets, or (heaven forbid) just didn't look cool at all.



Now, several years later, other companies have tried their hand at the hydration pack and Osprey/Nalgene have, in my opinion, beat CamelBak. First, the bladder is excellent. It has a handle for holding when filling, is rigid, so it doesn't get all wadded up in the bottom of your pack, and it fits PERFECTLY in the rigid slot in the pack. The valve is a joy to use, although the CamelBak one is just as good. Everything just seems to work, with the exception of screwing the lid on, as others have stated. It's a bit difficult, but one mishap and spilled water fixes that, you just double check it.

But the real attraction to this pack is that a company dedicated to pack design, Osprey, makes the pack. The Raptor 14 is great. Tons of pockets, super comfortable, enough space and features to make it great, and it looks really good. I don't feel dumb wearing it, as I do with CamelBak. Again, just my opinion, but these are way better in almost every way.
Adjustable elastic band accommodates any size helmet; shown here is a 'M' *Specialized S-Works Prevail that fits with no problem. Easily attaches/removes.

You can locate the band adjustment just outside the little top-zip pouch (for small things like glasses, etc), at the base of the right side of the zipper (as you're looking at the pack). There's a little clamp that you squeeze to loosen the grip and tweak the elastic to adjust. Easy to do. Hard to find!



Notice the perforated shoulder straps for ventilation/comfort!



Hope this Helps!
I bought one of these packs for my girlfriend and I. They come with us pretty much everywhere. Short hikes, full day hikes, biking around town, and even took it to the beach. It holds much more than you would expect and has so many pockets to keep your stuff nice and tidy.
Osprey Packs Raptor 14 Hydration Pack