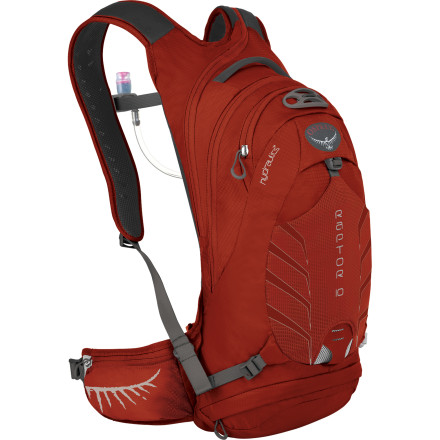 Community Images
Thanks to AirScape and BioStretch mesh lining, perforated foam, and tons of ventilation on the support system of the Osprey Raptor 10 Hydration Pack, you can go the distance without sponge-back and hipbelt sweat. Just right for a day hike or mountain bike ride, this pack has room for extra layers, lunch, and tools. A three-liter reservoir holds all the water you need, and an amply padded design keeps your back and shoulders happy mile after mile.
AirScape backpanel provides cushioned, breathable ridge-molded foam that gives ample support and cool comfort
Stretch sternum strap has magnetic hose attachment for quick and easy access to live-sustaining water
BioStretch harness features perforated EVA foam with large holes for enhanced breathability and comfortable stretch lined with soft, breathable spaced mesh
Mesh-covered BioStretch built-in hipbelt breathes via perforation and features a modified, straight ErgoPull closure
Lower compression strap stabilizes load for those bumpy rides
Ample 3-liter Hydraulics reservoir features an integral framesheet to keep water close to your body and prevent barreling, a rigid handle for easy insertion into pack, and wide-mouth cap for easy filling and cleaning
MPE film in reservoir ensures taste-free water and is durable enough to handle hot water
Rugged and light 70 x 100D nylon shadow creek fabric withstands outdoor wear and tear
Removable roll-up tool pouch keeps your fix-it essentials organized and accessible; lower zip compartment provides access to tool pouch
Hydration sleeve allows direct access via zipper for loading in a hurry
LidLock clip secures helmet when not in use
Internal sleeve hold pump for organization and security
Zippered stretch mesh hipbelt pockets secure small, quick-access items; stretch mesh front pocket lets you quickly stash extra gear
Zippered, embossed sunglass pocket protects your eyewear
Blinker light attachment patch and reflective graphics add safety when the ride goes long
What color is the inside of the black backpack? I have seen some pictures where the inside is grey and some where the inside is orange.
Solid Pack!
Familiarity:

I've put it through the wringer
This is a great small/mid size pack, with plenty of space for carrying your gear for a few hours of riding or hiking. Back has held up well over a few months of solid use, as has the Osprey Reservoir. All in all I've had great success with the durability on Osprey packs.

Favorite features are the tool roll pocket in the bottom pocket, and the magnet for keeping the hydration nozzle in place.
Love Osprey
Familiarity:

I've put it through the wringer
Ever since my first Osprey backpack I have always been a fan of the design and quality. For my longer mtb rides I definitely needed a 3 liter water bladder plus room for bike gear (tools, snacks, etc.) so I went with the Raptor 10 over the Raptor 6. The Raptor 6 has a 3 liter bladder, however there is not much space for bike gear when the bladder is at full capacity. The compression straps on the Raptor 10 meant to prevent gear from shifting when the pack isn't stuffed full is what sold me on the bigger size. The pack breathes much better than my Camelback Lobo (3 liter bladder). The only thing that I am concerned about with this pack is that the bladder seems like it will fail early at the seams where soft and hard plastic pieces meet. My plan is to switch to a Camelback or Platypus bladder once this one fails (only a 1-year warranty on the Hydraulics system from Osprey). Upgrade the hydration system and this will be a solid pack for biking and hiking.
Great pack
Familiarity:

I've used it once or twice and have initial impressions
I just got this pack - primarily for mountain bike, but I've actually only had occasion to use it on a 4 hour hike. Super comfortable on my back, plenty of storage for my food, a light jacket, phone, etc with lots of room to spare.

I love the hose routing - just drop the bladder in and then zip the hose into place. No need to try to squeeze it through a small opening like other packs I've used. Can't wait to test it mountain biking!
Dear Seller
I´m not a big fan of hydratation pack when riding. For my local trails, i usually ride about 25 km whith water bottle, a lot of single Traks and lots of climbing. I live in a tropical country so cold weather is not and issue unless you take a trip to the ANDES(extra layer) we just have to worry about the rain.
In long rides it´s inevitable the use of one. Definitely Ospray raptor is may choice So i have the dilemma the 10 or the 14 seems both of then works for mid-long rides. I love the low profile of the 10. Can the raptor 14 not fully pack be as small as the 10 using the compression straps? Packing the essential for a long ride can i put an extra layer on the 10? I have to consider the weather beause nex year i´m moving to Spain.
I don´t really want to buy that extra space if its no that necessary or the difference in size compromise confort and low profile.
Thanks A lot, and please forgive my english.!

Best Answer
Hi there, and thank you for the great question. Your English was perfect. :-) The 14 will always be a little bigger because it has that exterior shove it pocket. Still, the compression straps do a great job. The Raptor 10, without the shove it pocket, is more limited in volume expansion. I think you go a little bigger and get the Raptor 14. Enjoy it!!



Thank you for taking the tiem to write!



Leta

Osprey Rep
Great details...
Familiarity:

I've used it several times
I wanted a day use mountain bike pack that wasn't too small, but wasn't too large. I've used this one about 10 times and have been very happy.

PROS: It's comfortable and feels light, whether I pack it full or empty, easy to use zipper pulls with gloves, hip pockets I can reach on the bike, separate tool storage and fold out pad so I don't lose my tools on the trail

CONS: I have a difficult time getting the water bladder to dry vs some of my top folding bladders (this one has a cap at the top).

Overall, great pack and would buy again.
Fantastic Fit and Design
Familiarity:

I've put it through the wringer
This is a well designed and functional pack from zipper pulls to hose connection points. The pack straps are padded sufficiently and of right width to make it very comfortable and able to stay tight to your body but allow air flow to keep you cool as can be expected. Hydration system is a bit over designed regarding the handle for the bladder. It is really helpful in filling, but seems to add a bit too much bulk. Overall though this is a fantastic pack and would highly recommend it.
Great biking pack
Familiarity:

I've used it once or twice and have initial impressions
The tool roll at the bottom is a really nice touch. This is a great pack. Hip pockets are cool. Lots of well thought-out features.
Won't leave the house without it!
Familiarity:

I gave it as a gift but have feedback to share
I wear the Osprey women's specific Raven 10 Hydration Pack, so when my boyfriend got into mountain biking with me I gave him the men's Raptor bag as a gift.

Much like me, whether we are hiking or biking he won't leave the house without it.

The size is perfect, other than the reservoir itself the pack easily fits a rain jacket, some basic bike tools, keys, snacks, etc.

Some of the things that I like best about my pack he likes too: the rigid mesh backing creates both a comfortable placement on your back in addition to providing decent ventilation so you don't end up miserably wet or hot after long rides. The magnet system on the chest strap (which keeps the hose easily accessible) is super clever too, but be careful, the magnet clip can be easy to break-off and lose. Another great feature is the lid lock that allows you to clip your helmet to your pack.

I won't go as far to as as it's waterproof, but it's probably fair to say that it's water resistant because we have been caught in some fairly substantial rain storms and it has protected the items in our bags.
Great Pack!
Familiarity:

I gave it as a gift but have feedback to share
Can only add to what others have said here.
I got it as a gift for my dad who is starting to ride his bike more.
Wore it for a day beforehand and had to check a few times to make sure the pack was still there! It fits very well and it light.
Tool roll is a great addition!
Best Pack Ever!!
Familiarity:

I've used it several times
This is the nicest pack on the market without a doubt. The Raptor 10 is the perfect size, not to small yet has plenty of storage space. It fits perfect to your back and has a waist strap. Pick yourself up one of these bad boys.
Love in a MTB pack
Familiarity:

I've put it through the wringer
The first thing I noticed with the Raptor 10 is how well it fits my body. Easy-to-adjust hip and shoulder straps make cinching the pack down to size a snap. I really appreciate that the straps have clips at the ends so they attach to themselves and do not annoyingly flap around when I am bombing down the singletrack.



The back panel is very well designed with airflow padding, concave shape, and a mesh fabric overlay to keep air flowing. Of course on hot, strenuous climbs nothing will keep my back from becoming a swamp, but it is nice to have a little help from the pack.



For such a small pack, this thing is loaded with storage space for just about anything you would need to carry on a short to medium-long ride. First, there is a large, zippered main pocket with room enough for a couple tubes and a jacket. The main compartment also has a mesh pocket where I keep an energy bar, plus two vertical interior sleeves that are perfect for stashing air and shock pumps. That's just a taste of the storage space.



The best pocket of all, is the tool pouch. It is located at the bottom, and once unzipped, reveals a roll-out tool box for things like chain tools, tire levers, multi tools, hexes, and spare parts such as shifter cables, chains, patch kits and lube. It is all kept tidy in zippered, mesh compartments that roll up and cinch down tight.



Plus you can't beat Osprey's hydration system. Pure gold.
Best MTB pack ever
Familiarity:

I've put it through the wringer
Awesome pack for mountain biking. The straps let you tighten it down so it stays secure on your back and doesn't throw off your balance by moving around all the time like regular small backpacks. The hydration bladder is very well placed in the pack, and holds a ton of water. I took the bottle cages off my bike because I don't even need them anymore. The pack overall is the perfect size for everything you could need on a <5/6 hour ride. One of the best products I've ever purchased. I'll continue to buy more Osprey products after seeing how well designed this pack is.
is my pack still back there?!
Familiarity:

I've used it once or twice and have initial impressions
So I couldn't decide between the viper 9 and raptor 10 in terms of how much volume I though I needed. The last thing I wanted was too much pack. I ordered both and loaded them up including a full tank of water. I know one liter isn't much of a difference, but what really made the raptor stand out was the difference in features. the tool kit is very nice as it keeps things snug down there. the hips straps are cool. i personally don't care that they double as storage pouches, but they added an element of comfort the viper straps lacked. best think about the bag: super light. this isn't saying the viper is heavy because they're both light, but if you're on the fence, do not hesitate to go with the raptor 10. I have never been a bike and bag guy, but the osprey raptor 10 converted me. I will use this 90% of the time for MTB and 10% for hiking.
Great pack
Familiarity:

I've used it several times
Very well-designed, comfortable pack. It's size makes it perfect for anything up to about 4-5 hours; longer than that and you start to need a little more PB&J room. Bladder is solid, and the tool roll's a nice touch.
Osprey 10
Familiarity:

I've put it through the wringer
Great for 2 to 4 hour mountain bike rides.
Great daypack for the petite
Familiarity:

I've used it several times
I bought this for my girlfriend who's 5'1". It's a tad large, but with all the adjustments she can get it nicely dialed in for her short torso. She loves the external multiple pockets and the incredibly cool magnetic clip for the hydration bite valve on the sternum strap. The huge capacity of the hydration bladder is great for longer hikes, but the bulky and somewhat heavy handle used to stabilize it is not. Great pack for long day hikes & could handle an overnight one if you bivvy or your partner carries the tent.