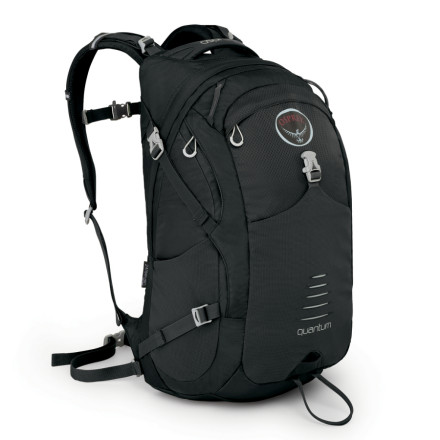 Community Images
Osprey designed the Quantum Pack for everyday versatility: whether your day's trek is across campus or several miles up a mountain trail, the Quantum's 34 liters of stow space provide ample capacity for your needs. Durable, abrasion-resistant outer material stands up to abuse, and a comfortable AirScape back panel fights the sweaties. Stuff your fleece into the outer bungee cord and slip a water bottle in a side pocket. Final step: fill the interior with 34 liters of amazing lunch.
so far, so good.
Familiarity:

I've used it once or twice and have initial impressions
I was in search for a work/play/overnight bag. I haven't had a chance to stuff this to capacity yet and actually use it but I can see it getting the job done.



The Quantum isn't much different then the Momentum, but the straps are a little thinner, both in padding and in width, which is good for my smaller frame. The Quantum also isn't as deep as the Momentum. It holds it's fill in length, but plenty deep enough to hold clothes/shoes and a lunch. The Momentum has a much rounder appeal.



Pros: THE STRETCH POCKETS. I'm in love. For real. I love Ospreys stretch pocket features. This is always a deciding factor for me. The shed layer front pocket holds a change of clothes in there tightly. The side pockets are great for a nalgene with a compression strap for extra security.



Sitting just beneath the stretch side pockets are two zippered pockets that are quite long. I can shrink up my trekking poles and fit them in there. I feel like if my bag were packed to the max, they would be hard to get to. Haven't done that yet, but I'm willing to deal with it as it makes up for a lack of middle compartment.



The main compartment rocks. Solid laptop sleeve. I thought I wouldn't like it if it wasn't separate from the main compartment but it works perfectly and the document holder is pretty clutch too. I no longer squish my papers with my computer by shoving them in the same sleeve.



The front compartment is small but holds essentials. 2 pen pockets and 2 elastic pockets. Key clip too. The zipper is a little tight due to the rain flap but Ospreys awesome zipper tabs make it easy to unzip, but would inconvenience someone trying to steal something off your back.



There is a zippered mesh pocket inside the main compartment, about the same size as the front compartment. Filling both of these could make for some bulk in the front.



I don't have any cons.... yet. Overall, feels amazing. I think it's going to be an awesome work/play/overnight bag. Osprey packs are hard to beat.
Osprey Quantum
Familiarity:

I've put it through the wringer
I must say that I really enjoy this pack. While it is not my favorite...I do like. It does a good job as a school/work bag. I love the main compartment with the laptop sleeve, the document sleeve (i keep and iPad there), the stretch pocket for your phone/iPod, and the zippered pocket up top. You can really store a lot of stuff in there. The outside front zippered pocket for your pens and other gadgets is a little small. I with that the pocket was a little deeper than what it was. I also could do without the side zipper pockets.....kinda worthless to me. Love the stretch mesh pocket up front though. This a well made bag that will last a long time. I have used it on the trail as a day pack and I think really like in that capacity. Most day trips I want to get away to journal/photograph stuff and this bag carries all that well.



This is a very versatile bag that lives up to the 24/7 series it is in....because you can literally use it 24/7.
What are the dimensions of this pack?
What are the dimensions of this pack?
20 x 12 x 12 as per Osprey's Site
Love love this backpack.
Familiarity:

I've put it through the wringer
This is an awesome bag. Use it for school, skiing, hiking, etc. The ice blue is a great color - makes it stand out from all other bags. Extremely comfortable with all of the personal adjustments in straps as well as ventilation. Great laptop sleeve and extremely well made. Gear loops, interior mesh pocket, side deep mesh water bottle holders - so well designed! Can't rave enough.
Awesome so far
Familiarity:

I've used it several times
Love this pack so far. Have been using it for school, bike rides, and miscellaneous schlepping. Straps are very comfortable, nicely adjustable straps, and overall good storage. I would say that i have had trouble fitting things of significant size into the front mesh pocket (no jacket, no lunchbox, no shoes) but maybe that was a misjudgment on my part. It is useful for quickly tossing things in. Love the side mesh and side zip pockets. Overall outstanding pack.
I'm debating between the Quantum and the...
I'm debating between the Quantum and the Comet. Has anyone used this bag as a carry-on? How do the size differences between the two work out?
I hav not used these 2 specifically but by the size and what I use as a carry-on this would probably be a awesome carry-on! I have seen a comet and if you are using it more for school I would go with the quantum and not the comet but if you are going for a day pack, go with the comet! Hope this helps you!
Great Bag
Gender:

Male

Familiarity:

I've put it through the wringer
I wear this is as a day pack to hike 14'er and to travel with for work (with a laptop). It's very versatile and because it's light weight and is a good size (not too big, not too small). I will say, my one knock, after several months of use, a couple of the plastic clips have broken and are no longer functional, but I still love this bag regardless.
This is the best backpack Ive ever owned. Enough said. If it fits your requirements then you will love it.
Like all of the other packs by Osprey the Quantum is amazing. I use it as my everyday back pack at the university. I saw a little contradiction in the comments in whether or not it can hold a 1 Liter Nalgene. I just wanted to conform that it absolutely can with no problems what so ever.
Hey can this pack hold a hydro-bladder?...
Hey can this pack hold a hydro-bladder? I'm sure someone has asked this before but thought I would drop the question again.
Basically, but it wouldn't be ideal. The laptop sleeve could hold a bladder, but there is no hook to hang the bladder from. Also, the exit port is at the center of the top of the pack, not at the side, so routing the tube could be a little awkward. It's just not really designed for it.
I've put a 3L Osprey Bladder in the sleeve and it worked just fine. The Osprey Bladder has it's own support system not needing to hang...You'll probably/maybe need to change out the mouth piece on the tube to make routing easier then again maybe not. I've also used a 32oz Nalgene bottle in the side pocket, it all depends how you pack your Quantum. Less on the inside,more on the outside, more on the inside, less on the outside....
Anyone succeeded in securely stashing a...
Anyone succeeded in securely stashing a bike helmet in the back stretch pocket?
It isn't big enough for a bike helmet. The stretch pocket really isn't very large and can't hold much more than a small book or two or a shirt or something of similar size.
I've been able to put a poncho into the pocket(Folded) and another time a set of knee pads with four packets of hand warmers and also at another time a climbing rope 40' long rolled up.. NOT ALL AT THE SAME TIME.. Just an idea of what the mesh stretch pocket can be used for....Way to small for a helmet....