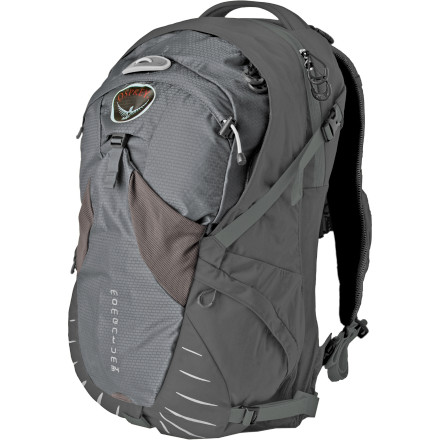 Detail Images

Community Images
As you round the corner on two wheels (on a bicycle, of course) and peel out after the hybrid making for the green light, your trusty Osprey Momentum 34 Backpack holds your essential gear securely to your back. With your cell phone, keys, and laptop all properly organized in their respective pockets, and your rain cover deployed to shed the morning drizzle, the ride to work becomes a pure battle of man versus machine.
Wide variety of organizational pockets keep your tire pump, patch kit, and multi tool in place
Large cell phone pocket and retractable key clip located on shoulder strap help keep you organized
Side compression straps reduce pack volume if you're carrying a smaller load
Reflective detailing on front panel and a blinker-light attachment loop help keep you seen
Built-in rain cover keeps your gear dry in the event of a storm
After pulling up to the office, retrieve your U lock from its dedicated compartment and lock up your beautiful ride
Excellent organizer, but an inconvenient
Gender:

Male

Familiarity:

I've put it through the wringer
I use various backpacks long time. I decided to try Osprey Packs. I need to carry the folder for papers and equipment for rock-climbing at one time. Also I bought Osprey Packs Flare Daypack for my son. Both backpacks are made very qualitatively, used the best materials and accessories. Momentum 34 is an excellent organizer, but an inconvenient backpack. Osprey Packs Flare very convenient backpack though it is less than a capacity. My tbrother ried two backpacks and wants to order Osprey Flare.
I am looking for a back pack that I can...
I am looking for a back pack that I can use for school. I will be commuting on bike most of the time. It sounds like this bag could carry all of my bike gear, school books and little odds and ends. The trouble I have found with a lot of bags is that they are way too big for me. I am 5' 4'' 130 Ibs. Would this bag drown me?
Hi Kari!



A couple things: first of all, this pack is a 30L pack--so even if the frame was the right size, 30L is still relatively large for a school pack. I'm not sure that you need that much space, but then again, I don't know how much you'll be taking to school.



That being said, the S/M pack size should fit your upper body dimensions, unless you have an exceptionally short torso. If you could give me an idea of what your average commuting load looks like, I'd be able to give you a better sense of whether or not this is too much pack for you.



Hope that helps!
Thomas,



So glad I asked. I will need to haul a few different school books and school supplies (paper, pens, etc...). I always have a liter of water on me. I would have my helmet, u-lock, pump and tools. I will also usually have a little food on me. Depending on weather I may be packing extra clothes.



It sounds like this bag is pretty big. Do you have a suggestion on a smaller bag that would work for school and commuting?



Thanks,

Kari
How would this pack be for hiking?
How would this pack be for hiking?
I feel like this bag really doesn't know what it wants to be because it does have a lot of features for a lot of different uses. The thing that really makes me say that this pack would not be great for hiking is the fact that it is not hydration compatible. You can always toss a bottle in one of the pockets but honestly I hate having to stop every time I need to take a sip of water. If I really had to put this pack in a category I would say if anything its a travel bag since it has so many feature without a specific defined purpose.
The bag is designed (in large part) for bike commuters. While geared for bikers, I use it for dayhikes--I like the layout of the pack and the fact that it rides tight against my toro.



There are lots of pockets and it distributes the weight nicely
Best Answer
You can slip your hydration system into the pocket behind the back panel. It is the zippered compartment for stowing the shoulder straps, but it is meant to hold a reservoir. There is a weep hole at the base of this pocket for condensation, and the shoulder straps are designed to hold the tube on either side.
Great for travel or everyday
Gender:

Female

Familiarity:

I've put it through the wringer
Before buying, I asked a question about using this bag for travel. Thanks for answering. This is a great travel bag! I loaded the Momentum 34 with everything I had packed on my recent trip from Boston to Amsterdam, then to Africa on safari & a beach holiday in Kenya, then to Paris before heading home. The Momentum 34 held everything and still measured within carry-on specs and weighed under 10 kg. Everything fit inside with squishing room to spare. The roomy side pockets easily swallowed the 24 oz water bottle on one side and the other had room for wallet, camera, etc, etc. The stretch dump pocket was ideal for the quart ziploc of liquids for screening.



I did a side-by-side comparison with the Osprey Talon 44, packing it with this same collection of stuff from the list above. Although the load felt lighter in the Talon 44, the Momentum 34 wins as a travel bag. The Momentum 34 is sturdier, easier to load and access, and the side pockets & shoulder harness pockets are more functional during use. The load in the Talon 44 was a different shape, with a length of 26" so it would have to fit in an overhead bin sideways. Those bins are crowded, and it could be hard to find a spot near my seat. Also the Momentum 34 has 2 sleeves in the center of the bag with padding which will hold a MacBook Air and a Kindle. There is no protection for electronics in the Talon 44. These sleeves are even suspended off the bottom of the Momentum 34. I know that I could check my Momentum 34 if I choose because the straps can be tucked away. I hope that my Talon 44 would never be gate-checked because all the straps and the frame could easily be damaged in the airport equipment.



I have been using the Momentum 34 as my everyday tote. It holds my handbag, book, computer, water, etc with room to spare for groceries, gear or new shoes.



This is a great bag and I am sorry to see that Osprey has eliminated this size in 2013.
are there loops on the bag straps so that...
are there loops on the bag straps so that the daypack can be attached to my large backpack?
The riser straps and main straps can be separated at the buckle, then leashed to the front of your large pack. I just got this bag, the 24 though, and can attach it to my Aether 70 just fine. Hope this helps.
Ultra light weight
Gender:

Male

Familiarity:

I've put it through the wringer
I bought this backpack so I could ride to work in the mornings and it has not disappointed. The pack is ultra light and the rainfly makes it great for computer protection when it's wet outside. My ONLY reason for not giving this backpack 5 stars ist hat it doesn't come with a water bladder. I wish I had known that before buying it. That being said, I still don't regret the purchase at all.
Great all around use
Gender:

Male

Familiarity:

I've put it through the wringer
I got the Momentum 34 mainly because of it's laptop compartment and I frequently go on 2-4 day trips for work. The longest trip I had lately was to Singapore and was able to fit in 6 days worth of clothing (even with the expansion zipper closed), a laptop and even 2 water bottles on the outside compartment. Even made a new friend because of the bag!



Living in the Philippines, the built in rain cover is a treasure. Sudden rainstorms could easily put an end to my laptop and other tech I'm carrying around.



I've yet to test this on a bike but I will edit this as soon as I do.



Pic here visiting Universal Studios Singapore
Love-Hate Relationship
Gender:

Male

Familiarity:

I've put it through the wringer
So I've had this pack for about a year, and sadly it has fallen prey to breakage.



There are endless pros and cons, but here is a list of the several items that caught my attention.



Pros- The pack fit nicely on my shoulders, the included pack cover was super duper awesome especially living in Seattle. The front two pouches were awesome for my cell phone and things of that nature. The Pockets of this thing are massive and easily held any books, binders, or laptops for school. Seriously, it could hold all of my stuff. The external pouch was sweet for a jacket and anything else random.





Now for the cons.



I found that the upper compression straps got in the way of my pack while I tried to open it. The reason behind it getting in the way has to do with it going in an upward direction. While this pack is massive, that is one down side. Unless this thing is totally packed and it has an inflated feeling, the thing just feels awkward, for me that is. It was floppy and being empty the upper compression straps left a portion of the upper pocket to flap around, again nothing keeping it in place.



Now the only reason I'm returning this awesome pack is because it broke. Where my right should strap meets the base of the pack broke. While it was a great pack I will not be getting another considering it doesn't suit my needs for what I want in a day pack/ school pack. It was fantastic while it lasted and kept my stuff dry plenty of times, boy does that built in rain cover come in handy!
Exceeded Expectations!
Gender:

Male

Familiarity:

I've put it through the wringer
I was a little skeptical at first because the fabric looked kind of thin and the shoulder straps looked weak. So far durability has not been an issue. Somehow everything I had to store, I found a spot for, which I wasn't sure of when I bought. A laptop pocket was a must and this one fits my 13"laptop, iPad and documents, extremely happy with that. The one time I had a lot of gear, I opened the expandable compartment and everything fit great. I have two minor complaints... I bought the Carbide one and the little zipper tabs are the same color and at times hard to find, especially in low light. I wish they had made them a different color to stand out. The shoulder straps feel flimsy. I wish they had a sturdier feel like TheNorthFace's backpacks.
How does it perform for back ventilation? ...
How does it perform for back ventilation?



A lot of great reviews... but none have mentioned anything in terms of the back ventilation. With a 14m commute, I am looking for something that will breath well and minimize back sweat. Was considering the mesh framed Stratus for this reason... thoughts or advice?



Also, is this all top-load or is there a front/back access as well?



~Thanks!
The backpanel is a closed cell foam that is ridged to create air channels--not bad ventilation but not the absolute best either. If you are not willing to go without removed backpanel ventilation, give the Stratos a try.



Word of warning, since the Stratos has a removed backpanel, the frame is super stiff and has been known to bump against the helmet while riding...
Blows away my tnf box shot. Better shoulder pads that can be tucked away (use top/side handles); shell better than most; water bottle can be held in the front pocket; 2 organizer pockets for books/files/computer; no dangling hip belt b/c can tuck away if not in use; tucked away raincover...I can go on. LOVE IT Make sure to size as would larger packs

Don't forget to order the sizing right...if you're small/medium in larger backpack...you'll be the same in this one. Unl
Does this pack have an internal frame? ...
Does this pack have an internal frame? Would it be good for travel? I am looking for a bag that will work for 1 or 2 weeks, up to 6 months. Have you used it as a carry-on bag?
I have used this as a carry on without problems on a few 3rd world airlines
This bag is carry-on size--it's actually super nice for carry-on as the back pack straps tuck away making it more like a brief case (there is a side handle for that purpose).

I'm confused by your 1 or 2 weeks, up to 6 months request. There is no bag in the world that will be great for 1 or 2 weeks AND 6 months. 6 months is a long time. That said, I know plenty of lightweight travelers who can live off of 1-2 weeks worth of stuff for a 6 month period--is that what you mean? You can fit several changes of clothing, an extra pair of shoes, toiletries, a book, a laptop, and a water bottle.

There is no internal frame but the backpanel is slightly rigid so it holds its shape really well.
Maybe I'm going color blind, but I sent one back because the Carbide I ordered turned out to be a dark grey / Silver. The second one came in and its still grey / silver, nowhere close to the picture BC has up. So, in case anyone was wondering how close the actual color is to the image, its not (see my picture for true color).

Edit (2/10): thanks for correcting the product photo!
Is this backpack good for heavy loads look...
Is this backpack good for heavy loads look schoolbooks, a laptop and maybe some groceries?
Marciel,

I don't know if you'd get all that in this bag! It deals well with heavy loads though. It will carry 2-3 college textbooks, notebook, plus laptop well especially if you are biking with it. If you have one book and your laptop, you might fight some groceries in too (so long as it isn't a gallon of milk or anything).
Cannot tell you how impressed I am with this bag. The engineering and thought process put into this bag is all there for you to get the most for your money! You will kick yourself if you don't buy this one.
where can i put my nalgene in this pack?
where can i put my nalgene in this pack?
Best Answer
bilateral side pockets should fit a one liter nalgene
I wouldn't be so sure that you'll be able to fit a Nalgene in those side pockets. I don't have this exact pack but I've used similar Osprey packs where I could not put a 1L bottle in the side pockets. You might have to just use the main compartment.
i would probably give this a 4.5 only cause of the price but i gave it a 5 just because the pack is pretty sweet!

Color: Carbide
Size: S/M

i bought this primarily for my commute - fits my 13" macbook perfectly! for those of you who know the macbook pro's aren't light.. although i'm awaiting work to swap it out w/the air...

this pack is great..good & compact - lots of pockets, and it really does have more room than it appears. although my favorite feature (don't ask me why) is the retractable key ring on the inside of one of the pockets on the strap.

Overall, very satisfied w/the pack - good enough to carry to work as well as take on one of your weekend excursions!
I am curious to know how much space the...
I am curious to know how much space the padding for the laptop sleeve takes up. I am not very interested in carrying a laptop and don't want to waste cargo room on laptop padding.
It's minimal. Even if you never use it you are only losing the thickness of the Backpacker Magazine gear guide. It may even work as a place to put your water reservoir.
Are you getting this in anytime soon for...
Are you getting this in anytime soon for the r/lg size in carbide color?
If you use the live chat feature, you'll get a fast and more accurate answer.
The Packs are in! We got three in today!
can you fit an iphone in the cell phone...
can you fit an iphone in the cell phone pocket on the shoulder strap?
You sure can! It was made just a touch bigger than the iPhone so that it can fit various smart phones without making it too sloppy for the iphone4.

Cheers!