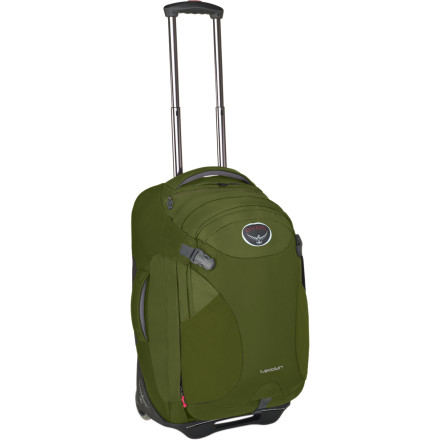 Colors

Videos

Community Images
Description
Covers all your transport possibilities.
It's a rolling gear bag, a travel backpack, and a small daypack—the Osprey Meridian 22 Rolling Convertible Backpack is whatever you need it to be to fulfill your traveling addiction. Osprey knows not all travel goes smoothly, so it outfitted this pack with a rolling luggage design, a backpack suspension system for functional transport in any location (all backpack straps are both stowable and removable), and a detachable daypack.

Ballistic polyester and nylon provide solid durability and longevity while you rack up frequent flyer miles
Backpack system comes in handy when the terrain gets a bit sketchy
Backpack system features foam padded shoulder straps and fully padded spacer mesh lumber and hipbelt to transfer load effectively, and the whole system stows away or zips off completely so straps won't flap around in wheeling mode
New second slot in ventilated mesh back-panel extends adjustable torso length range
All backpack suspension components are removable to allow for increased packing capacity
HighRoad high-clearance chassis enables the Meridan to roll down the street, subway platform, and tarmac with ease
Smooth-operating retractable handle has an ergonomic grip for comfortable transport
Padded top and side handles supply comfortable carry
Large main compartment is accessed through a panel zip with lockable sliders
Internal compression straps feature fabric wings that hold clothes securely in place
Four zippered pockets in main compartment keep your gear organized, while an external zip top pocket works well for your toiletries, liquids, or frequently used items
Rear panel stashes your mags, while an ID card window lets everyone know who owns this fabulously awesome bag
Hideaway quick-release attachment strap simplifies carrying an extra bag
Please check your airline for actual size restrictions; most airlines allow carry-on baggage not exceeding 45 linear inches
Best Traveling Pack across the globe
Familiarity:

I've put it through the wringer
After 1.5 yrs of service in countries in S. America, Europe and Pacific Islands, let me get the one thing I think can use a design change: the wheels dig into the back when carrying heavy loads. Also, this is a minor aesthetic - I've washed the detachable backpack a number of times (actually my wife has) and it is now a lighter and brighter green color than the main pack. Its two tone now, but I have convinced myself that it still a very handsome pack.

Other than that - I absolutely love this bag and cannot do without it when traveling.

I've had this fully packed when I am traveling to Chile (patagonia region - lots of going over rocky terrain), Peru (hilly, dusty jungle roads) , Europe ( think running down trains between Italian - Swiss border when the Italian trains push in 15 min behind schedule and the Swiss trains are pulling out precisely on the second) and it is rock solid. The wheels, long handles, zippers - all heavy duty and nothing has broken yet (fingers crossed). I keep expecting the zipper attaching the tiny detachable backpack to the main bag, stuffed with my super sized 17" MacBook pro (yes it fits this) and its accessories, to finally complain and split the seams, but the threads are holding strong and show no sign of fatigue.

One thing I underestimated is the load balancing of the bag when fully loaded and you are pulling this behind you at a busy airport, negotiating your way between the crowds trying to get to the gate. Other bags I have had are either too top heavy, or wobble & tip over when you pull - this bag doesn't do that. It has a low center of gravity and is stable and straight when you pull it. You don't need to watch how you are pulling it - it gratefully follows you like a dog that convinced you to spring him loose from SPCA prison. It also doesn't fall back (it can lean , but not fall) when fully packed. That's good design - its load balanced. I was on top of a bus somewhere packed with a bunch of people and this bag was stayed sitting straight up when the bus swerved and barely missed a 2 stroke motobike screaming towards us. Several other bags fell. I think that the external load straps keeping the bag as compact as possible while taking the load off the zippers has something to do with keeping the shape and weight distribution of the pack as compact and solid as can be.

I initially thought the removable day pack was a bit too small to use as a regular daily backpack, but its not. I just figured out I carried too much stuff. I ended up tailoring my lifestyle to the constraints of the daypack, and my life is so much simpler and less wasteful. I ended up over-utilizing the day pack for everyday use, hence the over washed two tone look. I now have another pack (the black Thule bag) for everyday use, but I would still rather use the Osprey Meridian day pack.

So Osprey, if you are reading this - can you sell the day pack as a separate unit to replace the one I have?

Bottomline, it is solidly constructed (I have absolutely no rips, tears, zipper/buckle malfunctions) and just big enough size for traveling without being too obnoxious to those around you. Conform the things you must surround yourself with to the size constraints to this bag and you will be much happier. Don't focus on its limitations, just go with what is offers - it will change you.

(edit - photo is from Ankor Wat temple in Cambodia)
Great pack for 4 years running
Familiarity:

I've put it through the wringer
I've had this as my carry on bag for almost 4 years now and I've been really happy with it. It's a great size for a long weekend up to a week, depending on how light you pack. The bag fits in average US carry on bins pretty easily. It can be a snug fit with the removable daypack still attached, but I've only ever had to gate check it on a tiny regional jet that didn't really fit any rolling bags overhead. I typically pack the daypack with stuff that I'd like to have at my seat during the flight and zip it off right before I get on the plane. It's really nice to be able to zip the daypack onto the bag while you're walking around the airport and not have anything on your back or shoulders. The daypack is a decent size - not as spacious as a standard school backpack, but plenty big for a large laptop, tablet, chargers, snacks, etc. It's pretty low profile so if you do zip it off and have it under the seat in front of you it doesn't chew up all of your legroom.

The body of the pack is pretty spacious. As other reviewers have noted, the frame for the carry handle sticks out a bit into the bag in order to make room for the backpack harness. It does sacrifice a little bit of interior space, but the tradeoff is that you can carry the whole thing as a backpack quite comfortably. Additionally, the frame is designed to keep the bottom edge pretty high off the ground when you're wheeling it, so you don't have any issues with getting stuck on uneven ground.

Durability on this pack is great. I've had this for almost 4 years, taking it on flights 6-10 times a year plus other car trips. There aren't any major signs of wear and I haven't had any seams blow out or anything break off. I did manage to get a gash in the fabric on the side of the pack on one trip, but with Osprey's All Mighty Guarantee they sewed it back up free of charge. Knowing the abuse that travel bags can go through, Osprey's guarantee is a pretty huge feature.
I was attracted by this backpackd because of its multiple features. And I was excited about it when I just got it. It looked like a durable. backpack. However, after first time use, the lower buckle clip was broken. It let me feel bad. And I didn't know how to fix it. After that, I just used it as car trip.
Perfect Carry On
Familiarity:

I've used it several times
Plenty of room for 3-4 days of clothes and the detachable daypack works great with my macbook air/ipad and other items.
Perfect Carry On
Familiarity:

I've put it through the wringer
I bought the Meridian 22 Rolling Convertible Backpack over a year ago and it has been my go to travel bag. It is the perfect carry on, that holds more then enough. I have taken it all over the world and love the removable back pack. If you travel for work this a real win purchase.
Dissapointed!
Familiarity:

I've put it through the wringer
Was initially excited to get this bag. It looked cool and functional, however in practice it doesn't live up to expectations. It has a ton of lost space from the handle bar rails and the backpack straps. Also, the wheels will poke you in the hips if you wear it like a backpack to the point that if you have to go further than a few hundred yards you will regret it. I completely removed the back pack straps and now stuff items in that space. Lastly, the zip off pack is weird. It has one large compartment that needs to be divided up to keep your small stuff organized better. It works okay, but i was expecting better from Osprey.
Osprey Fall '09 Packs Meridian & Sojourn
The contents include 3 pants, 5 shirts, 4 pairs of underwear and 6 pairs of socks. The top of bag toiletry pocket (shown at top of image) is also fully packed for 3 weeks of travel. The image may not display this, however, there is still plenty of room for 1-2 more pants and shirts, not to mention the available space in the detachable backpack for camera gear or whatever else you need.
Absolutely amazing and versatile!
Gender:

Male

Familiarity:

I've put it through the wringer
My first international travel experience taught me the importance of packing light; never again will I check a bag. I think I researched all 22 inch carry-ons ever made, well at least from all the major companies (Eagle Creek, Victorinox, High Sierra etc.)



I read every review I could find and was impressed with the consistently high ratings from each source so I decided to take the plunge and buy the Meridian sight unseen (unable to locate in any local stores) and was immediately impressed when I received it.



The pack has more features than I can list in this review so I will try to highlight my favorites:



Top and Side handles extra thick (but not obtrusive), comfortable and extremely durable.



Top external pocket is wide and deep and allows for easy access to toiletries and documents when going through airport security.



Easily fits in domestic (US) carryon compartments and can be wheeled down the aisles without a problem.



The main bag backpack system is awesome. Fully adjustable and removable with chest and hip belts, plus, it does not extend out past your hips (I'm 5ft 11 180lbs) so you can easily walk in crowds or down aisles without acting like a bull in a china shop.



The storage system allows it to be fully concealed and, when removed, makes a nice area to place your dirty clothes or travel maps, documents etc.



Bottom bumper to ensure the pack does not tip over, I have had this fully loaded and never a hint of balance problems, additionally, the wheels are extremely smooth and surprisingly quiet.



The removable backpack makes for an awesome day bag or is also big enough to use during a weekend get-away. If there is one thing I could recommend to Osprey is to add a hip belt to this as well. That is truly the only upgrade I can recommend for the entire pack system.



As you can tell, I am completely wowed by the bag. Best of quality with amazing features and versatility. I highly recommend it.


color on website different than product
Familiarity:

I've used it once or twice and have initial impressions
I love the backpack and am happy with it. Just wanted to point out that I ordered the patina green backpack, which looks quite green. When I opened my package, the green I saw was more of a metallic/grey green (see photo). I'm fine with it, but just wanted to point that out.
This is my second Osprey Meridian luggage that I have bought. My husband and I love the detachable backpack. It makes things so much easier when traveling to be able to attach or leave it unattached for day tripping. My first bag was red and while this states it is a Rusted Red, the one I received has no red to the color. I would describe it has Rust (brownish orange). I like the zippered compartment on top for easy access to liquids quart sized bag for airport travels.Would Highly recommend this bag.
Bag has performed flawlessly
I travelled with a 22" and 28" Meridian Bag on a Month long trip to Indonesia with my wife 2 years ago and numerous trips since. The bag has survived several trips at this point and outside of some scuffs from air travel looks almost new. These are very tough bags with comfortable handles and the ability to convert into a backpack. This is a very handy feature when travelling to Europe (where hotels often have no lifts or elevators) or Anywhere you may have no paved road or very rough roads that have to be travelled over to get from one destination to the other. I found the wheels to be both sturdy and large enough to travel over cobbled or rough gravel roads with no issue. The 22" was the perfect size for most carryon bins and the 28" was large enough for a long trip. After a trial run my wife and I were able to fit all of the clothign for an upcoming 28 day climbing trip for our family of four in the two bags. We are light packers, but with some immagination you can get a lot into these things.



One note - with the removeable backpacks attached these are top heavy and will likely fall over. Its a great benefit when pulling and moving the bags from one location to the other, but can be a hasle if you're sitting around and want the bags to stand on the wheel side.