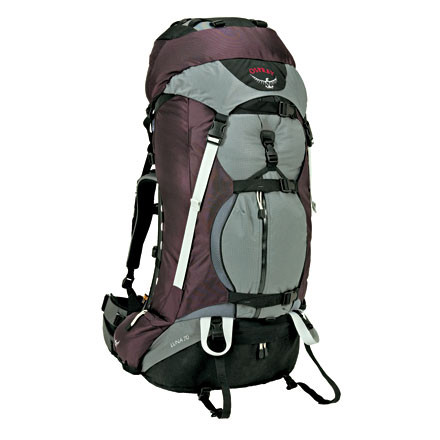 Unanswered Question
Can you please tell me ho many liters is...
Can you please tell me ho many liters is the volume of XS backpack , and how much does it weigh (less than 6lb 8oz?)?Thanks.
I LOVE this pack. This is the first women's pack I've ever owned and I'm never going back.
YEARS of sore hips are a thing of the past as I now wrap my womanly hips in a decadent, curved waist belt. The shoulder straps are narrower and actually fit my shoulders. My Osprey hugs my back thanks to its curved suspension system which results in a much more stable, better distributed load. There is even a kind of 'pocket' right behind my head which enables me to look up without banging into my pack. The shoulder harness & waist belt are both detachable, interchangeable & come in several sizes so getting the perfect fit is easy no matter what your shape & size. The detachable daypack is a really nice feature which I use often. There is a separate sleeping back compartment & side zips so you don't have to pull everything out from the top of your pack in order to reach something in the middle or the bottom. The lid is also removable for use as a day pack and has two compartments, one for maps & small items and another for a hydration system.
The construction of Osprey packs is absolutely bomber. The fabric can withstand the harshest lashing slide alder can dish out and the zippers are virtually indestructible. The buckles are high quality and never fail.
I've packed 6 days worth of gear including climbing gear into this pack and it carries like a dream up to about 65lbs. At 70+ I could feel the suspension struggling but then so was I! No one who fits this pack should be carrying that much anyway. At around 6lbs, you can find a lighter pack but I find that this pack fits me so well the extra weight goes unnoticed. (apparently the 2006 models are lighter)
My one and only complaint about the Luna is that there are no hook and loop closure ice axe holders. It does work well putting the ice axe in the compression straps but I would rather have a separate strap so it doesn't fall off every time I need to get in there.
Fitting this pack is simple. They come in XS to L sizes for both the pack and the hip belt. The shoulder harness comes in XS - L so you can mix and match. If you have narrow shoulders and wide hips for example, you can get a small shoulder harness and a medium hip belt. The newer models come with heat moldable hip belts which should make it even more comfortable.
For comfort, space, fit and practical use this pack really can't be beat. It's a bit pricey compared to other packs but worth every penny and then some.
I absolutely love Osprey packs. They are truly one-of-a-kind and live up to their potential. I've used Osprey packs before and now that I have one to call my own, I'm stoked! My favorite thing about these packs is the hip belt and how comfortable it is. It doesn't leave rashes and it sits on your hips just right.
I've used my Luna 70 twice now on overnight trips, and I've been very happy so far. The pack is comfortable and I don't feel all sore the way my old pack made me feel after a long day. One thing that is important to do is to learn how to adjust your pack for a perfect custom fit. The pack is highly adjustable and little tweaks can make a big difference.

For example, the chest strap rode too high up on my collarbones at first, but the instructions show how to move the harness up and down with the hook-and-loop attachment. I adjusted it taller and the chest strap fits great now. There is also an adjustment they recommend where you fit the metal stays to your back, which I haven't tried doing yet. Admittedly, the pack felt great the first time I used it before I ever adjusted it, but it felt even better with adjustment.

The pack has a lot of nice features: a hydration reservoir holder, the front side zip for easy access to all parts of the main compartment, among others. The top of the pack becomes a hip pack for day hikes (though a little small for a day hike up a fourteener.) I also like the pockets on the center of the pack for keeping snacks and maps.

The only thing that confuses me about packs these days is that the sleeping bag compartment is at the bottom of the pack. I tried using it recently for heavy items instead which I think weights the pack better. I would love to see a sleeping bag compartment near the top, but perhaps there are good reasons for not doing so.

Overall, I've been marveling at how well-engineered the pack is, and all the little details they paid attention to. It really is a very well crafted pack, and I'm looking forward to trying it out on some longer trips.
The Luna 70 is the first backpack I've ever owned. I've heard that most people try a few backpacks before they find one that they love. This wasn't the case with me. It fits great! The molded belt is really helpful! I love how you can transfer the weight from your shoulders to your hips. I would highly recommend this backpack! The only downfall is that it is a little heavy. However, if you are like me, I can't pack light, so this backpack is great!