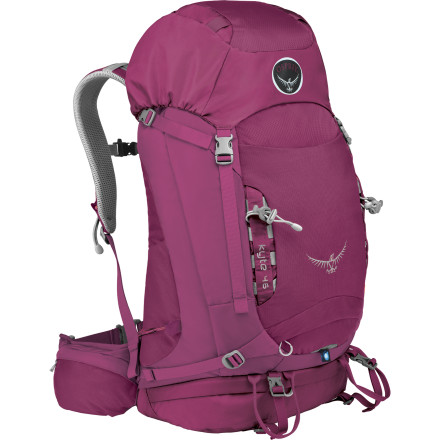 Community Images
Description
A versatile backpack that has your back both on the trail and during your travels.
Whether you're traveling by train or planning an overnight trip into the mountains, count on the Osprey Women's Kyte 46 Backpack to get you to your destination. This lightweight, durable, and versatile pack delivers stellar performance on the trail or during your travels. Its women-specific fit and AirScape back panel ensures comfortable support, while an array of pockets help keep your small essentials organized and easy to get to.
Women-specific pack design features a narrow pack shape with added depth in the right places
Women-specific shoulder harness consists of thoughtful angle changes and varying padding thickness to create an anatomical fit for a woman's neck, shoulders, and chest while a sternum strap equalizes the pressure across the shoulder harness
Women-specific hip-belt takes into account that a women's hips are more conically shaped with a larger difference between the waist and hip measurements so you have a more comfortable load transfer and optimal support
LightWire peripheral frame effectively transfers load weight to the hipbelt
AirScape back panel features smooth spacer-mesh lumbar fabric for comfort and ventilation
Torso adjustable harness provides a customizable fit
Kyte 46 comfortably carries a maximum weight of 40 pounds of your gear for overnight trips
Large top opening lets you effectively pack your gear while a floating top pocket can extend to handle overloads
Strong, durable 420D nylon packcloth offers you a solid pack for years to come
External hydration sleeve stashes your hydration bladder (not included)
Stretch mesh front pockets and side pockets stash your map or water bottles, while zippered hip-belt pocket hold your small camera
Fixed top pocket with gear loops, dual-zippered compartments, dual-vertical side pockets, and under-lid zippered mesh pocket for easy access to your small essentials
Front daisies with bungee tie-offs and dual ice tool loops hold your tools or climbing gear
Reverse StraighJacket compression straps secure your load
Removable sleeping pad straps for convenience
Stow-on-the-Go trekking pole attachment allows you to tuck away trekking poles quickly without having to remove your pack
Packs it right, packs it tight!
Familiarity:

I've used it several times
This pack is the perfect size pack for day mountain treks or casual overnight backcountry camping. I am able to fit my sleeping bag, a small tent, and sleeping pad in this pack without feeling like the Hunchback of Notre Dame. Great weight distribution and tons of nooks and sneaky pockets for snacks and other misc. essentials (harmonica, watercolor paints, etc...) Having two pockets on the waist strap makes it easy to have your quick grab items very accessible. I do wish the brain was removable like on some other Osprey packs, but other that that, pretty ideal.
Gets me fun places
Familiarity:

I've used it several times
This pack is perfect for shorter trips! There's enough room for my Marmot Trestles sleeping bag in the lower compartment and a couple days clothes up top. I wouldn't say that this will carry more than a weekend's worth of supplies unless you pack ultralight and then you could likely get a week's worth of supplies stuffed in.



I love the fit of the pack on me as well. Super comfortable and even stuffed full, I could tell the back wasn't going to get sweaty while hiking due to the mesh material.



All of the different pockets are really nice! Lots of nooks and crannies for various items that you'll need throughout your hike.
Would this back pack in size xs still meet carry-on requirements of 21.5" x15.5" x9" if not fully packed? (The osprey website lists the dimensions of the xs as 25" x13" x11"- I'm assuming fully loaded). Thanks! :)
I would definitely say that this pack will work as a carry on bag. A friend of mine just borrowed the pack from me to take with her to Panama for 10 days and she carried this on to all the plane rides with no issues.
Do you stock the Osprey Kyte 46 in size XS/S?
Hey Randall,



Unfortunately we do not have any more XS/S in stock and I dont see that we have any on back order.
I am trying to find an all in one pack.( if even possible) I want something that would work for hiking for a week or possible thru-hiking. would this pack work? I would be hiking with my boyfriend so would share the weight on the food, tent, and stuff like that. We have pretty light gear. i have also considered the Ariel 65 but I think that may be too big.
I think if you packed wisely you could get by with this pack for a week of mild weather backpacking. It is essentially the Kestrel, just 2 liters smaller. You can attach a lot of stuff to the outside... talk your boyfriend into hauling the tent and you would probably be fine. It's a very comfortable pack.
So Great!
Familiarity:

I've used it once or twice and have initial impressions
I'm so excited! I just got my backpack and it's perfect! The bag is super high quality and fits me great. I ordered the teal version in a XS/S size, perfect for my frame. I'm 5'2" and I weight about 120Ibs. The straps are very comfortable and the waist belt holds my form nicely.
I'll be backpacking around Europe for 6months, I leave in June and Ill stay till late December. This backpack was recommended to me by a wonderful assistant on backcountry, I had mentioned that I wanted something that was carry on size but with enough space for clothes and things for a long term trip. The Kyte 46 definitely hits the characteristics I wanted and it looks good too ;)
The teal color is nicer than I thought it would be. The color isn't too bright and has subtle patterning that shimmers in the light. The main pocket opens up quite a bit and gives me a surprising amount of space for everything I need.
Love this this backpack for its utility and gorgeousness!
Need to be specific on your purpose...
Familiarity:

I've used it once or twice and have initial impressions
With a small bear can, an UL tent (preferably with trekking poles as tent poles), and an UL rain gear set, you have enough room for an overnight trip.

If you want to go for a couple of days where you will need to put in a few extras like a change of clothes, it is better if you use it somewhere they allow bear bags.

If you want a bear can for such a trip, I would upgrade to the Ariel 55. You have a smidge more room to fit in a change of pants and a shirt.

Some of the reviews I've read for this pack, I wonder how the person packs because they use this pack for week-long trips. Maybe, they're the ultralight through hiker types, which doesn't describe me, or maybe they have a lot of stuff strapped to the outside of the pack.
No more bag check!
Gender:

Female

Familiarity:

I've used it several times
I purchased this pack in hopes it would turn out to be my one pack, perfect for climbing Colorado's 14ers, light backpack trips in the desert and traveling.

I am 5'9", 135lbs, generally wear women's size small to medium. I purchased the S/M pack as the shoulder length fit the best for my taller frame. The waist belt is a bit big, I have to wear it cinched as tight as it can possibly go, so I wish that the waist could be just a tad smaller (the XS/S size fit my waist perfectly with plenty of room to adjust).

I just returned from a 12-day trip from Colorado to New England. The pack was my primary bag for the entire trip and I wanted to make everything as simple as possible. I carried the bag with me everywhere. I walked all through airports, flew, rode busses, trains, hitch hiked and rented a car.

The Opsrey Kyte 46 was perfect! At first I was worried about not being able to take enough clothes for the trip, but I managed to squeeze plenty of days worth in there. It has so many nooks and pockets that I was able to keep everything pretty well organized.

It strapped down super tight and fit like a gem in the larger jet's overhead bins. The only time it was too big was in the smaller Boeing jets/prop planes for the shorter flights. For those I just did the quick check at the gate which worked out great because I was able to pick the pack up right at the arrival gate. I never once had to worry that my stuff would get lost in baggage.

I carried the pack stuffed full all round Boston, carried it riding the subway and trains and buses from Boston to Maine. It was heavy. I never had a chance to weigh it, but it had to be a good 50lbs or more. Carrying the pack around at that weight tended to be a bit much on my shoulders, but it did a great job of keeping the majority of the weight on my hips. It never once got unbearable uncomfortable. I even managed to cram a few more momentos in the pack to take home as well!

Overall it was awesome, I can't wait to take it up mountains!
Great weekend pack!
Familiarity:

I've used it several times
Used this pack for an overnight backpacking trip and it was the perfect size. Very comfortable pack with just the right amount of storage. I'm 5'5'', 125 lbs and the S/M pack fit just right. Would definitely recommend this great quality pack.
I am 5'1'' and I was wondering if the small or x-small pack would be better for me?
Let me know if you want to talk packs or if you are having difficulty figuring out sizing.



Eric Watford

Expert Gearhead

ewatford@backcountry.com

800-409-4502

Ext. 6069

Instagram: @ericwatford
The One
Familiarity:

I've used it several times
Finally upgraded. This pack is the perfect size to carry my stuff and some of my kids' overflow if necessary to spend a night or two at a hut. (I would not describe us as minimalists). Took a bit of walking and trial and error to adjust all the straps correctly but after 2 heavy days, no backache! One thing...I was misinformed that a rain cover was not included (and thus bought one) however this pack DOES come with a rain cover. After backcountry realized their mistake, customer service was very helpful and responsive....
This pack seems perfect for my upcoming...
This pack seems perfect for my upcoming Nepal trek but I'm wondering if it could crossover as a ski touring pack. Can you strap skis to it and are there spots for probe, shovel, etc?
Might be tough to find something that will accommodate skis and still have the (back) breathability you'd want when trekking.
took this pack to Nepal with me and it survived!! lots of pockets and big enough to put sleeping and camping gear along with a few nalgene bottles.