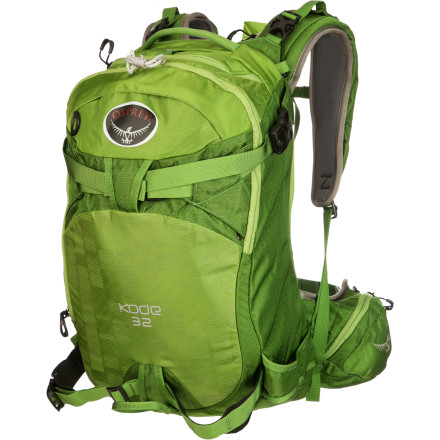 Colors

Community Images
Description
The perfect sized pack for short tours and backcountry missions.
In bounds, out the gate, or full-on backcountry — the Osprey Kode 32 Backpack doesn't discriminate when it comes to a day out in the snow. This mid-sized ski pack holds your avy tools and other essential equipment for short tours or shredding the backcountry.
The Osprey Kode 32 was constructed from 420 denier nylon. It features an Airscape back panel that allows ventilation between you and the pack. For added comfort, the adjustable shoulder and chest straps have been molded from EVA foam. Meanwhile, compression straps and panel loading allow the pack to be configured according to what you need to carry. From ice tools to a snowboard, a dozen different arrangements are possible. Additionally, hip belt pockets allow easy access to your camera or phone. Everything is kept dry with an integrated rain cover. Gear carrying is for naught if you're parched by the time that you reach the peaks. For this reason, an external hydration pocket has been added in order to keep your thirst at bay.
420 denier Nylon
Panel and compression loading
External hydration pocket
Stow-On-The-Go trekking pole attachments
Adjustable torso straps
Best pack ever.
Familiarity:

I've put it through the wringer
I've used this pack close to 500 days, resort riding, side country, all day tours, you name it. This is the most well thought out pack I've ever used. The front pocket perfectly fits a shovel, probe, saw, and snowpack study equipment/field book. With all the essentials tucked away and well organized in the front pocket it leaves plenty of room in the main pocket for skins, extra layers, crampons, lunch etc. I often keep an extra pair of gloves and hat in the goggle pocket in addition to goggles and a radio and have never had any issues with encroachment on main pocket space. The hip pockets are roomy, the helmet sling tucks away so tight you wouldn't even know it's there and it A-frames a pair of skis like a boss.
After three plus seasons of using this pack every day I have yet to have any issues with the craftsmanship. I've replaced a few buckles but besides that nothing else has failed me. I would highly recommend this pack to anyone in search of a quality ski pack.
Not Bad, but not great
Familiarity:

I've put it through the wringer
Have had this for a few years, and have used it for many skiing and snowmobiling trips, in addition to regular daily use as a school bag. It has held up just fine, no undue wear or tear, no failures of any sort, and looks nearly as good as it did new. My main concern is that the design of the pockets does not allow for effective packing. for example- Fill up the main compartment completely, and your goggle pocket is useless, being smashed into the top of the bag. Also, the front pocket becomes too tight to fit much in there. Vice versa, fill any of the other pockets up with hard or odd shaped items, and you are quite limited in filling the other pockets. Just annoying and uncomfortable to load. Very comfortable pack though, and the belt pockets function nicely. Yet, as someone else noted in another review, loading either skis or snowboard with an helmet attached makes for awkward hiking and moving, with stuff not quite secured as it should be. One last thing, is that a full day at a resort, if it's snowing, or you place the pack in the snow, it can get wet inside. On a powder day when everything is covered and melts quickly, things can get damp/wet depending on where they are in the bag. I know this pack doesn't claim to be waterproof, and for the most part it works ok, but the times when my gear got wet were quite frustrating and annoying. I'm not sticking it in puddles, nor am I using it in the rain, so, you know, I'd like my snow bag to stay dry in typical snowy circumstances.
TLDR(too long didn't read):
Good= comfortable, good looking, durable.
Bad/Dislike= doesn't pack well, can get wet.
The Osprey Kode was made for touring and it absolutely excels at that. A thirty two liter is the perfect size for a day trip.



The main compartment is large and easily accessible behind the back panel. There are smaller, separate compartments throughout the pack which help to stay organized and the helmet cary is a must; however, it does cover a good top pocket. This pack has fantastic a-frame carry for skis and splitboards and carries one ice axe well.

There is a separate avalanche equipment pocket in the front of the pack that is well designed for organization of the the avy tools. This pocket however is a little bit two small for full size shovels when the pack is stuffed.



The Kode32 is a great touring pack; however, would not due for a ski patrol. Not enough room. It is also lacking when it comes to ski mountaineering. It holds only one ice axe well, and there are no extra gear loops. I highly recommend it for basic touring.
Love the backpack, love the size and all extra comfy pockets.
But internal lining is wearing off where it contacts with the hydration pack. Also missing the helmet clips so I can not attach them.
How do you carry a shovel with this pack. Size for a guy 5'11" 160lbs?



Thanks!
Hey there - Leta from Osprey chiming in - That's exactly right, Sierra. Mike, let me know if you have other questions! I'll keep a look out on this feed.
RAD
Familiarity:

I've used it several times
i've had this pack for a little while now, and it truly is one of the best on the market. It's super comfy and has everything you need without much that you don't. It is very versatile as well, this pack can handle almost anything. The only problems I have with it are that when it's packed, there isn't much space in the avy pocket, and when you have a helmet strapped on, it gets in the way of everything, and makes it hard to do an A-frame with skis (but not impossible). Overall, get the pack, and then show it off to all of your friends.



That's me with the hoodoo red pack :)
great pack
Familiarity:

I've used it once or twice and have initial impressions
used it to hike up into tuckerman last week. held my skis a frame style, poles,boots(my boots fit in the large compartment accessed thru the back of pack) helmet, goggles, 70 oz of water, gloves, extra shirt, jacket, thin puffy, socks, snack, ice ax, & crampons. had a sweet hike kept everything stable with all the straps. stable when skiing down. my feet are small (23.5)so i dont think that many people would be able to put their boots in the pack(would have to attach to bindings on skis). i got the s/m size fit good I'm 5'6
Mega comfy and well thought out.
If you are looking for a good in bounds/out of bounds pack, I highly suggest this pack in this particular size. Pockets are well thought out and work well for me. They are the foundation for you organization and I'm psyched on the system I have with this pack. Mega comfy, I wear this everyday wether I'm riding lifts or not.



The reason I am most excited about this pack is because of Ospreys AMAZING customer service. I'm on my third season with the Kode and I've definitely beaten the bejesus out of this pack. I've broken the zipper in 2 spots and the edges/breaks of my skis have ripped holes in the sides from packing on the sides, A-frame style. I sent my pack in on Monday I will have it back this coming Monday...1 week turnover time. I've never experienced that with any other company. The All-Mighty Guarantee is legit and the person I have spoken with on customer service is eager to help and so friendly (Mary Jo, you ROCK!!!).



5' 8" 160 and I'm pretty sure I have size S/M
Almost A Really Good Pack
Familiarity:

I've used it several times
I used this pack touring for a season and have decided to sell it and buy the Gregory Targhee 32.

The construction of the kode is phenomenal, its a well built comfortable pack which will serve you well for day trips. My issue with it comes from touring with snowshoes and a snowboard. When attaching a snowboard vertically, the bottom strap doesn't cinch tight so my snowboard flopped from side, making hiking unstable, on top of this, the way the snowboard sits on the bag makes it impossible to use the helmet carry system without having your helmet constantly bang into your head. The lack of a tight bottom strap also ment that I had to jury-rig a way to hold snowshoes securely on the pack. Another minor annoyance is that there aren't any compression straps on the bottom of the back, but that's a personal dislike, not a flaw in the pack.

Overall, I'd recommend the bag to anyone who skis or has a splitboard, but would advise people using the snowbard+snowshoe option to look elsewhere.
High Quality High Performance
Familiarity:

I've put it through the wringer
The title says it all. I've had this bag for 3 years now and have not had a single problem. The ski carrying options are great, I personally put them A-Frame. The pockets and features of this bag like the helmet netting are perfect for lugging your gear up the mountain. The bag itself has a rigid back and gives you some protection. All the straps also help to distribute the weight evenly on your back. Overall, this pack has outperformed my expectations
Solid daypack
Familiarity:

I've put it through the wringer
I got this for sidecountry/short backcountry trips to carry avy gear and an extra layer, as well as day hiking in the summer. It's been awesome! The frame makes the pack super stable even with skis and boots A-frame style for a muddy hike into Tuckerman's ravine. My friends with smaller frameless packs were jealous.



I got an osprey hydration system as well, which fits perfectly in the pack, and is held close to your back. The hose tube is "insulated", but it will freeze up in anything below about 25 degrees.



Helmet carry system is handy for keeping snow out of your helmet on the way up, but you can't access the avy tools pocket or the goggle storage pocket while your helmet is attached. Also, depending on the size of your helmet, you may not be able to strap the tips together to A-frame because the pack is quite narrow.



Hip belt pockets are great for storing a knife for quick access if needed, or small snacks. They also hold the extra foot of webbing strap for you skinny guys.



The goggle pocket on top holds a DSLR with a 35mm or small zoom perfectly, and I don't need to put a lens cap on because of the soft fabric. I'm still searching for the best way to carry a DSLR outside of the pack for quick-access shots...



My one major gripe is the cut of the avy tools pocket. There is no actual volume built into the pocket itself, so if you pack the main area full of gear, clothes, etc. it is nearly impossible to put anything in the avy pocket.



All-in-all a great product. I just hiked up Mad River Glen in a driving snowstorm that caked about an inch of ice on every surface of my body and pack, but the pack fabric kept any moisture from getting into my gear. I managed to fit a sleeping bag and tie a pad to the outside of the pack for the quick overnight, but wouldn't recommend this pack for regular overnight use.
When will additional M/L nitro green or black packs be coming in?
Hi charlie,

As of right now we unfortunately do not have any more of those ordered to come in, sorry about that!