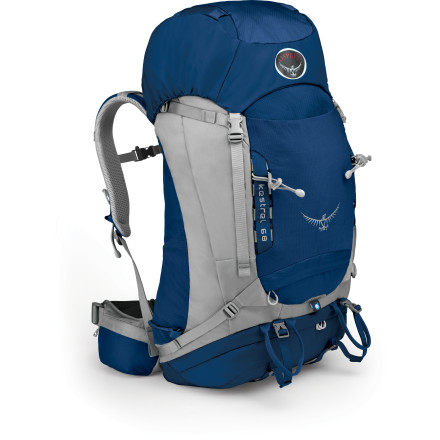 Community Images
Even when you're packing gear for a week-long expedition, you'll have plenty of space to stow it in the Osprey Kestrel 68 Backpack. You can comfortably carry loads weighing up to 55 pounds thanks to the advanced Lightwire suspension and supportive ridged-foam AirScape back panel, complete with a mesh covering for superior breathability and pack-to-back contact.
Durable nylon shell fabric resists abrasion
Integrated raincover protects your gear when the clouds burst
Plenty of pockets let you access small essentials without performing an archeological dig through your pack
Integrated ice-axe loops, trekking pole attachment points, and sleeping pad straps let you secure gear externally
Great fitting pack for weekend, over-nighters, or even a week. Carried all my gear comfortably. No complaints as of yet.
Love the pack! Its comfortable, light, solid construction, and is functional for a variety of adventures. I as well travel with mine and backpack with it. The pockets are solid and roomy, easy to use and get to. Hydration sleeve is a different style than most, but I have not noticed mine on my back at all. I do have some problems with the zipper, loose construction makes it hard to zip up with one hand on the hip belt, and two hands with the sleeping bag compartment. In the end doesn't really hurt the pack and its awesomeness.
The pack that could and would
My Osprey Kestrel 68 Pack is glorious. Why? Because I can use it for everything. So far, "everything" means camping, hiking, and traveling. I've used the rain fly twice and it's fast and effective. Most importantly I feel like I can hike forever with this pack on and not have my back get fatigued. I love the waist belt gear pockets and the quality build of this pack can't be beat.
I love this pack! It's by far the most comfortable pack I've used. I love the front stretch pocket. I laced bungee chord throught the webbing in the front for a little more versatility. The hipbelt pckets are probly my favorite part. They are solid fabric instead of mesh and they are huge. I love how the hydration pocket is seperate but I feel like they planned that out because unless you want to unpack everything before putting your bladder it is very difficult. The opsrey bladder has a frame though and should work fine so I can't recommend getting that one for this pack enough. I also love the raincover/pocket. its alot better than buying a seperate and having to shove it in that tiny stuff sack. The 68 Liter is overkill for me but I'd rather have too much room than not enough. Overall this is my go to pack for everything.
Trying to decide what size pack to upgrade...
Trying to decide what size pack to upgrade to. Have already decided on the Kestrel based on all the reviews I've read, here and elsewhere. Currently have a very basic daypack (~30L) which is really at capacity and very uncomfortable to wear. I would prefer not to have to get a pack for each type of trip. Is there any reason why I shouldn't get this 68 and just cinch it down when I have a smaller load for a summer day hike? I'm not an ultralighter by any means, but I try not to pack the double basin kitchen sink either. I would like to have a single pack that's good for 1 day to many day, solo or group. Thank you for your thoughts!
Best Answer
In general, the Kestrel 68 would probably meet those needs just fine. If you had a little extra $$, I would consider the Aether series as they compress down to smaller volume much better.

However, from the sounds of it, you're looking for something that'll compress down to about 40L volume and this should do just fine for that but still carry 45lbs for backpacking fine too!
From personal experience I can recommend the 65L size from single to 5 day trips. The osprey has a great fit and their bladder is LEGENDARY :) Looks like a great pack and the size looks perfect. Hope this helps and happy hiking!
Its all the pack you need for spring,summer,and fall trips. Lots of room and plenty of pockets to separate gear. Also a very comfortable pack, well balanced, keeps the weight distributed and the suspension keeps the pack close to your back, yet cool and breathable. Too, you've got to love the integrated rain cover. You can easily do a week w/ 40 # or less and feel like you've been on vacation. My wife and I both have the Kestrel 68 and love em. ...the Warranty speaks for itself!
what size sea to summit eVent compression...
what size sea to summit eVent compression sack would fit best in the sleeping bag compartment?
The medium...depending on how compressed you can get it the large may work as well.
Osprey Kestrel 58 and 68 2012 Redesign
this is the review fro the 2011 model. They changed very little about the pack overall. I have looked at the 2012 models and this should still be useful. I hope you enjoy!
Great pack! Very comfortable!
I have the 2011 model of this pack, but I've seen the 2012's at the store and tried them out. They are pretty much the same as the 2011 with a few minor changes (i.e, the location of the bottom compression strap). he kestrel is a great series. I really like the way they fit and distribute the weight of the load. I dry camped with mine, so I was carrying 14 pounds of water alone and it held the extra weight great. My total pack weight was 45 pounds including water and food, and I had no issues at all.
There are plenty of compartments for very easy access to your gear with tons of space inside the main section as well. The side pockets stuff to the inside, so they are a bit of a pain to pack once the main compartment is full, but not too bad. I really like the hydration sleeve being on the outside. You really don't notice that the bladder is even there (I use the Osprey Hydraform). It is a bit of a pain to pull in and out with a full pack though.
Lot's of places to clip on gear if you need to, including a very convenient place for your trekking poles. This pack really has everything I would need in a backpack. And you have got to love the integrated rain cover! All in all this is a great pack that will do well on an extended trip.