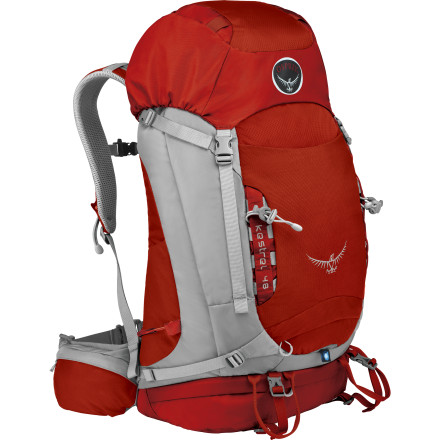 Community Images
Description
Travel light, but with all you need.
If you can't afford a pack for every single different trip you take (who can?), you need the Osprey Kestrel 48 Backpack, a versatile, do-it-all pack that includes all the features you need for overnight backpacking trips. The Airscape back panel provides plenty of support for 30- to 40-pound loads, and the interior space is supplemented by multiple pockets. Stash your sleeping bag in the external zip compartment, or attach it on the outside with a removable strap; stretch Lycra front and side pockets take care of gear overflow.
AirScape back panel circulates more air to keep you cool and features LightWire peripheral frame that stabilizes the load and transfers weight close to your body
Stretch front and side pockets give you extra storage and organization options
External loops and front daisies with bungee tie-offs give you plenty of places to stash equipment
Integrated rain cover keeps your prepared for sudden rainshowers
Stow-on-the-Go trekking pole attachment lets you quickly tuck your poles out of the way without stopping to unload
Zippered hip-belt pocket keeps your digital camera and energy gel packs close at hand
Perfect size, perfect everything!
Familiarity:

I've used it once or twice and have initial impressions
I needed to downsize from my Atmos 65, except for winter, so I went with this 48L pack. I've only done a test pack so far but I think it will be just right. My total load was around 25lbs:
- Hammockgear 20° under quilt
- Hammockgear 40° top quilt
- Warbonnet Blackbird hammock
- Tarp
- Stakes
- Extra socks and boxers
- Capilene 3 zip shirt
- Rain jacket
- Toaks 600 Ti pot (stove and windscreen inside)
- Small fuel bottle
- Stuff sack with food - a little smaller than the size of a football
- Sawyer mini water filter with 1500ml Evernew bag (in one of the side pockets)
- Bahco folding saw (in side zippered pocket)
- First aid kit and toiletries (in lid pocket)
- Battery pack for charging phone
- Small 16oz water bottle (in one of the side pockets)
- Headlamp in hip pocket

I think that's it; everything fit well!

Just like most packs, the side zippered pockets won't hold much after packing the main section, but that's how it goes. They are still nice to have for small or flat/long items.

Someone else mentioned the hip belt being too loose. No kidding! I wear 32" waist pants and I had to crank this hip belt ALL the way...not a 1/4" to spare. I think it should even be tighter, but it won't go anymore. Hopefully it works out OK.

I don't think I'll use the hydration bladder pocket. It presses against my back too much and may defeat the purpose of the Airspace feature. I'll just throw a bladder loose in the main compartment if I even take one.

I won't use the sleeping bag compartment either. In fact, I'll cut that material out since I'm 100% I'll never use it. But I like having a zipper to access the bottom...just another quick place to stash dirty socks or random things.

Included rain cover...thank you Osprey!! Smiple, but many times overlooked feature. I hate buying them separate and hoping they fit. This is stored in a zippered pocket on front; another nice place to stash small items (compass, lighter, etc.)

The hip belt padding is my only concern being pretty thin. I'll give this a good test on my first real trip.

The mesh expandable pocket on the front feels a lot cheaper than my 2012 Atmos, so I'll be careful with that.

The only REAL negative remark I can make is the lid. I cannot believe it doesn't "float" like most other packs!! Having just a few inches of adjustable strap on the back would let me raise the whole thing to pack in a large jacket or get a little more mileage out of the main compartment when packed full. But I'll make do.

Someone else said this pack is the shit. I have to agree!
Hey, I am looking at this backpack since my mom is taking back the one I took from her a couple of years ago. That being said, I need a backpack where I can stow stuff for a weekend away, whether it be hiking or visiting friends. This backpack seems like it will do exactly that, and extremely well. However, I do have one big question. Can you attach skis on the side of this pack? Thanks
Best Answer
Hey Nathaniel,



You could attach skis to the side of the Kestrel 48 with the side straps although they are not designed to hold skis. The straps are better suited to hold trekking poles or other lighter gear. You would be better off with Kode 42 Backpack (item# OSP0341) which is specifically designed with an A-frame ski carrying system.



Feel free to shoot me any questions about Osprey Packs:

Kyle

Expert Gearhead

klivingston@backcountry.com

801-736-4337
Nathaniel, Kyle is right on. There are straps there that will accommodate, but they are not built for (reinforced) to carry skis as their primary purpose. Does that make sense? But in a sort answer, yes, they can hold skis!



Leta

Osprey Rep
Awesome pack, saved me from myself
My first attempt at a real backwoods hiking trip was with this backpack. Dropped more than I should have at some other retail outlet(my bad). Anyhow, I was thoroughly impressed with the pack. I was able to attach a 4 person Coleman sundome directly to the bottom of the pack(without the poles), attach my air pad to that with a couple carabiners, my sleeping bag and clothes inside with food, firstaid, mess kit and hygiene stuff. Even with all that I was able to slide in a 2 liter water bladder on the outside. It weighed over spec in sure. Hauled it in 3 hours to a camp site and felt great. Not bad for a beginner.
I will be traveling to Europe and will be doing some touring via train. What is the best backpack to take our luggage and supplies? We want to use it as our carry on not a checked luggage. We would like this luggage to accommodate for hight less than 5 feet 5 inches.
Best Answer
I'm doing the same thing in less then a month! I just bought the Osprey Kestrel 48 in grey and it's suppose to be just fine. You should be fine in the size S/M. As long as you don't pack it to the brim, it should work great. Everyone i've talked to says to pack light, and buy things as you gander through Europe. I'm actually going to buy this same backpack for my girlfriend as well who is also about your height. A few things i could recommend from traveling Asia and Central America is grab a "Fridge-It odor absorber", A plastic Spork, and a Master Lock locking cable 6-foot for some extra security all from Amazon. (snag some plastic ziplock bags for your wet/dirty clothes) Hopefully this helps! Have a wonderful trip!
Hey Viviana, Leta with Osprey here. Another good thought from Osprey is the Farpoint 40. It's smaller that the 48 in volume, but really does have better travel features - like a panel load access, so you don't have to keep pulling things out of your top load to get to what you need at the bottom. Check it out, but know that alot of folks also go with the Kestrel Series. For you, though, look at the women's Kyte 46. Same pack, just a women's fit. Do you know your torso size? Its different than your height. Let me know if I can help you find that information.



Have so, so much fun!!



Leta
Hi all! I'm backpacking Europe in a month and i'm trying to find a backpack for that month and a half of traveling for my girlfriend and I. I'm 5'11 and she is 5'6. Any recommendations on backpacks? We would like to be able to save some money and be able to carry them on the airplanes in Europe but will mostly be riding the trains. The trip will be end of june - mid august. This is our first time in Europe and we obviously don't want to make a big mistake and bring a backpack that is way to big in which we will dread carrying it or too small in which we can't fit are limited amount of stuff in it. Recommendations welcomed! I'd prefer to stick with osprey and we prefer dark backpacks. (and probably hydration compatible.) Thanks for reading!
Best Answer
Hey Dan, Leta here with Osprey. Thank you for writing. I have the perfect suggestion: The Osprey Farpoint 55. This is what you need. For travel, you want a pack you can get in to easily, that allows a variable load, and that carries well. The Farpoint also includes a detachable daypack which is super handy. Backcountry sells it so check it out! Let me knwo if you have other questions!

Leta
Great Year Around Pack
Familiarity:

I've put it through the wringer
When it comes to backpacks I put my trust in Osprey. Backpacks is what they do and they know their trade well. I bought my very first Osprey day pack in 2005 and it endured thousand of miles on three different continents, rain, shine, snow, and hail; whatever condition the nature can throw at a hiker, the pack seen it all. After 9 years of service the zipper on the top lid started wearing out but otherwise the pack was still in a decent shape. I sent it to Osprey hoping they will be able to replace the zipper but for one reason or another they decided the repair was not worth it and offered me a new pack. They do not make the Stratos 40 anymore which is a shame because the backpack was just perfect for my 4 season adventures, and I found myself on a hunt for a new model. Considering overall fit when fully loaded and features I narrowed it down to two packs, the Kestrel and the Exos.

Many people we met during our JMT thru hike carried the Exos and I heard nothing but positive feedback so naturally I turned to this pack first. The pack was light and worked well for me with a medium load but when I increased the weight I could feel the shoulder straps and harness dig into my skin more than I was willing to accept. I am not too cushy in those areas and I suspect that?s why I found it a bit uncomfortable. The pack had an ice axe loop which is essential for me as many of my winter adventures take places on steeper snow, and side pockets which I like for carrying tripod, shovel handle, map and a bottle of water but it lacked horizontal compression straps in the front which I frequently use to attach snowshoes. And while we did not hear about any issues with durability from the summer JMT users I was worried the material could easily be damaged when carrying crampons or microspikes. After this evaluation I turned my attention to the Kestrel.

The first decision I had to make was regarding size. The 38 l version would be closer in volume to my old Stratos; however the pack is constructed differently and I found out that my gear, and again especially my winter gear which is bulkier and heavier and more plentiful fits in the 48 l more naturally. I like the pack for several reasons.

- The torso length is easily adjustable. All you have to do is peel the back, adjust to where it feel right and stick it back. It holds well, I never had problems with it slipping out of the place.
- The shoulder straps and hipbelt are not as padded as you see on some others Osprey overnight packs but the pack carries comfortably even if loaded. I tested it with my snow scrambling gear - about 23 lb. total pack weight and it felt good the whole day.
- Two ice axe loops and and stretchy tie offs make it easy to carry the tools. My shovel blade fits in the front mesh pocket. There is not much space left, especially if the main compartment is full but it fits.
- The compression straps let you cinch down the sides or can be clipped as horizontal straps at the front of the pack.
- Multiple pockets and separate compartments make it easy to keep gear organized. There are two compartments in the top pouch, two small pockets on the hip belt, separate sleeping bag compartment and inside you can find storage for water bladder. Some people might see this as unnecessary weight. I like it and it played an important factor in my decision making. I used this pack primarily for day trips and the externally accessible sleeping bag compartment is perfect for stoving rain gear. The pack comes with rain cover; however living in the PNW I do not put my trust on a rain cover entirely to keep my gear dry and I always line the main compartment with a trash bag to ensure my items will stay dry. If a sudden shower surprises me, I have a quick access to my rain gear without opening the main compartment and exposing the rest of my gear to the rain.

continued in comment bellow:
In love with Osprey
Familiarity:

I've used it once or twice and have initial impressions
This is my 2nd osprey pack (Kode22 for skiing) and once again I'm impressed. I was able to score this for about 130 on price match from another site (love backcountry for this reason). I haven't yet taken it on a hike, but was recently on a cross country trip and even with the pack filled to the gills with clothes/shoes/whatever I was able to carry it on and fit it in the overhead storage on the airline with no problem which was great. There are so many pockets for everything you can think of, and the pack is super comfortable to wear when loaded down. I'm getting ready for a 4day hike around thanksgiving and will give another review after the trip.
amazing pack for everyday carry
Familiarity:

I've used it several times
bought this pack not too long ago since my assault pack (formerly USMC Issue) finally fell apart after a year and a half of hard use. ive used it every single day since it came after I properly adjusted it and the only issue I had with it was the shoulder harness was quite short in the strap area. I did call the company and got a replacement harness made since im very broad shouldered.



if your lookin for an amazing ultralight pack for 3-5 days or a decent sized everyday pack, this is the one to get. ive hiked 5-10 miles a day wearin it and comfortable is an understatement after its broken in. the waist strap makes riding on the hips more comfortable than ive been in years and the new shoulder harness is even more comfortable than the original.



im sold on all the osprey packs after using this so extensively. the comfort is dialed in right out of the box, and the company takes care of the end user by far.
Sweet Pack!
Familiarity:

I've put it through the wringer
I love Osprey's pack. From big mountains, to trad climbing in the Gunks, to Alpine, theres a pack from them in my quiver. I love the Kestrel, because it's super comfortable, loads easily, and has tons of ways to organize my gear. I use it primarily for backpacking, but also for cragging. I can fit a 60m rope, rack, draws, harness, 2 pairs of shoes, water, food and the kitchen sink, and still have some room left over. Great packs, and I highly recommend them!
Anyone have any experience trying to get...
Anyone have any experience trying to get this pack onto a plane as carry-on? I'm not keen to check (lose) bags on a long trip. I know the kestrel 38 will make it onto a plane but not sure about the 48.
Hey Dave,



Most airlines limit carry on size to about 45 liner inches. This pack is 28 x 13 x 13 inches which would be 54 liner inches. If you don't fully pack this bag you might get away with it if you flirt with the Flight Attendant but if you try bringing it on a plane you might want to expect them to make you check your bag at the gate.
Hey Dave,



Technically the Osprey 48 is slightly bigger than carry on limits for most airlines. However I have used this pack (S/M which is about 2 liters smaller than the M/L) for most of my travels in the past two years and never checked it. That includes over a dozen international flights, big name airlines and small regional airlines even prop planes and have never been asked to check it. Actually for smaller planes I have been able to carry on the Kestrel 48 without problems while flight attendants made people gate check their "carry on sized" roller suitcases. So I will say you could be asked to check the bag, but you should be able to get away with it most of the time.




I used mine packed to the brim as a carry on, on a trip to Mexico. We boarded in Billings, MT, and changed planes in Denver, CO. No problem at either airport. Wasnt a problem coming back either. I have the "58" version too.
I had no problem bringing this onto the plane as a carry-on
I am 5'9 looking at the Osprey Volt 60 vs....
I am 5'9 looking at the Osprey Volt 60 vs. Osprey Kestrel 48 could you tell me the pros and con's of these bags? I'm also a new\beginner backpacker
Hey Jack!

Both the Volt and Kestrel are excellent packs! The big question to ask yourself is how much gear are you bringing? There's a little difference in size, and while the Kestrel is 48L and will hold up to 35lbs comfortably, the Volt is 12L bigger, and will carry up to 50lbs comfortably!



Other than the carrying capacity, the Kestrel has a few extra features that the Volt does not have. The most significant feature that the Kestrel has over the Volt is the Airscape back panel. It will allow for better ventilation, so if you're hiking during the summer, it might be worth the extra breathability.

The Kestrel also has an integrated rain cover, for when the weather gets a little nasty.



One last thing to point out is the weight difference. The Kestral carries 48L while weighing 3lbs 5 oz. The Volt, which carries 60L weighs in at 3lbs 9oz.



Hope that helps!
Birds of a feather flock together
Gender:

Female

Familiarity:

I've put it through the wringer
This pack is absolutely perfect, and I hope I never have to replace it. I take my Kestrel everywhere. It is the ideal minimalists backpack; I can fit everything I need in its belly or strapped to the sides. I took mine to Kenya a few years back for several months of field work and it was exactly what I needed: plenty of space but not so much that I am inclined to over pack. The shoulder straps are very comfortable and the design is sweet and simple. I am constantly filling this bag to the brim with rocks for work and I have zero complaints.



Awesome features:

Three pocket within the "brain"

Comes with it's own rain cover, which works beautifully.

Each of the two side pockets can store two water bottles!

It has a spot near the spine for a bladder of water, if you're into that mode of water transport

Other than the flimsy mesh pocket, this pack is resilient - I haven't encountered a single rip in three years of owning it

Lots of loops to hook gear onto



If you're thinking of investing in a strong, quality, lightweight backpack, this is the one for you.
How did you fit all that in there?
Seriously, I asked my Sister who backpacked with me to Red Castle this summer. Some how she fit everything she had sprawled out on the ground ready to go which included no less then, extra warm clothes, sandals, her phone, sleeping bag, sleeping pad, a lot of food, water, the stove, first-aid stuff, a book, and a bunch of other little things. It amazed me. She also brought this pack down the Zion Narrows a few days later. We thankfully were able to pack much lighter for that trip. She loves her Osprey Pack!
Can't Go Wrong!
Familiarity:

I've put it through the wringer
This is my first nice pack. Before this I was using a garbage name-brand bag so the Kestrel was an amazing step up.



The most notable thing about this beauty is the fit. The pack really sticks to my back wonderfully. The back panel is super comfortable. All of the straps adjust dramatically to get the fit perfectly. As for as the "airscape" panel, I can say it definitely helps with cooling but its not going to prevent it entirely. The space between your back and the pack compresses to reduce the air flow Osprey is going for. Regardless, I think the design works really well for comfort.



I use it for 1-2 nighters in the Adirondacks, although I would say its capable for 3-4 nights. The main cabin of the pack is large, and divided on the towards the bottom by a small compartment that opens to to the bottom. I really like this feature as its a great way to keep a jacket or a sleeping pad accessible without having to dig through everything on top. The pockets in the hood are roomier than I expected, which I appreciate.



Last thing to be aware of is the belt fit, which is not interchangeable. I'm 5'10, 140 so I went with the M/L. Everything fits great except for the belt is just a bit too loose when I'm just wearing a t-shirt.



Bottom line, this pack is the shit. You won't regret this baby.
I am 5ft tall, weigh about 105lbs. I go...
I am 5ft tall, weigh about 105lbs. I go on 2-3 day hikes, in terms of the size of a backpack, I am unsure of what to get. I have an old Dana Bomb from 10 years ago that I still love but am looking to upgrade - it was a size XS. Suggestions on what would be comparable to that?



I am looking at this Osprey S/M - would that be comparable?
The Kestrel in S/M is designed with small frames in mind and fits most under a 19" torso. At 5' tall you should fall under that most category.
Amazing pack, watch the belt size
Familiarity:

I've used it once or twice and have initial impressions
First, I love this pack. I made a major drop from an old red cloud 6500.



The 48l is the ideal size for me. If you have reasonably low weight gear, I don't think you can go wrong with this pack. Unless, you have a 33" waist or less. Generally,I wear a 34" waist. When I wear the pack I have maybe a 1/2" left to tighten it up if need be. Lucky for me my waist isn't shrinking at an alarming rate.

35"+ waists with average to ul gear will love this bag. No doubt.
Osprey Wins Hands Down
Familiarity:

I've put it through the wringer
I do not know who Osprey has on their design team, but they are killing it. Their packs are well designed, hold weight perfectly, incredibly comfortable, and surprisingly durable. I cannot rave enough about this pack in particular. As long as you check your center back length under the sizing before ordering you will have the strap adjustments available to get the perfect fit and I am sure you will love it. The one and only feature I was not as fond of is regarding the back panel. It simply was not as breathable as I hoped, but that would not deter me from buying it again.
I received my backpack last week and i was just amazed by the amount of stuff that can fit inside. I put everything i had in my closet into the pack and it all fit (Mainly shorts and tee shirts). I also had some room to put my Ipad in also. After i was done putting everything inside i thought it would be too heavy to carry.I then tried it on, it turned out that it was actually really light and my shoulders had no pain because of the shoulder straps and waist belt.



This backpack is highly recommended....