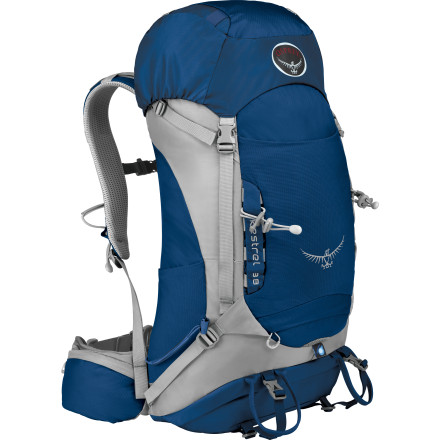 Community Images
Description
No pain, all gain.
When you head out for a marathon all-day hike or even a quick overnight, you know you won't be hearing from your back or knees when you carry your gear in the Osprey Kestrel 38 Backpack. The Kestrel's ergonomic design, light weight, and plethora of stowage features deliver on-trail comfort, enabling you to shoulder loads of up to 35 pounds without a second thought.
AirScape back panel circulates more air to keep you cool and features LightWire peripheral frame that stabilizes the load and transfers weight close to your body
Stretch front and side pockets give you extra storage and organization options
External loops and front daisies with bungee tie-offs give you plenty of places to stash equipment
Integrated rain cover keeps your prepared for sudden rainshowers
Stow-on-the-Go trekking pole attachment lets you quickly tuck your poles out of the way without stopping to unload
Zippered hip-belt pocket keeps your digital camera and energy gel packs close at hand
Sleeping bag stashes in the external zip compartment, or can be attached to the outside with a removable strap
It works
Familiarity:

I've used it once or twice and have initial impressions
I enjoy this pack so far and got it at a very good price. The 38L works well for a lighter set up for a 1-3 day outing in the back county. It is able to hold all the necessary gear plus a bit extra. I have mainly used the pack for typical backpacking scenarios. The area were the bladder is stored is a bit awkward. If you put a completely full 2 L bladder there, it bulges into the main compartment of the pack. .The lower side pockets are a bit shallow. The lid of the pack is secured on the back side. This can make it hard to secure items on top depending on what your needs are. The lid itself has two compartments; one inside and one outside. There is also a bottom zipper to accesses the main part of the pack.On the outside back there is a open, topped mesh compartment for quick storage. Although when the pack is full, it can be difficult to store certain items there. I guess I had mainly used it for storing small clothing items (hat, gloves, frog toggs). Directly under the mesh is a small, separate zippered compartment . I think this is were Osprey hides the rain fly originally? I would say the bag is suitable for day hikes, 1-3 day hiking trips (gear dependent) and for travel. I have just recently switched over this bag for most of my trips and look forward to further testing. Seems pretty solid right now.
Good Long Day Pack
Familiarity:

I've used it several times
Have used this pack on several long day trips (10+ miles) and have overall been fairly satisfied with the pack.



The suspension and straps seem to fit my body size well (5'-7", 160 lbs) and may be a little large, but I appreciate the extra capacity that the larger size offers.



As far as capacity goes, I have found that I have been able to pack pretty much everything I have needed in the pack, including a complete spare pair of winter clothes for snowshoeing/winter hiking.



The compatibility with Osprey's hydration packs is great and I have a 3 liter hydration pack that fits nicely in the pack and has not seemed to bother my back the way others have complained. The air mesh on the back panel too has been great and the pack doesn't seem to get too warm while hiking, although it does tend to heat my hydration pack some.



As far as drawbacks on the pack, I will say that some straps and/or attachments points would be useful around the back pouch and the elastic/mesh side pockets could stand to be a bit larger to better fit conventional (Nalgene*) sized water bottles.



Consider this was the first pack I purchased after many years away from hiking/backpacking, I have overall been satisfied with my pack.



As a brand, I really like the Osprey packs compared to some of their competitors and have no complaints as far as workmanship and/or materials are concerned.
Perfect Adventure Pack
Gender:

Female

Familiarity:

I've put it through the wringer
This is a perfect mid-sized backpack for all manner of adventures. I've spent a lot of time traveling with mine and I find it works well on one to two week trips where I'm just carrying clothes and some souvenirs and it fits wonderfully in overhead compartments of airplanes, trains, and buses.



It's also great for one to three day back country trips where you're carrying technical gear. I've used mine on short backpacking/camping trips and on one-two day stints climbing, mountaineering, and back country snowboarding. I find osprey packs really adjustable and comfortable to wear when weighted. Plus this little guy holds a pretty good amount of gear. It has two gear loops for ice axes/tools, vertical and horizontal straps that you can use to attach a thermarest for backpacking or your skis/snowboard when your boot-packing. It has two zip pockets on the hip belt where you can put your compass, sunscreen, chapstick, passport, keys, and all types of odds and ends. Plus it's got side pockets for water bottles, a slot for water a drom, and a decently sized mesh pouch on the back where you can keep avey probes and most styles of shovels.



All around sweet.
Get's the job done
Familiarity:

I've put it through the wringer
Nothing special, just a meat and potatoes day pack.



Enough room for a quick day hike or slingin' a fly on the river. I use mine anytime I am out for more than a couple hours or if weather is a big concern.



I think this pack is a better choice than a 25-30 liter pack. You can easily fit the bulky winter layers that can be a pain in a 25 liter daypack
here you can see that the side pocket is very shallow - I use a carabiner to prevent my nalgene from constantly falling onto the ground. This happens no matter how much or little stuff is in the pack - I've seen reviews saying this happens when it's "overpacked" - but the nicer packs I have don't have this problem regardless of how much stuff is in there!
Not as good as it seemed
Familiarity:

I've put it through the wringer
This pack seemed to have everything - external bladder, built in rainfly, sleeping bag compartment to potentially use pack for a quick overnight.



I've had it since October and I keep trying to like it but I just don't.



The suspension is mediocre and would be tolerable BUT when you put a bladder into the back it PUSHES hard into your back - this is a disappointment because the 48 doesn't do this (I've used my dad's 48 extensively and that's why I wanted this pack).



The pack itself is very tall for a 38 and very THIN width wise - so it's really hard to get in there and get what you want out. The lid is permanently fixed so it really limits how much you can over-stuff and it makes it hard to shove something like a pad under the lid. The pocket on the underside of the lid is a nice feature - and might be the best thing about the lid. The pocket inside the lid is small and difficult to access compared to other packs in this size and price range.



The kangaroo pocket on the front is nice but a common feature. The side pockets are small and shallow. If you bend over at all your nalgene will slip right out of these - so now I throw a nalgene inside or clip to the back - seems like such a waste. If you're going to have these, make them work for the most commonly used bottle with ease. I also struggle getting my nalgene back into the pockets when I insist to myself that I should give the pockets another shot.



The pockets on the hipbelt are a little far back to be super convenient (my MHW packs with pockets are MUCH easier to get to).



The pack isn't TERRIBLE - but for the price and features I'd be much happier with any other number of packs. I think I would have been much happier with the 48 or the 32 if I went with a kestrel .



Packs are such a personal thing! If it works for you great - but this just wasn't the right purchase for me. And I REALLY REALLY tried to love it to justify the $ I dropped. Bummer for me. Now I gotta figure out what to do with it.
My go to pack
Familiarity:

I've put it through the wringer
This pack is perfect for day hikes. It gives you enough space to bring all the gear you might need throughout the day or a picnic lunch. It feels great on your back and has all the features you would expect from an Osprey. The included rain cover is nice having it there just in case. I love having the treking pole holders on Osprey packs.



If you are doing an untra light overnight trip this pack will work as well. You will need to make sure you are only bringing what you need though. Overall this pack is really nice and is the quality you expect from an Osprey.
Kestrel Series Kicks Butt!
Familiarity:

I've put it through the wringer
I'm in LOVE with this pack! I picked it up based on reviews I've read and time and time again this is the pack that gets pulled out of the closet when I'm headed out. When shopping or evaluating other packs I measure them up to this pack. It's feature set is so well thought out making this the definition of a Multi-Use pack. Climbing - check, Overnighter - check, Ultralight weekend - check. In short, you can do just about anything with this thing. If the 38L size isn't sufficient, Osprey offers these in various sizes to suite just about any size load you'll need to carry.



I find the 38L to be the perfect go-to for overnight peak bagging assaults or ultralight 2-3 day backpacking trips. Works great for getting me too and from the crags with my ropes and rack.



Absolutely feature packed design! I'm most impressed with the external hydration sleeve. I wish more packs had this feature. One of my other packs has the traditional internal sleeve which just annoys me..



This pack is sure to please. At the price point you simply won't find a better pack - PERIOD. The Osprey warranty, quality materials, feature packed design, and refined layout make this a winner in all categories.



If I had one complaint, it would be that optional sized shoulder straps and waist belts are not offered (minor gripe). I'm a stocky built guy and while the fit is sufficient for the load this pack is capable of, having the option to size the straps would be the icing on the cake even if it meant a small weight/price penalty. Beyond that, this pack is flawless!
Greatest BackPack I've ever purchased.
Gender:

Male

Familiarity:

I've put it through the wringer
What can I say about this pack that hasn't been said already on the other reviews. This pack is just phenomenal, I bought it through amazon and sent it to Jordan and used it in desert situations, valley hiking,climbing and 21 day excursion in Nepal. For long day hikes, the bag performs very well,It keeps the weight perfectly spread out through the waist, perfect design. The side pockets are just mind blowingly helpful(i doubt blowingly is an actual word but it fits in perfectly) the pockets stored my passports, energy bars and a plethora of essentials like knives extra paracord etc. It's incredibly durable, i tied wood, slacklines, carabiners, axes and basically used it as protection for going downhill. No wear or tear is evident yet. The built in raincover is a very convenient plus, I currently live and study in Halifax and it rains most days, I've never felt more secure with walking in heavy rain considering i have a laptop and a bunch of notebooks stowed in the bag. Having tried the North Face Terra 35 the Marmot Aspen 35, its safe to say that the Osprey Kestrel is the best one i've ever tried. Wether you're trudging through the himalayas or in the deserts of Jordan this bag will keep your gear safe,dry and organized. Just can't see anything toping this except the new Prophet by The North Face but the price gap between the two is insane. Overall the kestrel won't disappoint, great design, incredibly durable and does well in most adventure related situations. The only thing that disappointed me was that the Fire Red colour doesn't look as red as the picture entails other than that its close to perfect.
awesome overnighter and such
Familiarity:

I've put it through the wringer
This thing is awesome, this was my first Osprey Pack and don't know if ill ever go with a different brand. I got it at the beginning of summer to help carry around all the crap that I either wanted or needed to have with me while I was working at a summer camp but now I use it whenever possible. When I got it I was a littler bigger than I am now but only 5'6 so I bought the Medium/Large and it doesn't really make a difference besides giving me an extra couple cubic inches besides the fact the waist belt is much bigger than I need. I can tighten it almost all the way down so make sure you get the size that fits you best altogether. I know I wish I had gotten the S/M



Also used it for overnight hikes and would pack a sleeping bag, hammock, slap straps, connect a tarp where the sleeping pad holder is, extra set of clothes, rain jacket, some food, and other junk that I thought I may need and I'll say this, it fills up fast. When I bought it at a local outdoors store they said it could be used for multi-day hikes but if you like to pack a lot of stuff like I do you should just go with a bigger pack and make sure that it has compression straps so that you can cinch up that extra space. In the end I am pretty happy with this pack
Great pack, very happy with it.
Familiarity:

I've used it once or twice and have initial impressions
Osprey did a great job on this pack. I finally had the opportunity to use it last week and I can honestly say I am very happy with my purchase. I didn't buy it to use it for hiking/camping as much as I bought it for use as a backpack for trips and to use as a carry on (I searched and it fit within most airline guidelines for the volume allotted for carry on use).



The pack has a lot of room inside of it, it has a great compression system, and, most notably, the weight distribution is absolutely phenomenal. I had my backpack packed to the brim, picked it up and felt the weight, thinking to myself wow this is going to be heavy, but once it was on my back it felt like the weight was cut down to nothing. Great design and craftsmanship. I do wish it had the zipper pockets on the front like the Kestrel 48 to separate some of the storage, but it's not a deal breaker by any means. Also, for those looking to buy this in red - the red has a bit more burnt color to it in person. It is still very nice looking, but just a bit different from what the picture shows.